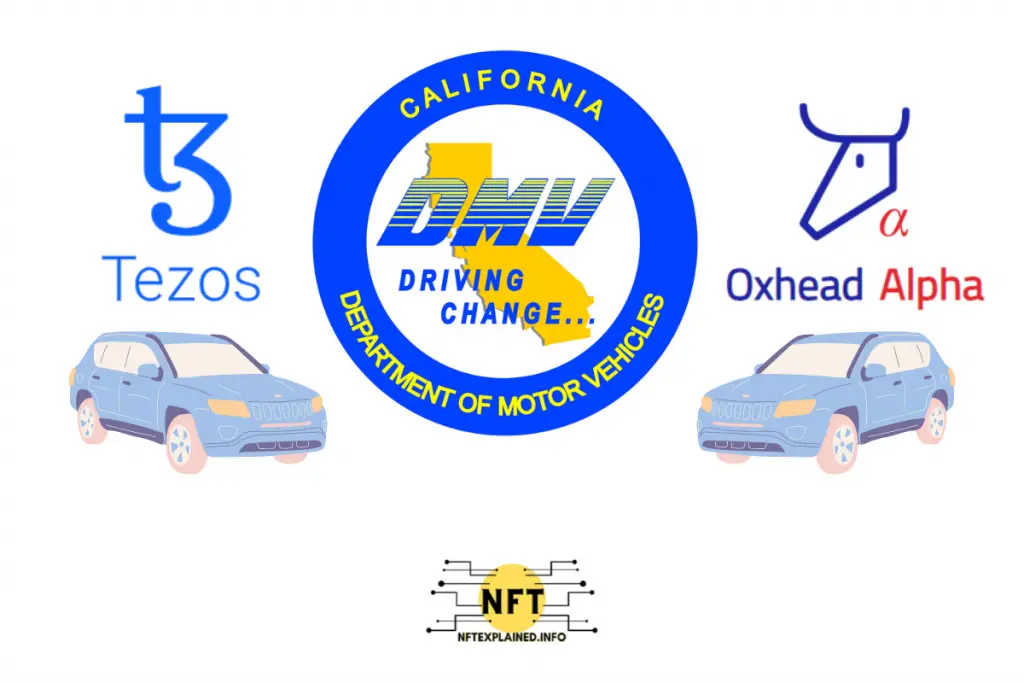 CA's DMV announced they will use the Tezos blockchain, with help from Oxhead Alpha (a crypto dev. company), to issue vehicle titles as NFTs. Full rollout is likely to happen within the next three months as the existing title database is transferred to the blockchain and blockchain wallets are developed. 
Tezos is an open-source, proof-of-stake blockchain that uses much less energy relative to other blockchains that use the proof-of-work consensus model (e.g. Bitcoin). 
More on the energy use of the Tezos blockchain can be found here – where our team references studies that show the energy consumption for transactions on Tezos is comparable to that of the traditional, centralized payment system VisaNet.
This news came from numerous press releases and words from Ajay Gupta – who is the Chief Digital Officer of the California DMV. 
According to Yahoo Finance, Ajay Gupta stated, "the agency hopes to finalize its "shadow ledger," or a full replication of the state's title database on the blockchain, within the next three months before building consumer-facing applications, including digital wallets that hold car title NFTs….The DMV's perception of lagging behind should definitely change." 
The transfer of vehicle registration from one person to another will be streamlined and efficiently done through smart contracts. Our team would define smart contracts as blockchain-based code that executes once all requirements are met. More on smart contracts can be found here. 
According to the Oxhead Alpha press release, "trusted transfer is one of the main challenges for an e-titling solution. The smart contracts enable escrow behavior with DMV administered checkpoints to ensure compliance and reduce processing time. The system uniquely establishes a mechanism for the efficient and secure transfer of vehicles between jurisdictions."
Eliminating transaction fraud – especially across states -and the streamlining of vehicle title registration process were discussed. In an interview with Fortune, Andrew Smith, the president of Oxhead Alpha, compared the current DMV system to an 18th-century paper-based technology and the new system as a 21st-century system that will help catch transaction fraud. 
Andrew Smith stated, "If someone buys a "lemon," or faulty car, in California, it will have a special designation on their title. If they then move out of state and back into California with the car, they can shirk the "lemon" branding and sell the car without the new buyer knowing."
The blockchain serves as an optimal way to track sales or transfers of title ownership across states. Aside from the use of smart contracts, the DMV will likely help in serving as the middleman to ensure all transfers or sales are final (and actually completed). 
Additionally, the DMV has stated that a private chain has been created on Tezos in order to increase security; private blockchains are considered more secure than public blockchains. 
At present 'DMV validator nodes' are being run which ensure that all transactions are legit; more on blockchain nodes can be found here. 
Our team should note that while this system is already in action and the proof of concept is there – all the potential use cases are still being developed; however, it is clear that this integration will help solve many problems (including making immense progress in eliminating transaction fraud).
Let our team know what you think about these recent development by connecting with us on Instagram, Twitter & TikTok! As well as subscribe to our YouTube!
Additionally, please consider supporting our team's content creation through doing business with our partners: Trade stocks & crypto on Webull – get 2 free stocks. Buy a Ledger hardware wallet. U.S. users can get a crypto trading discount on Binance!