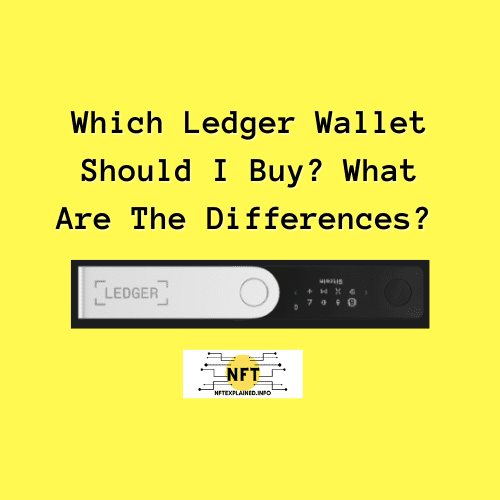 NFTexplained.info is a team of long term crypto investors who are well versed in the blockchain space; our team has used a range of crypto hardware wallets and in this article we will explain which Ledger wallet is best for you. 
If you are curious as to why you should purchase a hardware wallet, you can find our article here. 
The best Ledger wallet is the one that best suits your needs. So, what are you trying to accomplish? Ledger currently offers three cold wallets at three different price points. Buying a cold wallet is important as you aren't susceptible to hacks as your private keys are stored offline. 
There are lots of fake Ledger websites, so our team will link their official site here.
Before we dive in, it is important to note that there are three Ledger hardware wallets. These are the Ledger Nano S (US $59), Ledger Nano S Plus (US $79), and the Ledger Nano X (US $149) – these prices are with tax & duty not included. 
In this article, our team will explain which Ledger products are best for your specific needs – starting from the cheapest to the most expensive. We will conclude our article with some FAQs that you may have about Ledger and hardware wallets.
Who Should Buy The Ledger Nano S?
As our team previously mentioned, it is vital to get a hardware wallet so you are not susceptible to getting hacked and not putting your trust in a third party who could also get hacked.  
If you are looking only to store a few – up to three – blockchain networks (e.g. Ethereum, Bitcoin, and BNB) the Nano S is likely the best option for you. It is easy to set up and provides far more security than a software wallet at the lowest price.
It should be noted that more coins are compatible but only three can be stored due to the space/storage available on the wallet. The Ledger Nano S hardware wallet costs US $59. At any given time, only three blockchain networks can be stored, but this tool supports a broad range of coins (1,100 cryptocurrencies and tokens – with more often being added to the Ledger Live app – including stablecoins). 
If you are interested in storing more than three cryptocurrencies, then the Ledger Nano S Plus may be a better option for you. We will discuss this hardware wallet in the next section of our article. 
Who Should Buy The Ledger Nano S Plus?
The Ledger Nano S Plus is a great cryptocurrency wallet that is optimal for those looking to store up to 100 blockchain/networks from over 5,500 digital assets. For an additional US $20 over the Nano S price, you can store far more blockchains on your hardware wallet. 
Our team would personally recommend the Nano S Plus over the Nano S because of the additional number of blockchain networks and NFTs that can be stored. That being said, if you only hold Ethereum – then the Nano S may be the better, and cheaper option (by US $20).
Many will find the Ledger Nano S Plus has a more aesthetic or visually appealing look, mainly due to its bigger screen. 
That being said both the S and the S Plus have a similar visual look to them with the main difference being the enormous upgrade in blockchain apps that can be installed – due to space – with the S Plus.
We recommend you stick around and hear what our team has to say about the final, and most expensive Ledger hardware wallet that is available – the Ledger Nano X – before making your purchase decision. 
Who Should Buy The Ledger Nano X?
The Ledger Nano X is optimal for those looking to manage their crypto assets on the go as bluetooth support is offered, meaning the Ledger Live app can be connected to your hardware wallet via your Android or iOS phone. The X also stores up to 100 blockchain networks and has a standby battery of 8 hours.
It should be noted that the Ledger Nano X offers roughly 3 to 4 hours of battery life if the hardware wallet is being used. 
The main difference that the X offers in comparison to the S Plus is the ability to transact on the go via your phone (without your computer).  
The X also has the best user experience due to the larger screen which makes it easier to see what you are doing. The X runs smoothly regardless of the amount of apps you have installed and offers support for an enormous range of coins. 
One concern you may have is the susceptibility to being hacked introduced by the reliance on Bluetooth – however, this is yet to happen. It should also be noted that the X, like all Ledger hardware wallets, require physical confirmation (you have to physically press the button on the hardware wallet) to conduct any transaction. 
If you can spare the US $149, our team would highly recommend picking up the Nano X. It is likely that more and more defi will occur on the go as this space exponentially grows and this is a key advantage the X offers. 
When the internet first began, people thought use would only be viable via computers; however, as time passed the internet was accessible via small mobile devices known as phones. While it is true that we are still in the early stages of defi, it is likely that more and more transactions will occur on the go via mobile devices. 
Our team will link here, the Ledger Nano S, Ledger Nano S Plus, and the Ledger Nano X.
Now our team will cover some FAQs.
Is Ledger A Good HardWare Wallet?
Ledger makes for a great hardware wallet as each member of the range of offerings is easy to set up, has a small and sleek design while offering support for many coins. Best of all – as with any hardware wallet – the wallets store private keys offline, making you far less susceptible to being hacked.
Which Is The Best Ledger Hardware Wallet?
Our team thinks the best Ledger wallet is the Nano X because of the high storage and blockchain compatible networks it has (up to 100 applications without lag). Bluetooth allows for on the go transactions via your mobile device. The Nano X also has the best user experience of all the Ledger products, although it is the most expensive by a significant amount.
How Safe Is The Ledger Nano S?
The Ledger Nano S is an excellent hardware wallet that has a sleek design and stores your private keys offline, meaning they can't get hacked as they are not stored anywhere on the Internet. The downside of the Ledger Nano S is that it has limited storage capabilities as it can only hold three blockchain networks.
What Happens If I Lose My Ledger Nano S?
If you are to lose your Ledger Nano S, as long as you have your backup seed phrase, you will be able to recover your cryptocurrency and other digital assets. If the pin code is entered incorrectly three consecutive times, your Ledger will factory reset making it safe from someone trying to steal your crypto in the real world.
Our team should note that all crypto assets can be recovered from any hardware wallet as long as the owner knows the seed phrase. 
Factory resets means that all private keys, application, and other settings are removed from the device however can be set up again with your seed phrase. 
Is It Worth Buying A Ledger Nano S?
It is undoubtedly worth purchasing a crypto hardware wallet so you are not susceptible to being hacked. The Ledger Nano S is the best option if you are only looking to store three blockchain networks and the Nano S plus and the Nano X are far better if you are looking to store more blockchain applications and a larger number of NFTs.
If I Reset My Ledger, Will All My Coins Be Lost?
If you are to factory reset your Ledger, which automatically happens upon entering your pin incorrectly three consecutive times, you will not lose your assets as long as you have your backup seed phrase. Your backup seed phrase gives you access to your private keys and can be restored. 
The NFT space is always changing and the technology is quite new. Our team is incredibly excited to see what will happen as time goes on. To get the latest news in this rapidly evolving space, follow our team on Instagram & Twitter!
If you would like to support our team's content creation please consider doing business with our partners:
Trade stocks & crypto on Webull – get 2 free stocks! 
Buy a Ledger hardware wallet! 
US-based traders can get a crypto trading discount on Binance!