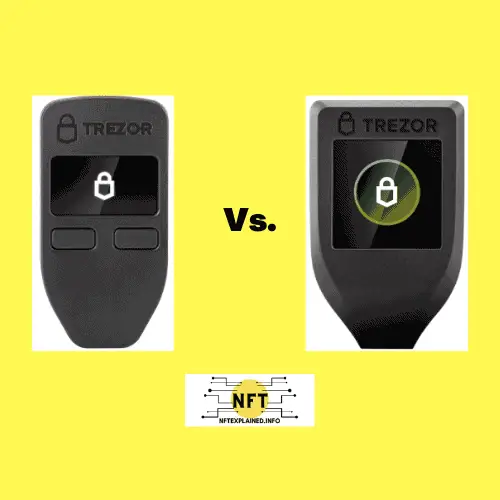 NFTexplained.info is a team of long term crypto investors who are well versed in the blockchain space. Our team has tried many hardware wallets and in this article we will discuss which Trezor wallet is likely to best suit your needs. 
If you are interested in learning why you need a hardware wallet, that article is linked here. 
As a general statement it is impossible to say which Trezor wallet you should buy as this would depend on your specific needs. Both are great options that are easy to set up and keep your digital assets safe as they store private keys offline. 
Trezor makes two awesome products; this includes the Model One, which is the cheaper version at US $77 and the considerably more expensive version, the Model T, which currently sits at US $280. 
We will link their official site here as we highly recommend only buying from the official Trezor site. You can check out the other products they offer such as the Cryptotag Zeus which is our team's favorite way of storing a backup recovery phrase. 
We will now start by covering the cheaper of the two – the Model One. 
Who Is The Trezor Model One For?
The Trezor Model One is a great option for those looking to store a vast array of digital assets without facing storage issues. For the modest price, ease of set up, and pleasant user interface, the Model one is a great option. 
The Model T offers additional features, such as the SD slot, which we will cover later in this article. 
For those that are looking to store NFTs, Ethereum, and other digital assets without a limit in memory, the Model One is a great option. To find the coins supported for the two different models, we will link that here (slightly scroll down on Trezors' page). 
The Model One will undoubtedly cover all your needs. It should be noted that if you are looking to store some specific cryptocurrencies including XRP and ADA, only the more expensive Model T supports those coins. 
That being said, the Model One still offers coin support for 1000+ cryptocurrencies. It is quick to set up using a USB cable which is plugged into your computer and has two buttons which allow you to physically confirm transactions. This physical step requirement is a great addition to the security a hardware wallet offers.
With both models, private keys are stored offline, even when the device is connected to the Internet. A great feature both products offer is the ability to customize the devices' home screen as both run on open source code. 
Trezors also allow for features like U2F which is a stronger version of 2FA. An illustrative example of this is when the hardware wallet owner is logging in, he or she will have to additionally (physically) confirm the login on their Trezor device. 
In conclusion, those that are looking for a hardware wallet that runs on the cheaper side should undoubtedly pick up the Model One as it is a price-performance champ. In comparison to the Ledger Nano S, which is similar in price, many people prefer the Trezor One simply because it can store far more blockchain networks (due to space).
Now our team will cover the Model T and the person that would most likely want this wallet instead.  
Who Is The Trezor Model T For?
The Trezor Model T is a great option for those who spend more time interacting with and exchanging digital assets like NFTs and cryptocurrencies. The additional coin support, and large color touchscreen make it a phenomenal hardware wallet. The T also has additional features including an SD slot. 
The main difference between the more expensive Trezor Model T when compared to the One is the enhanced range of coins supported, which is 1800+ (including ADA & XRP) as well as the colorful touchscreen. 
A subjective note: when we use the T in our office, we have found that it feels more secure (primarily because it is larger) and is heavier than the One. 
The larger screen makes for a much better user experience which is why the T is our recommendation if you plan on frequently using your hardware wallet. Not having specific coins supported on your device can also be a dealbreaker and is why our team prefers the T.
Another aspect buyers should be aware of prior to purchase is how the T and the One are restored. 
The T is restored using the touchscreen (on the device itself) and the One requires input from your computer which – although an unlikely attack vector – could result in a keylogging hack. This is where hackers are able to monitor your keystroke inputs to get access to your sensitive data – in this case your seed phrase. 
In conclusion, the Model T is the one our team prefers the most due to the better user experience and additional coin support; we would recommend the T if you are going to be transacting with your hardware wallet frequently. 
We will link both the Model T and the Model One so you have the official link to their site. 
Our team will now dive into our FAQs section of our article where we will cover some common questions we have received regarding Trezor.
How Does Trezor Work?
Trezor works by storing your private keys – which is access to your crypto assets – offline where they can't be accessed by hackers. Trezors work through connecting a USB cable to your computer and requiring physical confirmations for any transaction. 
Is The Trezor Model One a Good Purchase Option?
The Trezor Model One is a great option for a hardware wallet as it stores your private keys offline and can hold far more assets than other competitors at similar price points. It is easy to set up and a solid option for a modest price. 
Does The Trezor One Support Ethereum?
The Trezor Model One does support Ethereum however it does not directly support staking (but stalking can still be accomplished). The main supported tokens are Litecoin, Ethereum Classic, Bitcoin, Bitcoin Cash, Bitcoin Gold, Dash, Digibyte, Dogecoin, Namecoin, Vertcoin, and Zcash amongst 1000+ other tokens.
Is The Trezor Model T Better for me?
As a general statement, it is impossible to say which Trezor device is better as it depends on your needs. For those who make more frequent transactions/interactions with digital assets, if your budget allows, our team would recommend the Model T because of the color touchscreen and larger coin support. 
Can You Trust Trezor?
Trezor is a trustworthy hardware wallet which keeps your digital assets far more secure than a software wallet. If Trezor was to go under or you were to lose your Trezor wallet, you would still be able to recover your digital assets via your seed phrase. 
Is A Trezor Wallet Worth It?
Our team thinks the Trezor wallet family of products is a prudent investment because of the additional security it brings to your digital assets. It is easy to set up and use, and it gives you a piece of mind that a software wallet does not, especially if you are holding valuable NFTs and lots of cryptocurrency.
If you would like to support our team's content creation please consider doing business with our partners:
Trade stocks & crypto on Webull – get 2 free stocks!  
Buy a Trezor hardware wallet!
US-based traders can get a crypto trading discount on Binance!
The NFT space is always changing and the technology is quite new. Our team is incredibly excited to see what will happen as time goes on. To get the latest news in this rapidly evolving space, follow our team on Instagram & Twitter!