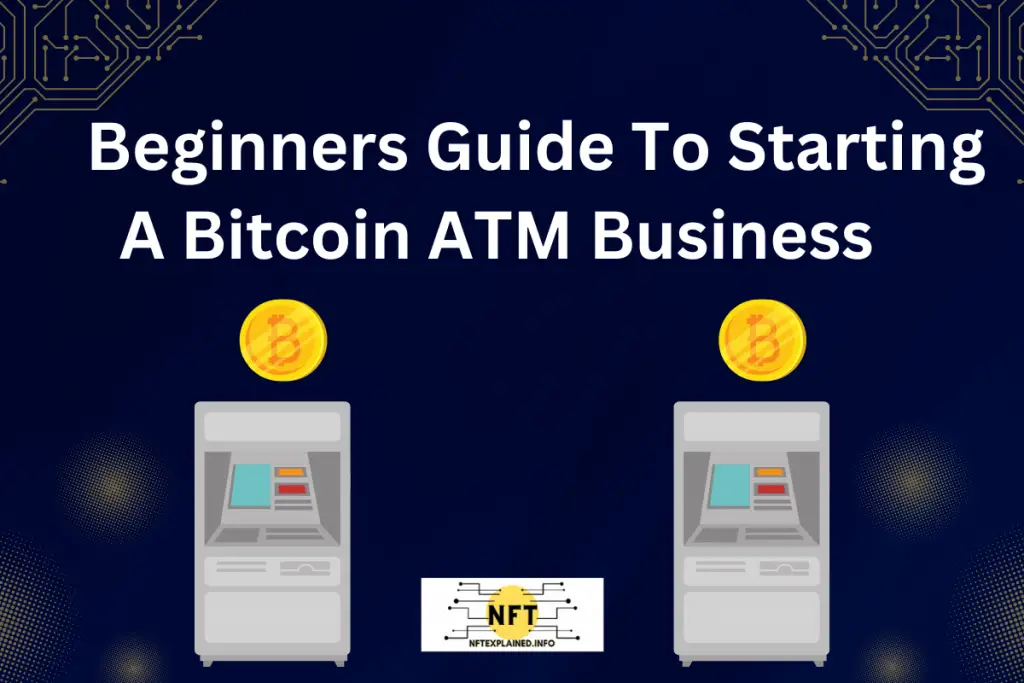 Starting a Bitcoin ATM business can be a complex process and our team has created this article in order to shed some light regarding how this business model works. Before you learn how to begin a Bitcoin ATM business, we want to preface that we have a full article explaining what Bitcoin ATMs are and how they work; that article is linked here.
How Can You Start A Bitcoin ATM Business?
To start a Bitcoin ATM business you must own a Bitcoin ATM, complying with FinCen – AML/KYC regulations & state-wide regulations (in the U.S.), find a location to put your Bitcoin ATM (with electricity & WiFi), put cash inside the Bitcoin ATM, and secure BTC for the ATM (typically via an exchange). 
There are many steps to starting this business, so allow our team to breakdown each one so you can have a better understanding. 
Buying A Bitcoin ATM
Purchasing a Bitcoin ATM may cost you more than a penny, or a few pennies; Bitcoin ATMs are typically much more expensive compared to regular ATMs. Regular – used – ATMs can typically be purchased for US $1,500 while Bitcoin ATMs typically range from US $3,000 – $12,000.
Our team would recommend that you consider purchasing a Bitcoin ATM that also has regular ATM functionality – that way you can maximize the amount of transactions people make so you can make more money. 
One effective way to do this is to simply purchase Bitcoin ATM stickers and place them on the ATM or on signs nearby as a way to advertise for this somewhat unique function. 
Complying With Bitcoin ATM Regulations 
Before we dive into this section our team would like to state that we are not providing legal advice and we recommend contacting a lawyer within your jurisdiction before purchasing or operating a machine. We are trying to provide you with an educational overview of how this business model functions, rather than providing legal advice.
Regulations delivered by the Financial Crimes Enforcement Network – or FinCEN – must be complied with. Know your customer (KYC) verification will likely already be programmed within your machine and will likely not be something that you will have to worry about. If you have used a Bitcoin ATM machine, you will know that some form of personal identity – like a Government I.D. – must be shown before you are allowed to transact. 
Additionally, each U.S. state has its own regulations which you must also comply with. More information can be found here. 
Finding A Location For Your Bitcoin ATM
This is an important step to consider as location will greatly affect the amount of transactions you see and therefore the profit you make. Finding a location with lots of foot traffic in addition to having a tech-savvy demographic is key.  
Additionally, you will need to find a location with electricity and WiFi as you will most likely not have enough funds to simply connect your own blockchain wallet to the Bitcoin ATM; it is likely that you will connect the machine to a cryptocurrency exchange (more on this in the following sections).
Another important factor to consider is that you will have to negotiate with store owners for the ability to place your ATM in their store; this means you may have to give a percentage of transactions to the store owner (typically 2.5% – 5%). 
You may be more likely to convince the store owner to allow your ATM to be there because there are far fewer cryptocurrency ATMs relative to the typical ATMs provided by your local bank.  
Putting Cash Inside The Bitcoin ATM
In addition to outright purchasing a Bitcoin ATM machine, you will also need some cash on hand – likely more than a few thousand – in order to stock the machine. 
This of course depends on the type of machine you have. If you own a one-way machine that only allows people to buy Bitcoin using cash, you will not need to worry about this step. However, those that have a regular ATM with Bitcoin function, will need to have cash inside the machine. 
Securing Bitcoin For The ATM
Having a steady flow of Bitcoin in your ATM is typically done by connecting the hot wallet – which is connected to the automated teller machine – to a cryptocurrency exchange. This is why WiFi is needed. 
Connecting to a cryptocurrency exchange will ensure that the amount of Bitcoin being bought pertains to the price of Bitcoin at that specific time.
Additionally, not connecting the Bitcoin ATM to a cryptocurrency exchange can be very capital intensive as purchasing enough Bitcoin to supply transactions for a long period of time is very expensive.  
Now that you understand how to start a Bitcoin ATM, let's take a look at cost and profitability. 
How Much Does It Cost To Start A Bitcoin ATM Business?
It's challenging to estimate the cost of starting a Bitcoin ATM business as the cost depends heavily on regulations governing the location you are looking to set up a machine. Aside from regulations, a typical Bitcoin ATM costs US $3,000 – $12,000.
Factors like rent or the percent of all transactions given to a leasing agency or store owner vary greatly depending on location. Malls typically charge higher percentages for transactions or rent because of the amount of foot traffic. 
Aside from the cost of outright purchasing a machine, the cost of complying with regulations – depending on locations – can make this business model impractical (unless a large amount of BTC ATMs are owned).
While registering with FinCEN is free and a relatively fast process, other regulatory fees can add considerable overhead. Some states require Bitcoin ATM operators to have a money transmitter license; this is especially likely if your Bitcoin ATM machine is connected to a cryptocurrency exchange. Applying for a money transmitter license varies greatly in cost, (typically) anywhere from $500 – $1,000 or even more.    
Additionally surety bonds may be required; this is to ensure that funds could be recovered if the ATM does not produce the promised transaction to a customer. These bonds can vary greatly in price but again can be very costly. 
That is why we recommend checking regulations and connecting with someone who can provide you with legal advice before starting. Again, we are in no way providing any advice that should be taken in a legal manner, and are simply trying to provide you with educational content regarding this business model. 
Before we move onto the next section, we should note that there are services that manage ATMs for you (including ensuring regulatory compliance) and you only need to provide the investment; however this is often very capital intensive and the managing service often takes a meaningful cut of profits. 
Are Bitcoin ATMs Profitable?
Profitability of a Bitcoin ATMs depends on factors including the regulatory costs, amount of transactions the ATM sees, the percentage of each transaction you are charging (which varies greatly depending on location and competition), the overall sentiment of Bitcoin, and the rental fees or percentage paid to store owners. 
That being said, many Bitcoin ATM owners have stated that they have experienced an average of US $20,000 in transactions per month; please note that US $20,000 is not gross profit but the overall amount of transactions the ATM sees. 
Let us know what you think about Bitcoin ATMs by connecting with our team on Instagram, Twitter & TikTok! As well as subscribe to our YouTube! 
Additionally, please consider supporting our team's content creation through doing business with our partners: Buy a Ledger hardware wallet. Trade stocks & crypto on Webull – get 2 free stocks. U.S. users can get a crypto trading discount on Binance!