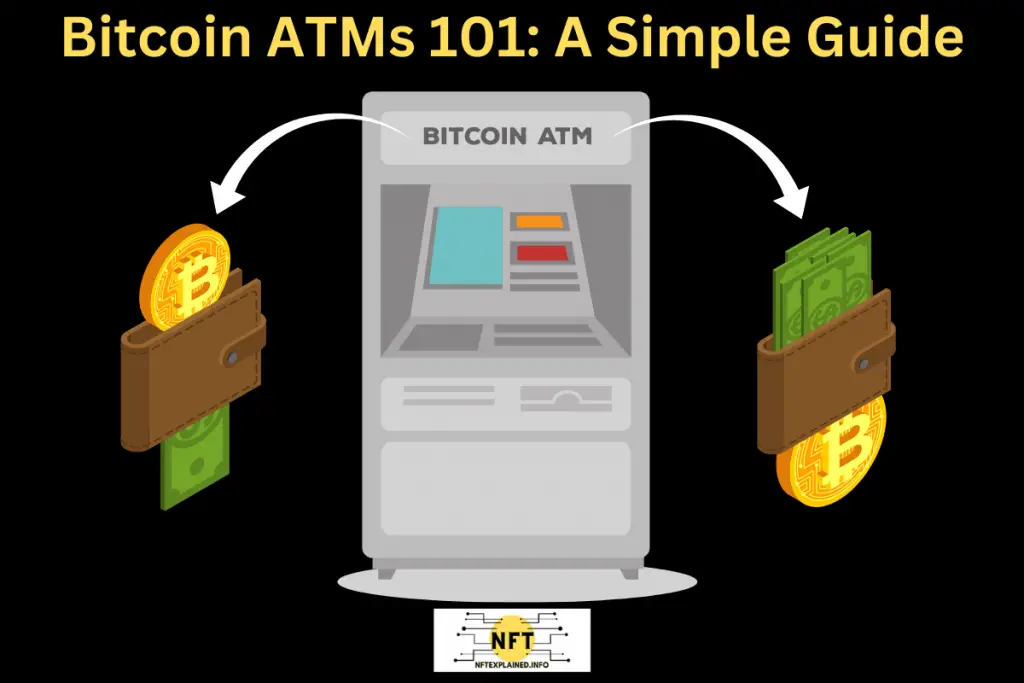 The rise of cryptocurrency has brought high levels of adoption and has changed the world in many ways; one of these was the massive increase of Bitcoin & cryptocurrency ATMs. There are around 40,000 crypto ATMs in the U.S. at present. 
So what are Bitcoin ATMs & how do they work?
A Bitcoin or cryptocurrency ATM is a machine similar to a typical ATM; however, these ATMs typically enable both the buying and selling of Bitcoin (and potentially other cryptocurrencies) in exchange for cash or crypto. Bitcoin ATMs take a percentage of each transaction – allowing the service-provider to make money. 
Our team should note that most Bitcoin ATMs are one-way meaning the machine only allows you to purchase BTC using cash; however, some are two-way meaning you can also sell BTC (or other cryptocurrencies) and receive cash. 
In order to purchase Bitcoin at an ATM, you will need a few things. The machine will typically ask for some form of verification – like a driver's license – before allowing you to transact. 
Once you have verified your identity, you will have to scan the QR code for your Bitcoin public wallet address; this is how the machine will know where to send the Bitcoin. After providing your cryptocurrency wallet, you will select the transaction amount and then enter the cash/debit card into the machine.
Our team should note that credit cards can't be used in Bitcoin ATMs and you will only be able to make transactions if you have cash or a debit card. 
Before our team addresses some frequently asked questions about Bitcoin ATMs, we want you to know that we have a step-by-step guide on starting a Bitcoin ATM business which can be found here.
Where Can I Find A Bitcoin ATM?
You can find a Bitcoin ATM and other cryptocurrency related ATMs by searching "Bitcoin ATM" into a web mapping service like Apple Maps. In order to find ATMs that have altcoin –  or coins that are not Bitcoin (e.g. $XRP) – you can use the online service coinatmradar which we will link below. 
Our team has found that the best way to find a Bitcoin ATM is to simply search in map services like Apple Maps. Another alternative is Coinatmradar which may have some Bitcoin ATM locations not in Apple Maps; however, some locations in Apple Maps may not be in Coinatmradar. So, you should use both tools for the most optimal insight regarding crypto ATM locations. 
Attached is a screenshot from Coinatmradar.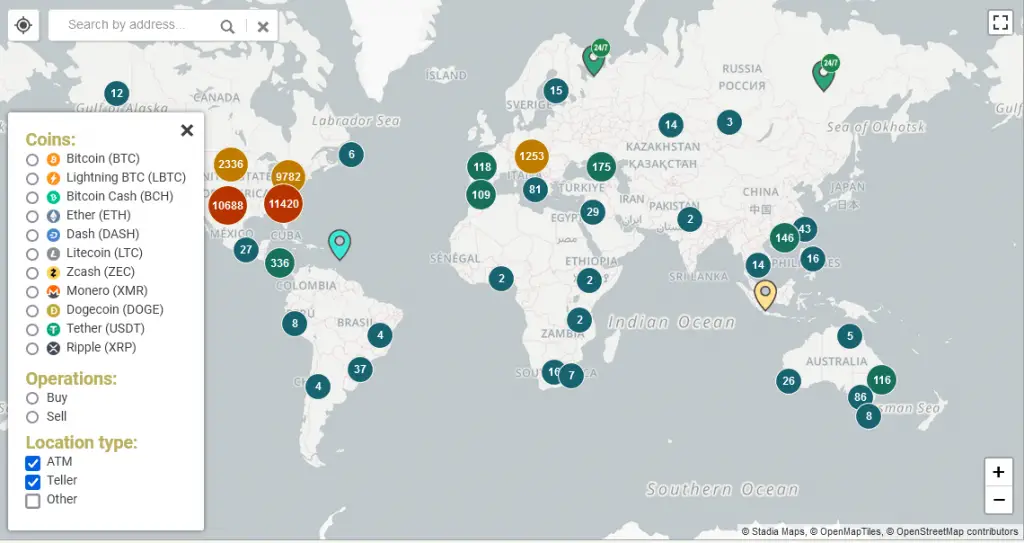 Why Would Someone Use A Bitcoin ATM?
Bitcoin ATMs are a good way to almost instantaneously exchange cash (or funds in a debit card) into Bitcoin; the reverse is also true as turning Bitcoin into fiat (e.g. USD) through a Bitcoin ATM is the fastest way to immediately get cash. 
You would use a Bitcoin ATM if you needed cash quickly; the alternative is selling crypto in exchange for Fiat through a centralized exchange like Binance, which would take a number of hours (or more likely a few days) before the fiat currency would be in your bank account. 
Additionally, Bitcoin ATMs allow anyone to transact – even those without a bank account – as long as identity verification (i.e. government ID) is shown to the machine. Since cryptocurrencies are stored in a blockchain wallet, you can even use a Bitcoin ATM without having a bank account. 
Our team should note that there are even locations – very few due to regulations – where no identity verification needs to take place in order for you to use a Bitcoin ATM. 
How Much Does It Cost To Use A Bitcoin ATM?
Bitcoin ATMs are notorious for charging higher fees relative to the typical ATM you are likely very familiar with. Bitcoin ATMs charge anywhere from 2% – 15% per transaction with the median transaction cost being approximately 7.5%. Using the median transaction cost, the fee for a transaction of US $1,000 would be US $75. 
Each Bitcoin ATM has different fees; you will find that the percentage taken varies greatly. Bitcoin ATMs have fees from 2% – 15%, which is quite the range especially when compared to the typical ATM which normally takes 2% – 4% (however select locations take much more). 
Continuing on with the assumption that the median transaction fee is 7.5%, the fee for US $500 would be US $37.5. 
Can You Get Cash Out Of A Bitcoin ATM?
You can get cash out of some Bitcoin ATMs however most Bitcoin ATMs are one-way, meaning you can only use cash to purchase Bitcoin (and not vice versa). Two-way Bitcoin ATMs allow you to also sell Bitcoin for cash. 
Are Bitcoin ATMs Safe?   
Bitcoin ATMs are safe because the transaction is secured on the blockchain – which is an immutable public ledger; this means the transaction can't be changed and is viewable by blockchain explorers. Additionally, many crypto ATMs use know your customer (KYC) practices for identity verification. 
The only real vulnerability you have from transacting with a Bitcoin ATM does not come from using the machine; instead, the danger comes from protecting your funds through knowing your private keys and not showing anyone your private keys. 
Your seed phrase – also known as backup phrase or the 12 words that encrypt the private key – is the master key to access your cryptocurrency. 
You can learn more about the importance of keeping your private keys offline, in this article about the importance of hardware wallets, linked here. 
Let us know what you think about Bitcoin ATMs by connecting with our team on Instagram, Twitter & TikTok! As well as subscribe to our YouTube; more on Bitcoin ATMs can be found in our video linked here! 
Additionally, please consider supporting our team's content creation through doing business with our partners: Buy a Ledger hardware wallet. Trade stocks & crypto on Webull – get 2 free stocks. U.S. users can get a crypto trading discount on Binance!