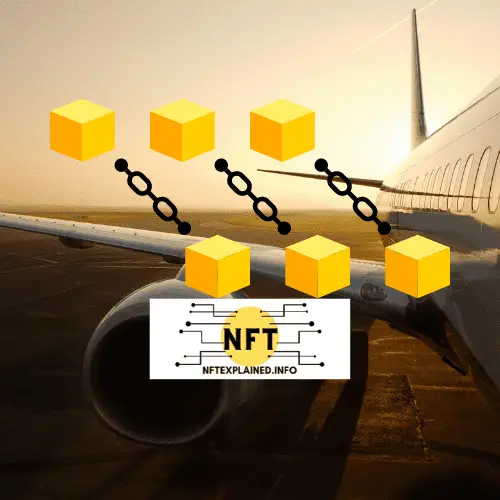 NFTexplained.info is a team of long term crypto investors who are well versed in the NFT space as well as the rapidly evolving way in which the blockchain is affecting different industries. In this article we will explore the blockchain and the aviation industry. 
Airlines and airports are using blockchain technology (including NFTs) to improve on a variety of different aspects that contribute to a cheaper, better distributed, and more effective way of conducting business. Multiple sectors of the aviation industry are currently testing blockchain-based initiatives.  
Many airlines are partnering with blockchain firms as well as working in house to develop blockchain initiatives. It is likely that firms who keep an open mind to this new technology and test its capabilities, enjoy the benefits much more so than firms who dismiss it. 
The growing list of airlines that are known to have already begun testing this technology include: American Airlines, AirAsia, airBaltic, Air Canada, Air France-KLM, Air New Zealand, Air Europa, British Airways, Cathay Pacific Group, Etihad Airways, Singapore Airlines, S7 Airlines, and more. 
Alongside the airlines that have tested this technology are Lufthansa and Delta Airlines who are in the research and development phase; they have not yet begun testing however they have publicly disclosed the existence of teams looking into the blockchains' capabilities.
How Are Airlines Using Blockchain Technology?
Airlines have begun experimenting with NFTs in multiple ways including: tokenizing airline inventory and turning Covid-19 information into NFTs. Firms are already using the blockchain as a way to improve cargo booking and create their own digital currency.  
Some airlines have partnered with companies such as TravelX which has the purpose of improving airline inventory by turning them into NFTs. The NFTs TravelX has created are already functionally equivalent to an electronic ticket as information is updated in real time through the use of smart contracts. 
TravelX is looking to improve profitability as well as the distribution of airline tickets through the creation of NFTs. 
The firm has already partnered with Air Europa to issue NFTs which gave passengers access to a flight to Miami as well as additional utility – entrance to a premier art show. 
airBaltic has already released a collection of 10,000 NFT which give exclusive benefits to holders who fly using their airline. 
NFTs are also being used in airports like San Marino which turned Covid-19 vaccine information into tokenized, digital pieces with two QR codes. This allowed for easier authentication of vaccine information. 
Cargo carriers are also investing in blockchain tech: AirAsia recently launched a new project known as "FreightChain" which allows users to book any of its cargo services delivered by 247 aircrafts. FreightChain does the tracking, bidding, and essentially the entire process of booking the cargo through facilitating real time bids which are verified on the blockchain. This demonstrates the blockchains' ability to support real time bidding and variable pricing, critical elements in the thin-margin cargo business.

The creation of a cryptocurrency that correlates to frequent flier points has already been implemented in multiple airlines. For example, Singapore Airlines has created their own token called "KrisPay". The airline has partnered with 18 different companies including gas stations which accept KrisPay and it currently trades at roughly US $0.07.
Following Singapore Airlines, Cathay Pacific Group announced a reward program known as "Unlock More Miles" which is also a blockchain-based loyalty app.
These tokens have made it vastly easier for fliers to get rewarded in a much faster time (even in a matter of less than a few minutes).
How Is The Blockchain Being Used In Airports?
Airports are using the blockchain – more specifically smart contracts – to refine the way in which information is synchronized. By uploading and connecting all information to a private, permissioned blockchain, information is able to be merged. This is one of many ways airports are using the blockchain. 
NFTexplained.info will cover how SITA Labs is partnering with airlines to fix the problem of unsynchronized data. "FlightChain" was created by SITA Labs in partnership with British Airways, Heathrow airport, Geneva airport, and the Miami International airport.
Ground handlers, passengers looking at flight times via their phone, and airport displays often have different pieces of information and the blockchain was able to help in syncing everything together for over two million flights.
This syncing process is possible primary through smart contact development. NFTexplained.info has a full article covering smart contracts which can be found here.
How Can The Blockchain Be Used In The Travel Industry?
The blockchain is disrupting the travel industry through removing the need for intermediaries – the dreaded middle man. Intermediaries take a cut of each sale on bookings for flights and hotels which makes travel more expensive. 
Using the blockchain, sales can occur directly to the consumer,  allowing people to save money as prices become cheaper. 
The global distribution system which serves as the middle man for those looking to transact (e.g. purchase airline tickets) could be heavily disrupted by the blockchain. Tickets can now be purchased directly from airlines using blockchain-based travel marketplaces like Winding Tree.
Winding Tree is an Ethereum based, decentralized travel marketplace that has partnered with American Airlines, Air Canada, Air France-KLM, Lufthansa, Air New Zealand, and Etihad Airways. 
Winding Tree allows corporate buyers to access airline data directly as the platform allows airlines to publish inventory. They also allow hotels to publish directly on their platform for consumers to buy.
Does The Blockchain Have A Future?
The blockchain is fundamentally changing and disrupting multiple different aspects of business and innovating on what can be accomplished across multiple different industries. There are already thousands of real world use cases from the blockchain and it's highly likely we see much more. 
Regarding the aviation industry, the blockchain has already impacted multiple different parts of flying. To show you the scale of which the blockchain is affecting this industry, NFTexplained.info looked at SITA's 2021 report which stated that airlines have investments of 25% going into research and development programs regarding blockchain initiatives. 17% have invested into major programs regarding the blockchain. Please note that these statistics are percentages by 2024. More on SITA's air travel report can be found here.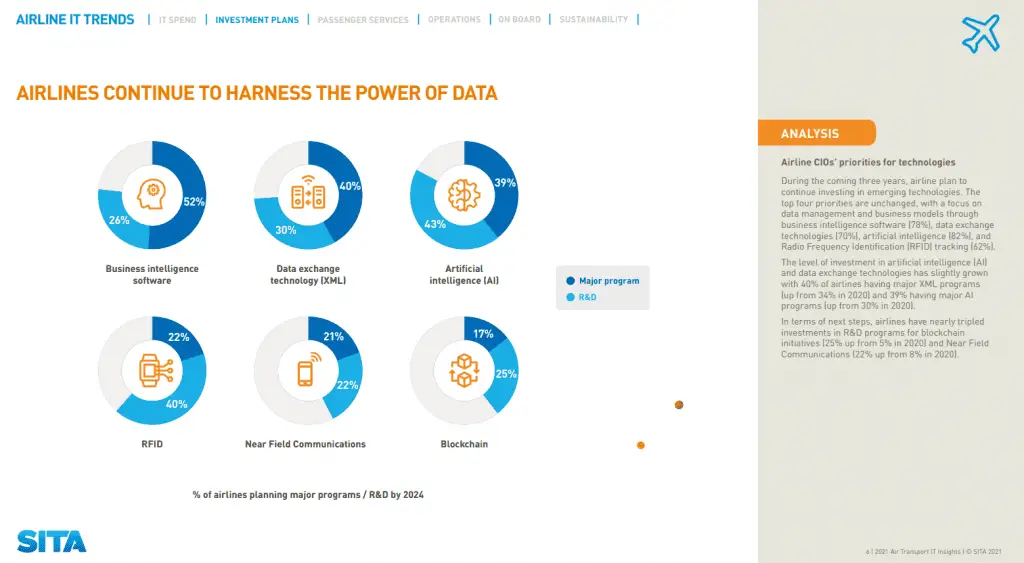 If companies are able to adapt to this new technology it is highly possible they will be economically rewarded as innovation is incredibly important in business. Those who are rethinking aspects of their business and constantly looking at ways to improve will inevitably be more successful. 
We hope you are just as excited as we are about these disruptive opportunities and continue to stay informed at NFTexplained.info. To get the latest news in this rapidly evolving space, follow our team on Instagram & Twitter!