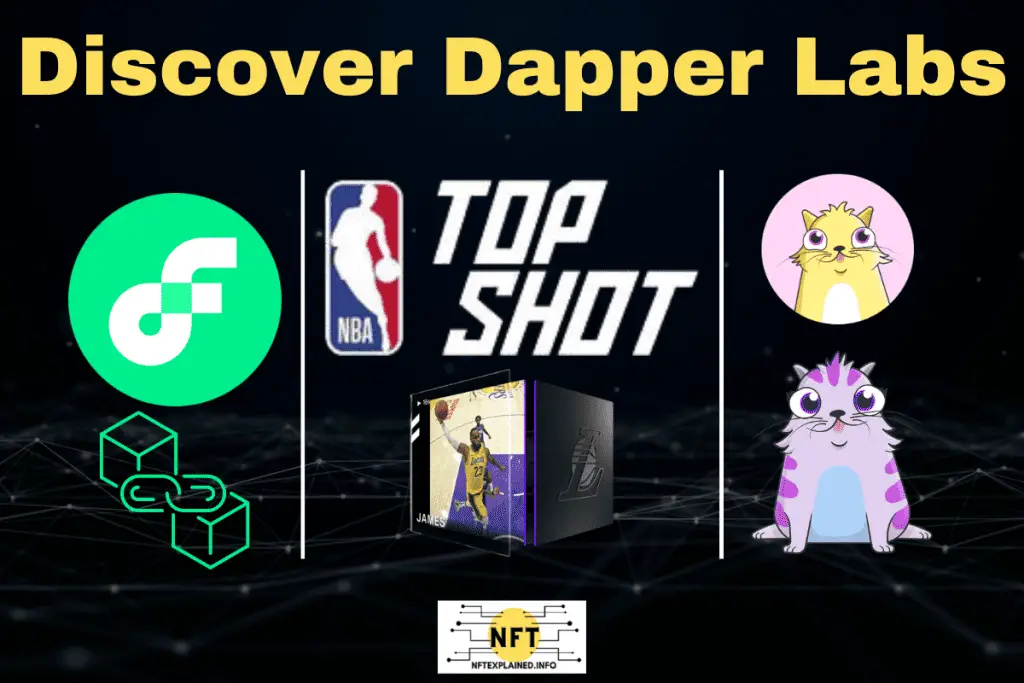 In 2020, the inception of NBA Top Shots sparked an exceptional surge of interest in NFTs, fostering a widespread consumer understanding of some of the crucial characteristics NFTs bring to the table. Notably, it shed light on the concepts of digital ownership and the lucrative potential of trading digital assets for monetary gains. 
Since 2020, Dapper Labs has established itself as an innovative company within the blockchain space; but, what precisely is Dapper Labs? 
Dapper Labs is a leading NFT-focused company, partnering with pro sports leagues (NBA, NFL, UFC) to immortalize moments as NFTs and create captivating NFT-based games like CryptoKitties. They developed their own blockchain, "Flow," as the foundation for their innovative projects and native cryptocurrency.
Dapper Labs, founded by Roham Gharegozlou in February 2018, is a highly successful privately held company operating in the blockchain sector. Based in Vancouver, British Columbia, Dapper Labs has built an impressive ecosystem of renowned partners like Warner Music and leading video game companies in addition to professional sports leagues. 
With $612.5 million in private funding, the company has received substantial investments from reputable venture capital firms like Coatue Management, a16z and others. 
Dapper Labs also boasts an impressive lineup of notable investors, featuring NBA superstar Michael Jordan, renowned rap artist Nas, co-founder and CEO of Reddit Steve Huffman, and celebrated actor Will Smith, among other distinguished individuals.
Dapper Labs first caught widespread attention – including mine alongside many others – with their first groundbreaking release of CryptoKitties in 2017, a phenomenon which is still discussed to this day. This unique NFT game, centered around breeding virtual cats, garnered such immense popularity that it "broke the Ethereum blockchain", leading to a notable slowdown in transaction processing. 
At present, CryptoKitties remain interoperable with the Ethereum blockchain, although they are predominantly hosted on the Dapper Lab's native blockchain, Flow (which I will delve into in the coming sections).
In 2020, Dapper Labs made waves once again with the highly impactful release of NBA Top Shot, which enables ownership of NBA game clips in the form of NFTs. The remarkable NFTs offered by NBA Top Shot encompass the fundamental attributes of traditional NFTs, allowing for reselling, exploration of provenance, and the potential for additional utility.
I believe NBA Top Shots' remarkable success can be attributed, in part, to its strategic marketing approach. By positioning the experience as "moments" rather than solely emphasizing NFTs, NBA Top Shot triumphantly captured the attention and fascination of a wider market segment beyond the confines of the traditional blockchain space.
In addition to strategically presenting professional sports experiences such as those from the NFL and UFC as moments or digital trading cards, Dapper Labs remains dedicated to the development of NFT-based games. Notably, they released Cheeze Wizards, a blockchain battle royale game. 
I think one of the more remarkable innovations the company has made is the development of their Flow blockchain. 
What Is Flow? Exploring Dapper Labs' Blockchain & Cryptocurrency 
Flow is both the name of Dapper Labs' blockchain and that blockchains' native cryptocurrency. 
Flow is a fast and developer-friendly blockchain designed to support a new generation of blockchain based games, apps, and digital assets. Its native token, FLOW, is used for transaction fees and smart contract computations; additionally, the cryptocurrency can be traded or invested for potential returns.
Dapper Labs recognized the scalability limitations of the Ethereum blockchain during the Cryptokitties incident. Their team realized that although Ethereum has implemented sharding techniques, the shards are primarily optimized for transactions and not NFT-based games. 
Sharding, a technique used for database scaling, divides the process into smaller portions known as "shards," enabling faster transaction processing.
According to Dapper Labs CEO Roham Gharegozlou, "… sharding is a good solution for payments, but not for an ecosystem of complex applications like games or social networks."
The Flow blockchain was built to excel in handling collectibles such as NFTs, diverging from a sole focus on payments.
According to David Broecker of Purdue University, Flow is considered the next generation of blockchain technology, surpassing Ethereum's capabilities. The promising nature of Flow is evidenced by its adoption by various businesses, including Dapper Labs, which utilizes Flow for their blockchain applications like NBA Top Shots. 
The Flow blockchain was developed with the aid of Cadence, an in-house programming language. This blockchain platform features four distinct types of nodes, each specializing in a specific aspect of the process.
The Flow token holds a dual role as a payment method for developers utilizing the Flow blockchain through smart contract creation and as a long-term reserve asset for the blockchain ecosystem. It is available for purchase on prominent centralized exchanges such as Coinbase and Binance, as well as decentralized exchanges, providing users with various avenues to acquire and trade the token.
Prominent companies are increasingly drawn to the Flow blockchain due to its environmentally friendly proof-of-stake consensus mechanism and its growing list of reputable companies adopting Flow for NFT development.
An exemplary case is Tibles, an NFT marketplace that has been developed on the Flow blockchain that specializes in creating NFTs tailored to specific audiences, such as Seussibles, which are officially licensed Dr. Seuss-related NFTs. 
Tibles has successfully secured over $4 million in funding to advance its mission of digital collectibles focused on renowned brands and their decision to build atop the Flow blockchain is a testament to its abilities.
In the rapidly evolving world of blockchain technology and NFTs, there is one question I think everyone should ask: is it safe? 
Exploring the Safety of Dapper Labs: A Comprehensive Analysis
Dapper Labs is a trusted and reputable company, known for developing reliable products like CryptoKitties, NBA Top Shots, and the Flow blockchain. With a strong track record and the support of reputable VC firms and renowned investors, Dapper Labs has secured over $600 million in funding. 
In fact, there has been speculation surrounding a potential IPO for Dapper Labs in the near future. However, it's important to note that their native cryptocurrency, $FLOW, has experienced a significant decline amidst the prevailing regulatory uncertainties amidst the cryptocurrency market bear market. 
The Flow blockchain, coupled with Dapper Labs' digital collectibles and NFTs, operates on a foundation of smart contracts, ensuring complete custody of digital assets. By basing their business model on blockchain technology, Dapper Labs enhances security, leveraging benefits inherent to the blockchain to safeguard transactions and protect user assets.
As a potential IPO looms on the horizon, investors are keen to discover the notable backers and supporters of the company, including the individuals and entities willing to place their trust and financial resources in Dapper Labs.
Ownership of Dapper Labs: Exploring the Key Investors and Backers 
Dapper Labs is privately owned, with major investors including renowned NBA stars and prominent institutions like Coatue Management, a16z, Coinbase Ventures, and Warner Music Group. While an IPO is not currently announced, speculation persists due to the substantial private funding secured by Dapper Labs.
I am intrigued by the operational dynamics of Dapper Labs' subsidiaries such as NFL All Day, CryptoKitties, and NBA Top Shots. It will be interesting to see whether the company will pursue an IPO or rely on the FLOW cryptocurrency as a means for raising more capital. 
I hope you found this article informative and continue to stay informed with NFT explained. You can find us on YouTube, Instagram, Twitter & TikTok.
If you found value in our content or wish to support our educational mission, you can collaborate with our partner by purchasing a Ledger hardware wallet!