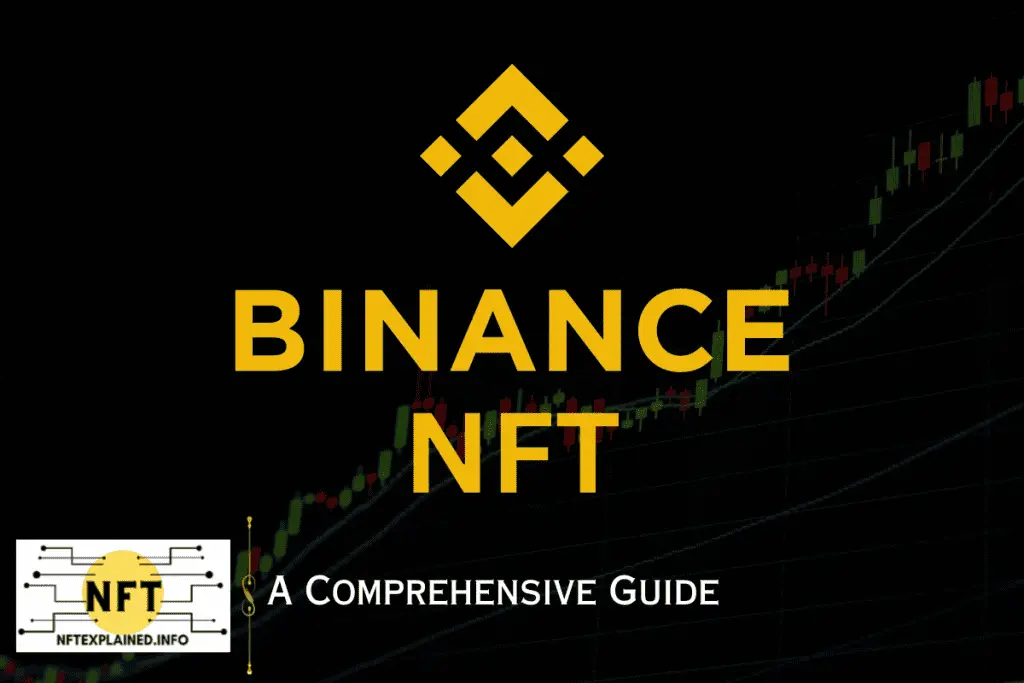 OpenSea launched its beta version in 2017 and by late 2021 the marketplace was seeing billions in trading volume – per month – amidst the first NFT bull run. Large cryptocurrency exchanges couldn't sit on the sidelines any longer and by June 24, 2021 Binance launched their NFT marketplace, many months ahead of rival Coinbase.  
Binance, the cryptocurrency exchange, launched an NFT marketplace; the platform allows users to buy, sell, and trade a variety of digital assets. The marketplace runs primarily off the Binance Smart Chain but works cohesively with the Ethereum, Polygon, and Bitcoin blockchains. 
The Binance Smart Chain, much like its competitors, operates by minting or tokenizing digital assets. This will incur a gas fee but like all NFTs, it will provide proof of ownership, show the items' provenance, allow you to resell the asset, and may provide the owner with additional utility.  
The gas fee is the reward a miner – or someone running the blockchain code – receives for verifying a transaction and is what keeps the blockchain secure; I have incurred gas fees for any and all types of blockchain transaction such as minting an NFT. 
The marketplace primarily functions with Binance's own cryptocurrency coin, named BNB, which serves as the means to pay for gas fees or the creation of NFTs. That being said, acceptable payment – BNB, USD, BUSD, ETH, etc. – tend to vary depending on the asset being purchased. 
The Binance NFT marketplace offers distinct capabilities; the first of course includes a marketplace for the purchasing and selling of NFTs. In order to sell an NFT you must have at least two followers on your Binance NFT user profile and have completed identity verification. 
The second distinct characteristic offered by the NFT marketplace is NFT loan capabilities which I believe is unique to Binance. This is where NFTs are used as collateral to secure loans from Binance; however – and not unexpectedly – loans must be overcollateralized. 
At present only 4 NFT collections – Bored Ape Yacht Club, Mutant Ape Yacht Club, Azuki, and Doodles – can be used for loans; these could be considered to be 'blue chip NFTs' and the cheapest collection, Doodles, still run just above 2 ETH (at the time of writing). 
The third distinct characteristic of the marketplace is collections where NFTs from well known people such as athletes like Cristiano Ronaldo, digital artist, musicians, and more can be purchased; however, these collections are released infrequently. 
The fourth novel characteristic is the staking program offered which allows you to stake NFTs from two companies in order to earn the related tokens. Staking is provided for Yuga Labs (which encompasses BAYC, MAYC & BAKC) which yields $APE coin and The Sandbox which allows you to earn daily $SAND rewards. 
The fifth and final characteristic to their marketplace is the "Mystery Box," which adds an exciting layer of gamification to the NFT minting process. The Mystery Box feature adds a sense of surprise and anticipation, reminiscent of opening a treasure chest in a video game. Each box holds the potential for discovering highly sought-after and rare items, thereby elevating their inherent value. 
Binance Smart Chain (BSC): A Comprehensive Guide and Overview
The first chain delivered by Binance was the "Binance Chain" – notice how it's missing the word smart (as it lacked smart contract capabilities). It was created back in April of 2019, just two years after Binance was founded. It wasn't until 2022 that the "Binance Smart Chain" was created.
Binance Smart Chain (BSC) is a proof of stake blockchain that runs alongside the Binance Chain; it supports Ethereum Virtual Machine (EVM) and allows for smart contract development. This means the BSC was launched to support Ethereum applications and enabled smart contract functionalities like NFTs. 
The Binance Smart Chain runs parallel to the Binance Chain however both are considered to be independent blockchains regardless of their similarities. 
The main development with the BSC is its EVM compatibility, meaning developers can potentially move their decentralized applications or dApps from Ethereum to BSC with ease. This also makes it easy for users like myself to quickly add the Binance Smart Chain Network to MetaMask within seconds, making it possible to easily see and manage assets from this blockchain in one of the world's most popular wallets. 
BSC allowing for the integration of smart contract development was undoubtedly a plus. If you would like to learn why I believe smart contracts to be the most groundbreaking development within blockchain technology to date, you can read this article. 
Returning to the technical aspect of the BSC, it employs a robust proof-of-stake (authority) consensus model. Within this model, a select group of 21 validators are chosen daily based on their substantial holdings of BNB coins. These validators play a crucial role in validating transactions and, in return, receive commissions (or gas fees) for their work. 
Now let's delve into the realm of NFTs and explore how the Binance Smart Chain (BSC) fares in this exciting domain.
Binance Smart Chain (BSC) Compared To Ethereum
While Ethereum has far more dApps built atop it, the BSC is not deserted and is slowly catching up. While Ethereum continues to see the most NFT trades, both are viable options given their smart contract capabilities. 
Binance Smart Chain (BSC) is a popular choice for NFTs due to its cost advantage (typically having 65% lower fees than Ethereum) and faster block time (3 seconds vs. Ethereum's 13 seconds). Of course block times vary with network congestion. 
Both are energy efficient and use proof of stake consensus models that vary only slightly. More on how the proof of stake consensus algorithm works and the energy used from NFTs can be found in this article.
Creating NFTs On The Binance NFT Marketplace: A Simple Guide 
Before you can create NFTs on the Binance NFT marketplace, you must complete identity verification and have a minimum of two followers on your Binance NFT user profile. Then you must have your NFT collection approved by Binance. Lastly, you must pay the gas fee in order to mint the NFT. 
Unlike platforms such as OpenSea, Binance takes a different approach by not utilizing lazy minting, where digital assets can be uploaded without immediate minting. Since lazy minting is not utilized on Binance I think they have set meaningful hurdle to selling an NFT – as a way to mitigate wasteful energy consumption. 
Additionally, to ensure ownership of your collection on decentralized marketplaces, it's important to connect a wallet to the smart contract owner address. If you don't provide a wallet address, claiming ownership of your collection won't be possible. Delving deeply into this is beyond the scope of this article, and if you are interested I'd recommend reading Binance's article on this, linked here. 
Depositing NFTs to Binance from Other Platforms: What To Know
When it comes to depositing NFTs to Binance from other platforms, I would advise exercising caution. From a broader perspective, I don't see the benefits as buyers are less likely to spend more on an NFT listed higher on one marketplace compared to another. This is especially true considering that some NFT marketplaces now display whether an NFT is listed on multiple platforms.
For US Binance users, this feature is not supported and depositing an NFT that did not originate from the Binance platform may be lost. For Binance users not in the US, after connecting a wallet, any NFT that can't be deposited will have the collection name blurred out, and when you click on it, you will see deposit unavailable. 
The supported chains are currently BNB Smart Chain, Ethereum, and Polygon. I found useful information regarding US Binance users here and the information regarding deposits for those not in the US here. 
When Did Binance Launch an NFT Marketplace?
As NFTs gain momentum, more marketplaces emerge, primarily from crypto companies seeking profits through commissions (Binance charges a 1% fee and OpenSea charges a 2.5% fee), self-selling NFTs, and Binance's promotion of its BNB coin in transaction processing. 
Binance officially launched its NFT marketplace on June 24, 2021. At launch the site released three unique offerings – "Premium Event", "100 Creators" program, and the first Binance Mystery Box. Since launch, other features like NFT loans, NFT-related staking, and chains like Polygon, Ethereum, and Bitcoin have been introduced. 
While I would consider OpenSea to have a better overall NFT marketplace, particularly due to their lazy minting features, Binance is adding features at a more rapid rate. 
Binance's NFT marketplace launch came with a "Premium Event" which showcased exclusive NFTs created by renowned influencers like retired football star Michel Owen, eStarPro (an Esports team) & work from Salvador Dali. More recently, Binace did a collection with Cristiano Ronaldo.  
The marketplace launch also introduced the "100 Creators" program, spotlighting promising yet lesser-known artists to elevate their presence in the NFT space. Renowned Malaysian artist Red Hong Yi, who once graced the cover of TIME magazine, debuted her inaugural collection of NFTs. 
The first Mystery Box was released as well which I will cover in the next section although it's worth noting that each mystery box is remarkably similar in structure. 
Binance is constantly evolving its platform, by introducing and removing various features. Notably, the 100 Creators program is currently not visible, reflecting Binance's dynamic approach to providing new experiences and offerings.
What Are Binance's NFT Mystery Boxes?
As mentioned earlier, Binance introduced the Mystery Box feature, allowing users to purchase a chest in which unique NFTs are unlocked; each NFT varies in rarity are delivered. The ultimate prize is under the rank "Legendary", and the chances of obtaining it are relatively slim. 
Binance's Mystery Box offers exclusive digital collectibles associated with specific brands. Each limited and somewhat infrequent release showcases a distinct brand. The inaugural box featured tokidoki, a Japanese-inspired lifestyle brand, and sold out within a minute. 
A unique feature that Binance added is the ability to hold the mystery box without opening it. This gamification means that these unopened boxes can be resold and could be more profitable than actually opening the box. Another unique aspect from the launch is the decision to only allow a select few people to mint these NFTs.
The breakdown of the items for the first mystery box from tokidoki can be found below:
| | | |
| --- | --- | --- |
| Name of NFT | Rank | # Minted |
| Gold BNB Dragon Unicorn | Legendary | 10 |
| Black BNB Unicorn | Super Super Rare | 734 |
| Black BNB Salaryman | Super Rare | 1714 |
| Miso, Biscotti, and Atena | Rare | 22050 |
| Tokimeki, Liberty, Mekacorno U9, Kaiju Tokimon, Acquaria, Miss Tropicool, Donutella, Bianco Latte, Sneaky Snacker, and Sandy | Common | 98000 |
Source: Binance website
With the proliferation of new NFT marketplaces, I anticipate a surge in innovation, paving the way for exciting developments like potential airdrops from NFT marketplaces and other captivating features.
I think these initiatives will aim to entice users to engage in NFT trading on specific platforms, fostering a dynamic ecosystem that ultimately benefits the end user.
I hope you found this article informative and continue to stay informed with NFT Explained. You can find us on YouTube, Instagram, Twitter & TikTok.
If you found value in our content or wish to support our educational mission, you can collaborate with our partner, by utilizing the affiliate link to purchase a Ledger hardware wallet!