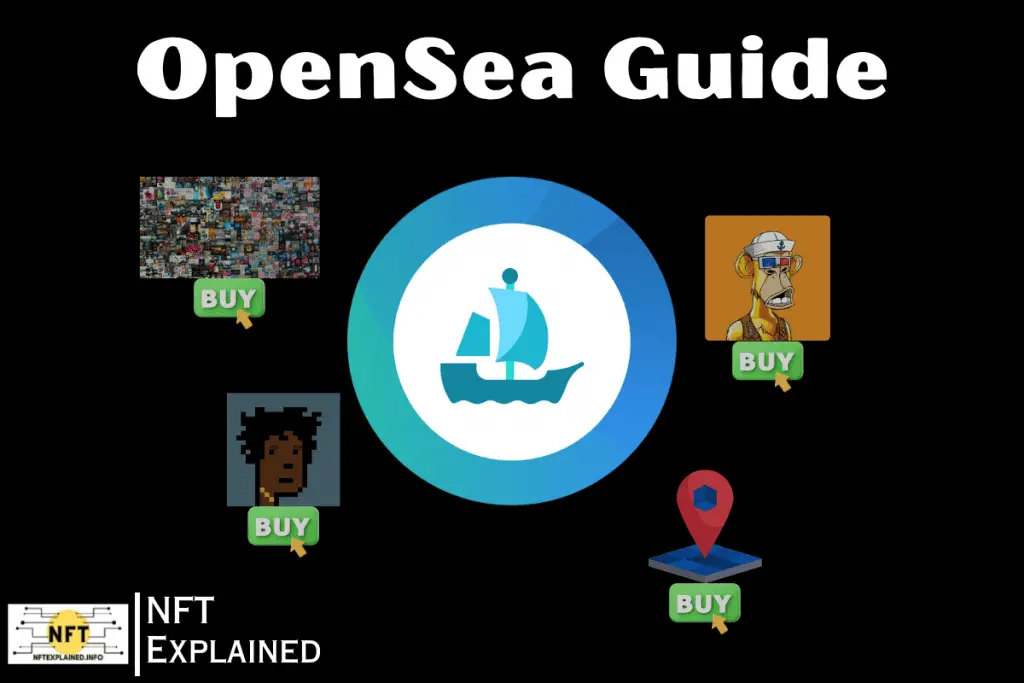 When I first began trading NFTs in late 2020, OpenSea stood out as the largest NFT marketplace and has maintained its leading position ever since. OpenSea's dominance in the digital asset sector is reminiscent of Amazon's influence in the e-commerce industry, although it continues to see heightened competition from giants like Coinbase and Binances' NFT marketplaces.
OpenSea is a leading NFT marketplace, often called the 'eBay for digital assets.' It acts as a user interface for blockchain technology but more specifically smart contracts from a range of different blockchain; the smart contracts enable instant NFT purchases with verifiable ownership and tradability.
OpenSea acts as a user-friendly front end for the underlying blockchain technology, offering a seamless shopping experience for digital assets. You can take a look for yourself; but first, I'd recommend reading through the entirety of the article so you can gain a comprehensive understanding of the marketplace. 
Without deploying any blockchain code, OpenSea allows you to list any digital file for sale without incurring any expenses. I will dive deep in the coming sections of the article about this process, called lazy minting. 
Additionally, by connecting a blockchain wallet such as MetaMask, you can purchase assets on the platform, provided you have the necessary funds including enough to cover the gas fees (which I will also explain in this article).
OpenSea Safety: A Comprehensive Guide to Security 
In the world of cryptocurrencies, safeguarding digital assets is paramount due to the surplus of malicious actors. Therefore, the natural question arises: is OpenSea safe? 
As a general statement, OpenSea is a safe platform that leverages blockchain technology providing reliability and transparency. With many billions in trading volume, a vast selection of assets, and substantial funding from venture capital firms like Andreessen Horowitz, it's a trusted platform in the NFT market.
OpenSea – like Amazon and eBay – has its share of malicious users, but the platform itself is safe. OpenSea has implemented measures to combat fraud, including a verification system that helps protect against purchasing NFTs from fraudulent creators impersonating others. 
Although there is a verification system in place (blue check we have become familiar with from social media), one important self-protection step I highly recommend is carefully reviewing the seller's page. This practice just ensures that you are buying from the intended seller and not from someone impersonating them.
That being said, if a deal doesn't go through in a single transaction, nothing will happen and it's as if nothing ever did. Using smart contracts, predefined requirements must be met before a transaction is processed.
Going back to the platform itself, OpenSea security relies upon inherent traits of NFTs, harnessing the power of blockchain technology. This allows users to conveniently trace the creator of an NFT and access information about its provenance.
NFT collectors rely upon OpenSea in part because of the scale of its operations. In January 2022, OpenSea processed a staggering monthly trading volume of $4,870,266,474 USD (converted from ETH). This remarkable figure represents their peak monthly trading volume thus far, and was the pinnacle of the NFT bull run initiated in July of 2021. The data source I, and OpenSea have used (in the past), can be found here. 
To emphasize the scale and significance of the company, as of the time of writing this article, OpenSea has secured an impressive $427.2 million in funding. This substantial investment from the likes of many reputable VC firms like a16z which led their Series B funding round. 
This enormous fund raise was facilitated by the huge opportunity VCs perceived as well as the impressive background of the founding team. To quickly provide a bit of background on OpenSea's founders, the company was created by a talented duo, consisting of two co-founders. Alex Atallah, a Stanford graduate with previous experience at Apple and other software companies, and Devin Finzer, who previously worked at renowned tech companies like Google and Pinterest and attended Brown University. Let's get back to the platform itself.
Choosing the Best Wallet for OpenSea: Securing Your NFTs 
To acquire an NFT from OpenSea, a digital wallet is essential for making the purchase and storing the NFT securely. However, not all wallets in the crypto space are created equal. Having used numerous wallets before, I'll provide my input. 
When connecting to OpenSea, using self-custody wallets like MetaMask is convenient. For optimal security, connecting a hardware wallet to MetaMask is recommended. Hardware wallets store private keys offline, providing an extra layer of protection compared to using MetaMask alone.
While MetaMask is a self-custody wallet – meaning you are the sole person in possession of the wallet – which is much safer than using a centralized exchange. The case of FTX, in which a centralized exchange held everyone's keys but then went bankrupt highlights the advantages of having private keys stored offline. 
Private keys are what actually provides control over your digital assets and storing them online leaves you vulnerable to hacking and phishing attacks – although the likelihood of success of these attacks depends on your personal level of diligence. 
Using a hardware wallet that is connected to MetaMask and then using that to interact with OpenSea (or just connecting your Ledger directly as integration was recently added) provides an extra layer of security as the private keys are stored offline and physical confirmation is needed (i.e. you must confirm transactions on the hardware device). 
That being said, connecting a hardware wallet is definitely more challenging and may require a bit more technical expertise; however it's important to note that you can have multiple accounts on your MetaMask – including an account with your hardware wallet. 
If you are transacting with valuable digital assets, then I'd suggest using a hardware wallet and storing the actual NFT in the hardware wallet unless you plan on immediately flipping it. 
Overall, a wallet is needed when purchasing an NFTs on OpenSea, as you receive a private key that serves as proof of ownership and directs you to the specific blocks on the blockchain storing the NFT; typically, the location of these blocks is what is stored inside your wallet. 
Connecting MetaMask to OpenSea is a straightforward process if you already have MetaMask installed. Simply hover over your account icon at the top right, select 'My Profile', then 'Settings' in the upper right corner, and provide a username, bio, and email address. Once you verify your email, your wallet will be connected to OpenSea.
OpenSea Fees: Exploring the NFT Marketplace's Cost Structure
OpenSea receives 2.5% of every successful transaction; this is how the company makes money. Additionally and separately, gas fees are paid to miners by the purchaser as transactions must be processed on the blockchain; gas fees vary greatly depending on the blockchain used.
In order to ensure the security of the blockchain, miners (computers running blockchain code) verify transactions including each sale of an NFT. The miner receives a small reward for this action which is known as a gas fee. I will note that setting up a page and listing an NFT is completely free on OpenSea which I will further cover in the next section of the article. 
Creators on OpenSea have the option to set secondary market royalties of up to 10% on their NFTs. This can be done by editing their art collection and specifying the commission fee. When an NFT is resold in the secondary market, the creator receives the set royalty percentage.
Creators pay the gas fee for accepting offers as the creator is the one interacting with the blockchain in this scenario; I should note that on OpenSea, buyers have the option to send an offer for an item – similar to eBay. 
On the other hand, purchasers cover the gas fee for 'buy now' transactions. Additionally, unsuccessful auctions on OpenSea result in no gas fees being paid, and the NFT returns to the seller's collection.
After a transaction is processed, sellers receive ETH in their wallet, and revenue is distributed monthly to the seller's specified wallet address.
OpenSea Lazy Minting: Understanding the Cost and Process
OpenSea uses lazing minting; this allows users to upload any digital asset like art and have the item be seen by the OpenSea market before tokenizing the item. With lazy minting, no gas fees are incurred until the item is transacted either by the actions of the seller or by the purchaser. 
Whoever accepts or completes the transaction is the one paying for the gas fees to mint the NFT. To recap: creators pay the gas fee for accepting offers and purchasers cover the gas fee for 'buy now' transactions.
Guide to Selling NFTs on OpenSea: Step-by-Step Process
Visit the OpenSea homepage and click on the main logo.
Click the "Create" button and enter a name and logo for your collection.
Once the collection is created, click "Add New Item" to upload the digital file from your computer and name the item.
Customize your listing by adding a description, unlockable content, levels (for digital cards), and more.
After publishing the item, locate the "Sell" button on the top right of the page to set the price and other sale details.
Creating a collection on OpenSea is now free, eliminating the need for gas fees. With lazy minting, you can add multiple NFTs to your collection without paying for their minting until a transaction occurs. 
It's important to note that once an item is posted on the marketplace, traits cannot be adjusted. As a seller, you have various options like setting a fixed price, auctioning to the highest bidder, or bundling multiple digital assets for sale (if you have multiple to sell). Check out the screenshot from OpenSea for a visual reference.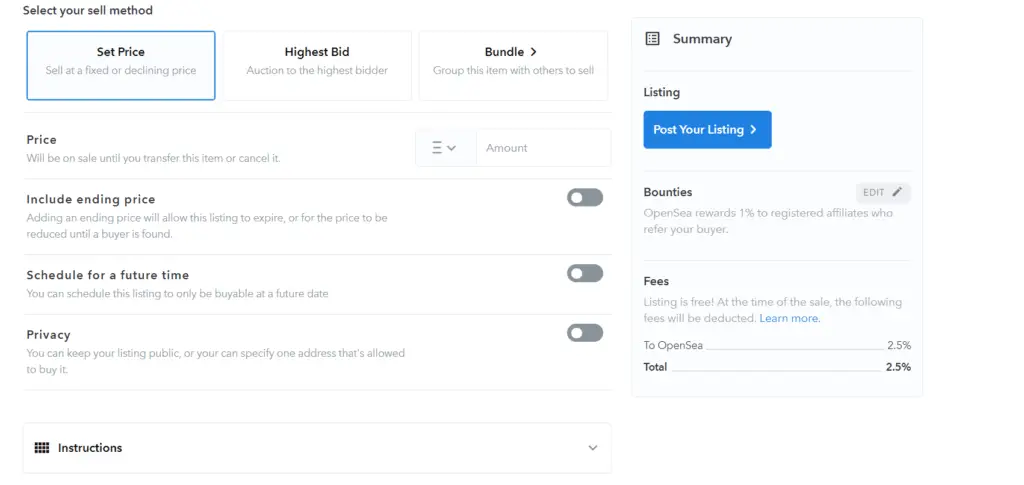 Unfortunately, uploading a digital file to the marketplace without an established reputation as a skilled artist is unlikely to result in sales. If you're seeking advice from top artists on how to increase your chances of selling NFTs, I recommend checking out the insights shared in this article.
Understanding Transaction Processing Time on OpenSea: What to Expect
The processing time of transactions on OpenSea is determined by the gas fee you choose to pay. Higher gas fees lead to faster transaction processing as miners are incentivized to prioritize transactions with higher fees. If the gas fee is set too low, the transaction may not be accepted for processing. 
Once the fee comes up click on edit; this gives you the option to adjust the amount of gas you will pay – and therefore the transaction speed. You will have the option to select slow, average, and fast; fast being the most expensive and taking the least time for the transaction to be processed.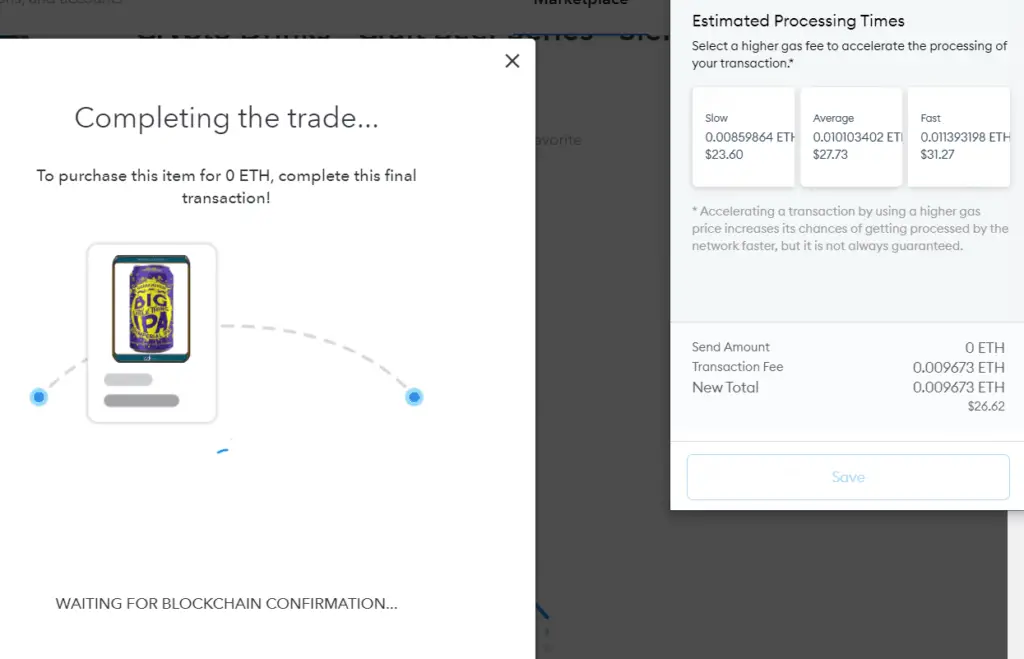 OpenSea Shopping: Curating Your Collection
Before proceeding with this section, it is important to clarify that I am not offering any form of financial advice or advice in general. It is crucial to conduct your own thorough research and due diligence at all times.
Buying NFTs on OpenSea supports digital artists and creators. However, when making purchases in hopes of potential price appreciation, it's crucial to conduct due diligence – including examining the founding team – to avoid scams. Research the project's credibility, community engagement, and past performance to make informed decisions. 
Purchasing an NFT is akin to acquiring a company, requiring a thorough examination of all factors such as artwork and utility. Be extremely cautious with creators or project founders lacking a track record of creating demand, as they pose higher risks. Additionally, consider factors like provenance and do careful evaluation before committing funds to an investment. 
Does OpenSea Have Their Own Cryptocurrency?
While firms like Binance (a cryptocurrency exchange platform) have a coin – $BNB – other firms have chosen not to produce one. 
OpenSea does not have a coin that is available for purchasing at this point in time. OpenSea can only be used for the buying and selling of NFTs and no market-native coin can be purchased on any centralized or decentralized exchanges. 
OpenSea Review: Final Thoughts About The NFT Marketplace
OpenSea offers a user-friendly interface, providing a seamless experience for buying and selling NFTs. It's a significant milestone for the NFT industry, enabling free listing of digital assets without the need for minting if they remain unsold. This approach addresses environmental concerns associated with excessive tokenization.
The main downside I've encountered with the marketplace is the high gas fee;  but that issue can be attributed to the price we pay miners to ensure the security of trustworthiness of the blockchain. 
While Ethereum has low gas fees during periods when fewer people are transacting when rates can be as low as a few US dollars while at other times it can be in the hundred of dollars. 
In order to mitigate the risk of excessive Ethereum gas fees, one step OpenSea has taken is the integration of other blockchain networks like Solana or Polygon. However a compatible wallet must be connected to work with blockchains that are not Ethereum based.  
It will be interesting to see if OpenSea is able to maintain their position as the top NFT marketplace, especially given the rise in other marketplaces like Coinbase. 
I hope you found this article informative and continue to stay informed with NFT Explained. You can find us on YouTube, Instagram, Twitter & TikTok.
If you found value in our content or wish to support our educational mission, you can collaborate with our partners by utilizing these affiliate links: Purchase a Ledger hardware wallet! U.S. users can get a crypto trading discount on Binance!