You are likely familiar with the Ethereum blockchain and the most popular NFT marketplace – OpenSea (especially for those purchasing Ethereum based NFTs). If you're an NFT whale, you may have heard of Phantom (for those who have purchased Solana-based NFTs). One of the blockchains which is seeing an increase in users is VeChain; we will discuss the blockchain's capabilities, how to set up a VeChain wallet, how to purchase VeChain NFTs, and examine an NFT collection native to VeChain (the VeGnomes). 
Before we take a look at VeChain NFTs, allow the team at NFTexplained.info to briefly explain VeChain. What is VeChain?
VeChain, founded in 2015, is a layer one blockchain with smart contract capabilities. Its main purpose is to deliver real time data without the need for a third party or intermediary. VeChain has been used in a variety of different industries because of its ability to provide transparent data. 
The VeChain blockchain was created with the goal of providing transparency as well as trustless, real time data in a range of different industries – like healthcare, supply chain, and the food industry. 
Among the widely respected brands VeChain has partnered with, one notable brand the blockchain recently paired up with is the UFC; this is a testament to the smart contract capabilities the blockchain provides. Our team says this as we have seen companies like Dapper Labs – the creator of NBA Top Shots – building their NFTs atop the Flow blockchain. The UFC parting with VeChain is an attestation to the blockchains abilities.  
$VET is the main token backing VeChain and can be purchased on most tier one cryptocurrency exchanges; for those looking to pick up some $VET our team will link our Binance referral link so you can receive a trading discount. (Please note $VET can not be purchased on Coinbase at this time).
Aside from $VET, the VeChain blockchain also uses $VTHO which primarily acts as the gas token for funding transactions. Using $VTHO as a gas token provides benefits including low cost of transactions since less blockspace is used as transactions don't have to fully occur on $VET. Using $VTHO allows the founders to keep fees low as they can artificially inflate or decrease the production of $VTHO. 
How Can I Setup A VeChain Wallet To Purchase VeChain NFTs?
Our team will take a look at two ways in which a VeChain wallet can be set up. We will examine an option for those with Apple devices; we will also provide an option for those looking to do this on their Windows computers. We should note both wallet set up techniques are created by the VeChain team – VECHAIN TECHNOLOGY SEA PTE. LTD. 
As a general statement, the best way to set up a VeChain wallet is by downloading the VeChainThor app from the Apple App Store. An alternative – especially for those looking to transact on a Windows PC – is to use Sync2; however Sync2 is currently in the alpha stage and the VeChain team only recommends that developers use it. 
Our team has set up wallets in both ways; however, we preferred to use the version from the Apple App Store simply because of the ease of transacting within the app. While both are good and have a clean user interface, we preferred the "VeChainThor" app on the iPhone because of the similar user interface utilized by MetaMask.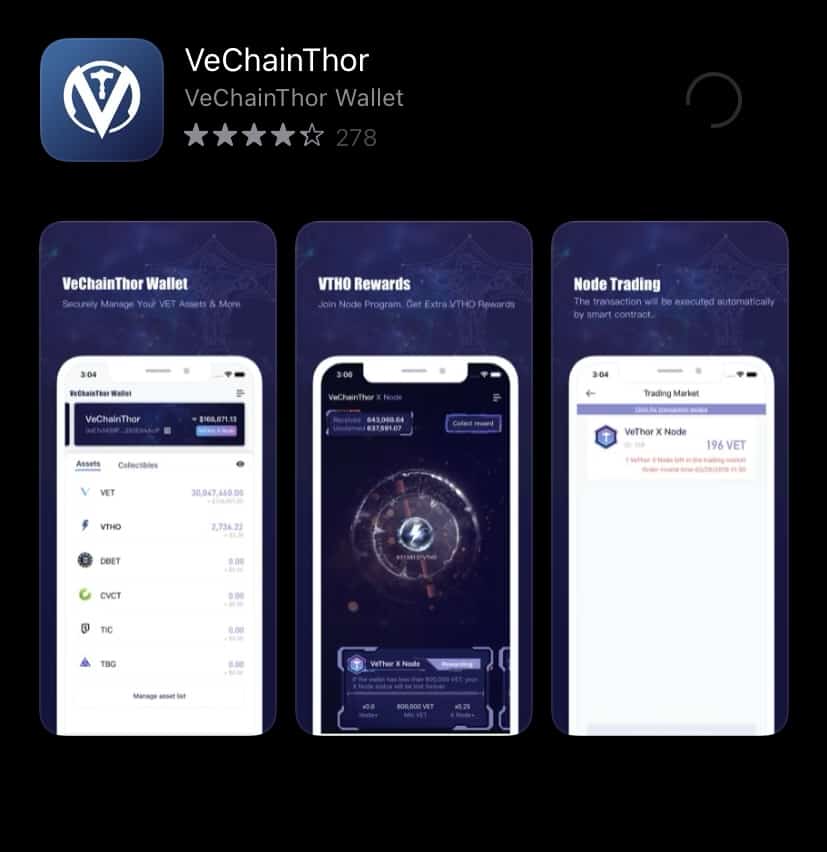 The VeChainThor app works similar to MetaMask and is likely easy to set up if you have created a MetaMask wallet before. It is important to write your seed phrase offline and keep it in a safe location as your seed phrase can be considered the master key to your assets; those who possess this valuable set of 12 words can take control of your digital assets. If you would like to learn more about the importance of keeping your seed phrase offline and why our team highly recommends using a hardware wallet, click here. 
The process of creating a wallet using Sync 2 is also comparable to setting up other dapps (decentralized applications) however the VeChain team does not recommend using it at this time. More information on Sync 2 can be found here. 
Now that you have downloaded a wallet, let's take a look at the different NFT marketplaces available to VeChain users. 
Where Can I Buy VeChain NFTs?
When it comes to NFT marketplaces on the VeChain blockchain there are a few good options; most notably there is VeSea and then WoV (World of V). One should note that VeSea sees the majority of NFT related transactions, however, it is difficult to say which marketplace is the best as each continues to be developed. 
There are a number of different VeChain NFT marketplaces, however the two most notable are VeSea and WoV (World of V). Both marketplaces are seeing constant improvements and it's challenging to say which is better. VeSea is primarily for NFT collections while WoV has art from artists. 
Collecting and creating on VeChain-based NFT marketplaces are free due to VeChains gas fee delegation – our team would highly recommend checking both marketplaces out. 
Both marketplaces have a similar user interface to OpenSea and therefore are easy to navigate if you are familiar with OpenSea. 
To conclude our article our team will take a look at a rising collection built atop the VeChain NFT ecosystem. 
A VeChain NFT Collection – VeGnomes & VeRepears 
While the VeChain blockchain is widely recognized, NFT collections atop that blockchain tend to go relatively unnoticed (relative to NFTs minted on the Ethereum blockchain). One person driving awareness in the VeChain NFT space is Jeff Perry (a bodybuilder & content creator with a passion for educating people on weight training, superfoods, and most recently web 3); he is one of the founders from the VeGnomes and VeReapers NFT collections. At the time of writing this article, VeReapers are still minting while the VeGnomes sold out in 59 minutes.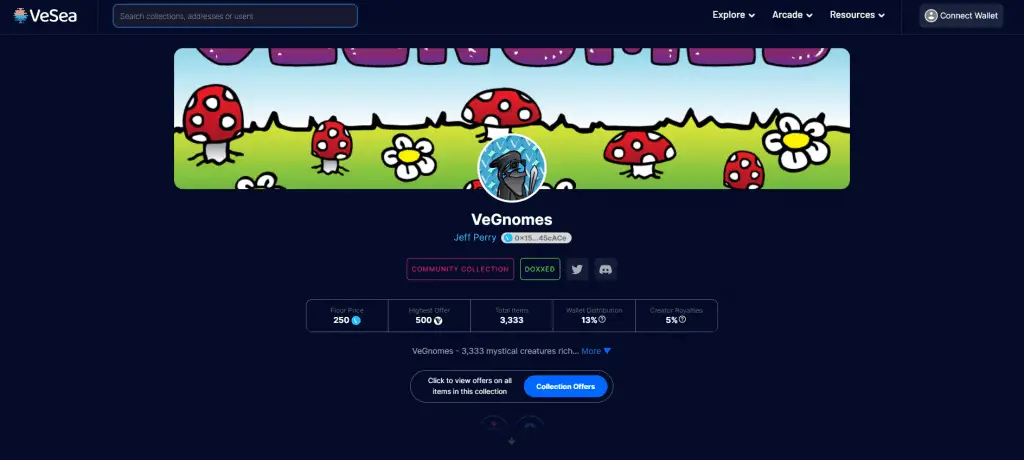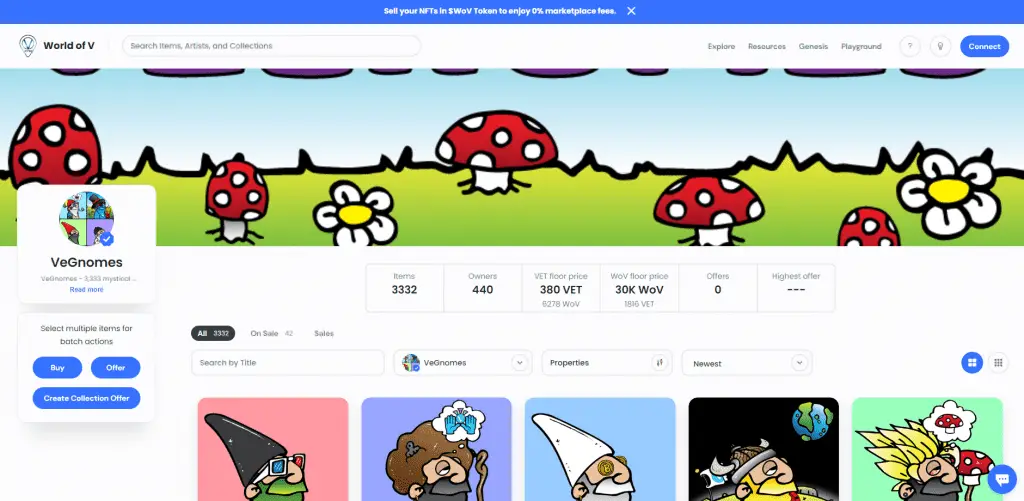 Our team had the opportunity to connect one-on-one with Jeff and ask him why he decided to create this project atop the VeChain blockchain. He stated, "I personally spent the most time using VeChain and trading NFTs on that chain so I became familiar with the community (and the foundation's roadmap). I really think VeChain NFTs will do well in the years to come."
Jeff's perspective is easy to appreciate – NFTexplained's team members enjoyed almost immediate transactions with no gas fees. From a broader corporate standpoint, we have seen $VET partner with notable companies like BMW and the UFC (as previously mentioned). 
If you would like to take a look at VeGnomes and VeReaper NFT collection, our team will link to that here. Please mint and transact with caution and note that the team at NFTexplained.info is not providing financial advice but rather acting as an educational resource; as always, please use good financial hygiene. 
Find our team on the socials listed below and let us know what you think about the VeChain ecosystem. Follow us on Instagram, Twitter & TikTok! As well as subscribe to our YouTube!
Additionally, please consider supporting our team's content creation through doing business with our partners: 
Trade stocks & crypto on Webull – get 2 free stocks. 
Buy a Ledger hardware wallet. 
U.S. users can get a crypto trading discount on Binance!