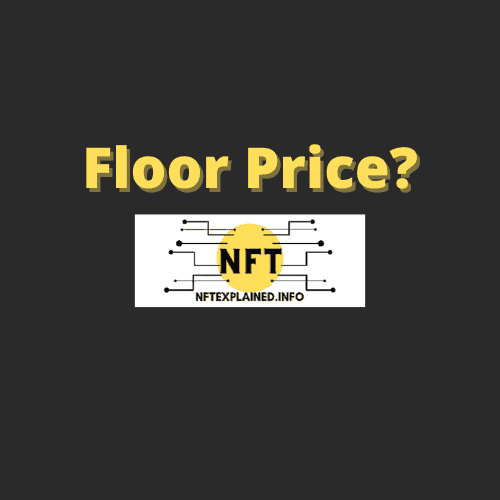 NFTexplained.info is a team of long term crypto inventors who have blockchain experience. In this article we will breakdown the metrics used for NFT projects; this will allow you to become a more educated NFT investor. 
In the NFT market, floor price is the lowest amount of money you are able to spend to become a member of a project (own a NFT). Floor price is set by the individual who owns an NFT in a specific project and is listing the NFT for sale at a price cheaper than all other sellers within that given project. 
Floor price is a term that was commonly used by economist to represent how low a price can be charged for a certain commodity, good, or service. In the NFT market, it is one of the most widely used metrics to help in valuing a project. 
As an illustrative example, Bored Ape Yacht Club, one of the most highly regarded projects, currently has a price floor of 39.99 Ethereum. 

This means purchasers looking to buy a Bored Ape can do so for 39.99 ETH; this is the cheapest option a purchaser has to get in on the project.
Another way a purchaser may be able to own a Bored Ape for below the floor price is by sending an offer; however, this is incredibly unlikely to be accepted as it doesn't make logical sense for a seller to accept it. 
Since OpenSea works in a format similar to eBay, purchasers have the option to send bids or offers which are time sensitive and these offers can be at any price (including lower than the floor price however, it's incredibly unlikely to be accepted).
Purchasing an NFT at the floor price is often done in order to receive the benefits/utility of being an owner. NFTs within a project being sold at floor price or near floor price often have properties/traits that are not rare and therefore do not create additional value. 
Another metric OpenSea gives investors is the amount of volume traded for a given project; if you are interested in learning about volume traded, NFTexplained.info has linked that here.
In this article, NFTexplained.info will also cover how to judge the value of an NFT and how to check the rarity of an NFT.
How To Judge The Value Of An NFT?
Numerous elements contribute to making an NFT valuable. One aspect in particular is rarity however it is not everything. The utility of the NFT, hype, and more contribute to the price.
As a general statement numerous aspects make an NFT valuable. One in particular is the rarity/the traits the NFT possesses. A way to check is by going to rarity.tools, clicking All Collections, entering the project's name, and then the ID of the NFT.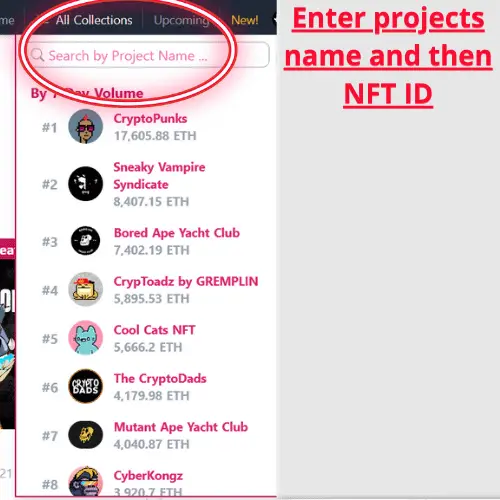 Not all projects are in rarity.tools however many are, especially the more widely known ones. NFTexplained.info will look at Top Dog Beach Club as an example. 
Top Dog #3002 has a rarity ranking of 497 out of the 8,000 Top Dogs at this moment in time.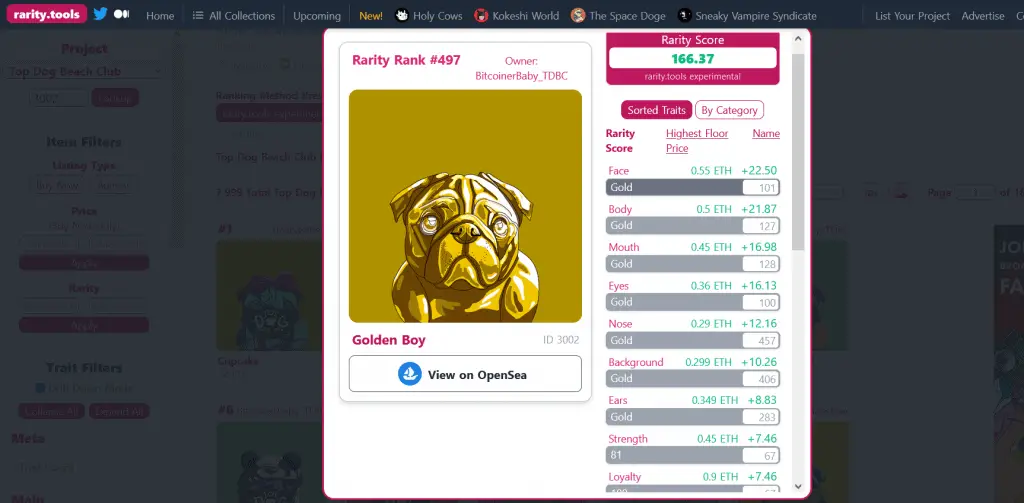 From the screenshot NFTexplained.info has taken, you are able to see that this particular Top Dog is one of 101 who have a gold face. (Shown by the first trait that appears)
Rarity is not everything as this particular NFT sold for an astounding 12 Ethereum, likely because of how visually appealing the Top Dog is. This illustrates the critical role aesthetics and person whims play in any art purchase.
We hope you are just as excited as we are about NFTs and continue to stay informed at NFTexplained.info. To get the latest news in this rapidly evolving space, follow our team on Instagram & Twitter!