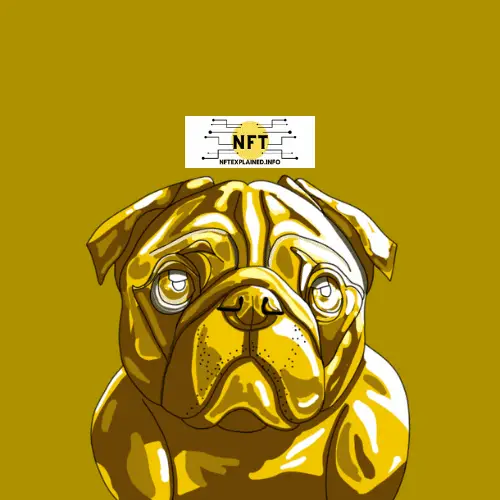 NFTs or non-fungible tokens are unique one-of-one digital assets that provide ownership and are stored on the blockchain. Numerous projects have arisen following the rise of CryptoPunks, which are a collection of 10,000 unique, randomly generated characters from 2017. One project that has a multitude of unique features driving a lot of interest is Top Dog Beach Club.
Top Dog Beach Club was primarily created by Paul and Abby and consists of 8,000 unique pug-themed NFTs; NFTs were randomly generated from over 150 properties across 11 categories. Each NFT comes with perks like interactive games and invitations to real world beach parties.
If you would like to become an NFT expert, click here.
All the NFTs will have six temperaments which are each given a score out of 100. The six temperaments include aggressiveness, friendliness, intelligence, loyalty, mischievousness, and strength. 
Based on the six temperaments, each dog will be assigned to one of four "packs". These packs include dog soldiers, tailblazers, hot dogs, and mutley crew. 
CryptoPunks has inspired numerous NFT projects, including the Bored Ape Yacht Club collection; these digital collectables inspired the creation of even more NFT lines. One reason for the growth was the rising number of people showing off their NFTs by displaying it as their profile picture on social media. 
Top Dog Beach Club serves as a phenomenal avatar NFT project but also a versatile project with numerous unique features that provide utility; NFTexplained.info thinks will contribute to the project's success.  
In this article, NFTexplained.info will cover the Top Dog Beach Club NFT project. We will discuss the aspects that make the NFT line appealing, the creators behind the project, explain what Top Cat Beach Club is (including quotes from the founders), and debate if it is a good investment. Finally, we will end our article by walking you through the process of purchasing a Top Dog!
Is Top Dog Beach Club A Good Project?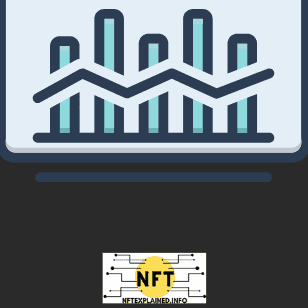 Numerous NFT lines have come out with limited use cases and many of them can even be considered a quick cash grab from the rising NFT craze. However, Top Dog Beach Club appears to be a project that was thoroughly thought out and has a promising road map.
As a general statement, numerous factors contribute to making Top Dog Beach Club a successful NFT line. Each pug-based NFT is visually appealing and perks such as the ability to name the dog, compete in interactive games with rewards, recieve temperaments for the NFT – and more – make this an appealing project. 
Aside from ownership of the dog, purchasers also receive the .psd file for the dog (source file for Adobe Photoshop) which enables a creative owner to make slight changes. The source artwork allows users to find hidden traits by removing attributes (e.g. removing a mask to show traits like a gold nose).
From looking at the roadmap of the project, another distinct feature that makes Top Dog Beach Club unique is that members of the NFT have the ability to attend real world beach parties. These parties are going to be located in North America and Western Europe; parties are said to have a DJ as well as a bar. 
The Top Dog Beach Club team has partnered with Offsetra to offset carbon emission which includes all transactions that occur on chain. 
The team has also donated to Dogs on the Street which is a UK based charity which helps homeless dogs. TDBC also plans to donate to a second charity which will be chosen by the community. 
One factor that makes the project recognizable is the release of the token $SNAX. This token will be redeemable by members and has use cases such as giving owners the ability to name their dog and give them a backstory. 
$SNAX also allows you to bid and enter NFT raffles that the founders have purchased; it is quite common for the $SNAX marketplace to have lots of raffles gong on at the same time!
Another aspect that contributes to a great NFT project is a strong community supporting the NFT line and this is something the Top Dog Beach Club team has built. Each pack will compete amongst one another to put the community against each other in a game-like way. The discord is broken down into the different packs and a clear level of support is there.
Who Created Top Dog Beach Club?
Many creators of NFT projects remain anonymous. The creators of this project have publicly come out to promote/talk about their NFT line which is one aspect that makes the project more credible and appealing than others.
Top Dog Beach Club was fundamentally created by Paul and Abby. Paul is someone who has been in the NFT space for some time now and has worked on other NFT projects. Abby, Paul's sister-in-law, is the artist behind the NFTs. They dropped the project at the start of July in 2021 and have since been promoting it publicly. 
The two have worked together for some time and began drafting ideas for an NFT project long before Top Dog Beach Club was released. 
'Top Dog' Paul describes himself as a "DeFI degen. Over 15 years of making stuff, breaking stuff, and protecting stuff from getting hacked." His twitter account can be found here.
'Top Dog' Abby's twitter profile self-describes her as focussing on "Digital | UX |  Art. Making the wildest virtual ideas a reality." She also includes a link to her OpenSea wallet and describes herself as the artist of Top Dog Beach Club. Her twitter account can be found here. 
Having founder(s) of any project comfortable with an online presence is definitely a factor that contributes to a project's success. Paul & Abby have raised their profile through interviews and podcasts which allow them to talk about and promote their project. This instills purchasers of the NFT line with a base level of trust as they understand who made the project.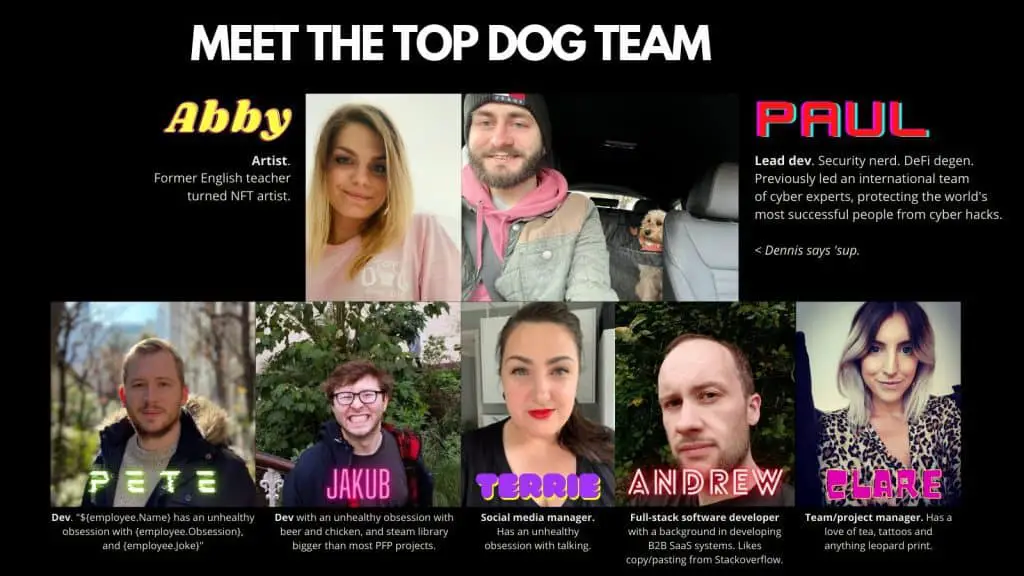 The two are constantly working alongside the Top Dog Beach Club team to make the project progress. TDBC recently released names and images of the entire team on Twitter in an effort to build integrity and trust within the community. 
As of recently the team announced a Top Cat Beach Club NFT airdrop. 
What Is Top Cat Beach Club?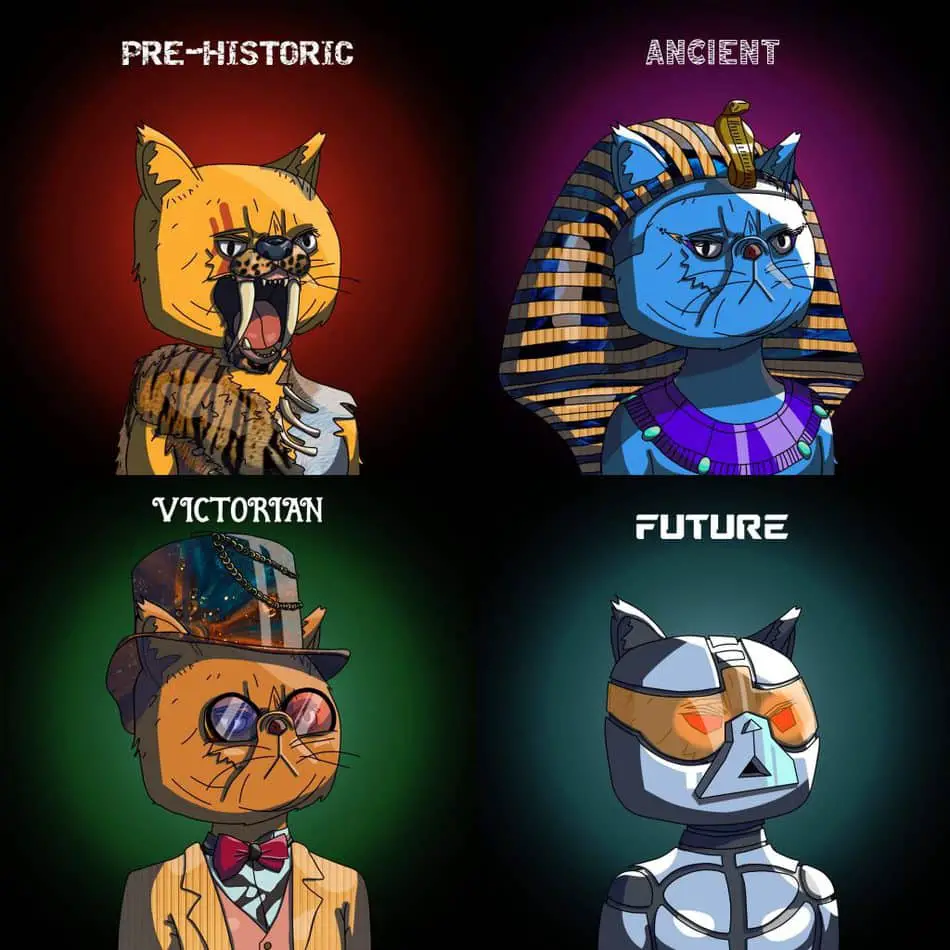 Top Cats will be broken down into four time periods including pre-historic, ancient, victorian, and futute. Similar to Top Dogs, Top Cats will have different temperaments. The TDBC team recently announced that Top Dog owners will receive a Top Cat (e.g. Top Dog owner #3122 will be airdropped Top Cat #3122). 
This brings in an array of possibilities including Top Dog owners having the ability to sacrifice their dog in order to receive a Top Cat with better temperments. 
The team also planned this release to add to the storyline of the NFT project. 
Abby, one of the leading artists for the project, told NFTexplained.info "Instead of companions, the cats will be the antagonists in the narrative which we're developing. The story will unfold in comic pages which will be gradually released to the community. Paul and I love sci-fi and time travel is one of our favourite genres (Back to the Future, Interstellar etc.) This will be a key theme of the cats, which are divided into four time periods and have themed attributes. I've worked hard on making sure the cats and their dress/accessories will be as unique, if not better than the dogs!"
When NFTexplained.info asked about the inspiration for the Top Cat drop, Abby stated, "the cats are based on one of our draft ideas when coming up with the original concept for our NFT project. Following the release of the dogs, we knew we wanted to give everyone a free mint. We considered a number of beach-themed companions but something about the aloof squish-faced cats made it an obvious choice for me."
Is Top Dog Beach Club A Good Investment?
NFTexplained.info is a team of crypto investors who are familiar with blockchain and the NFT space. We are not financial advisors and as with any investment you make, complete your own due diligence before taking action. 
NFTs are highly speculative investments however the features of Top Dog Beach Club could result in a promising return with time. The project is an NFT line that differentiates itself from others with features including traits, interactive games, temperaments, dog packs, a unique storyline, and more. 
Aspects such as the ability to receive 10 $SNAX tokens for every day the NFT is held is a feature that helps the longevity of the project and makes users more likely to want to hold an NFT. 
The NFT space is relatively new and many projects are likely to be unsuccessful, however Top Dog Beach Clubs seems to be an NFT project that has been meticulously thought out for longevity. 
How To Purchase A Top Dog Beach Club NFT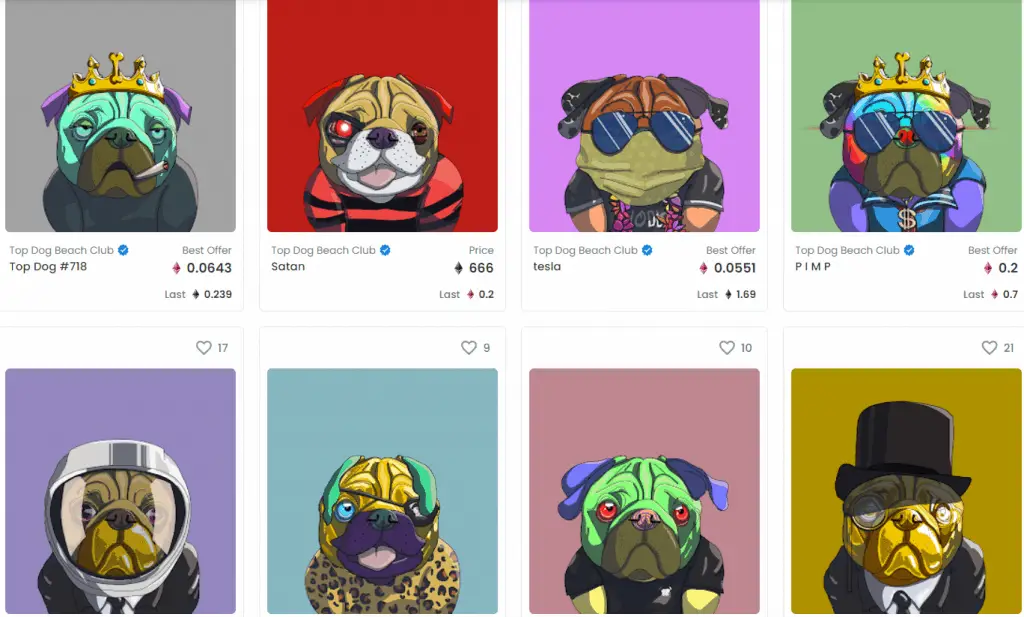 For those looking to purchase one of the 8,000 NFTs, do not worry as the process is quite simple. Few steps are necessary and transactions are completed fairly quickly. 
The process involves three simple steps; firstly, users must establish a digital wallet that interacts with the blockchain. Secondly, users need ETH in their wallet to fund the transaction. Thirdly, buyers need to purchase the item and pay the transaction fee. These NFTs can only be purchased in the secondary market.
Uniquely, during the initial mint, users had the option to use fiat currency to mint a Top Dog. Purchasers also had the option to connect a Coinbase wallet to the website. 
Unfortunately, no Top Dogs can be minted at this time so NFTexplained.info will walk you through the purchasing process. 
The first step in the process is creating a digital wallet that is able to interact with the Ethereum blockchain. The most commonly used digital wallet is MetaMask because of its simple user interface that doesn't take much time to set up. 
This process is quite simple and the NFTexplained.info team has already published an article explaining precisely what the MetaMask wallet is, how it works, and a step by step guide for users. That article can be found here. 
For the purchasing of a Top Dog, Ethereum is required in order to complete the transaction. On MetaMask users have the option to purchase ETH using a debit card or can exchange a variety of cryptocurrencies for ETH. 
It is important to note that a 'gas fee' must be paid for or this transaction won't complete as a miner needs to verify the transaction and need to be rewarded for their work. 
A lot of energy is required; miners don't work for free and the whole process is energy intensive. Users also have the option to purchase ETH from Coinbase or send ETH owned on Coinbase to the MetaMask wallet address. 
Once the MataMask wallet is connected and enough ETH is in the wallet to purchase and pay for the minting (gas fee) of the NFT, users have the option to purchase and bid. Users also have the option to sell their own NFTs or resell any NFT they have already purchased. 
If you would like to learn about the largest NFT marketplace, the NFTexplained.info team has created a complete tutorial on OpenSea and we have broken down the marketplace in a way that is easy to understand. 
While in the process, you may find more NFTs that are intriguing to you and provide the possibility to make a profit by reselling them. Since more users are transacting on the Ethereum network, gas fees tend to be higher at this point in time. 
The procedure of purchasing an NFT is done through the use of smart contracts; this is computer programming and is what makes the NFT process possible. 
Smart contracts allow the wallet to interact with the blockchain. Happily, the NFTexplained.info team has created a smart contract article to help you understand exactly how it works and to provide you with some examples.
We hope you are just as excited as we are about NFTs and continue to stay informed at NFTexplained.info. To get the latest news in this rapidly evolving space, follow our team on Instagram & Twitter!