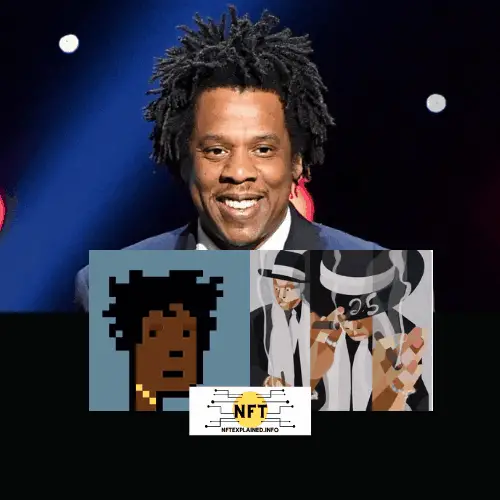 Shawn Corey Carter, better known as Jay-Z, is a hugely successful hip hop artist who many consider to be the most influential rapper of all time. He is also considered an incredibly successful business man; he started numerous multi million dollar companies including Rocawear, a clothing company that had annual sales of over US $700 million.
Jay-Z's Twitter profile picture is a CryptoPunk which he purchased for $126,000; the punk resembles his iconographic hair. Jay-Z also auctioned off an NFT titled 'Heir to the Throne' through Sotheby's for $139,000; a portion of proceeds went to The Shawn Carter Foundation. 
On April 25, Jay-Z purchased one of the 10,000 CryptoPunks for 55 ETH. This particular punk features an African American male wearing a gold chain; this feature is something that few punks have. If you would like to learn more about CryptoPunks such as the features they have, the market trends for the NFT line, famous people who own them, and much more; click here. 
Jay-Z is an established creator who is known for partaking in the collection of fine arts and has mentioned artists like Picasso in his songs. Sotheby's – one of the most respected fine art auction houses – decision to sell NFTs reinforces Jay-Z's classification of NFTs as a new medium and a way to sell a variety of art forms. 
Jay-Z is often thought of as someone who set the standard for musicians to branch onto additional brands; he was one of the first artists to create a clothing brand. Due to his purchase of a CryptoPunk and the selling of `Heir to the Throne' as an NFT suggests he thinks NFTs' have the potential to store value and provide a new business venture. 
Having Jay-Z continue to use a CryptoPunk as his Twitter profile picture is likely to cause many musicians to consider how NFTs can be used within the music industry. Since he currently has over three million followers on Twitter, his choice drives more awareness of the NFT space. 
To quickly recap what an NFT is, it is a digital asset which is encrypted by the blockchain. NFTs or non-fungible tokens are unique, one-of-one pieces which allow for verifiable ownership. If you would like to read the NFTexplained.info article explaining exactly what an NFT is in a manner that is easy to understand; that can be found here.  
In this article, NFTexplained.info will go into detail about Jay-Z's influence on the NFT space; this includes his CryptoPunk profile picture, his sale of Reasonable Doubt as an NFT, the lawsuit arising from the NFT sale, and his related investments such as NFT marketplace Bitski.
Jay-Z Sells Reasonable Doubt As An NFT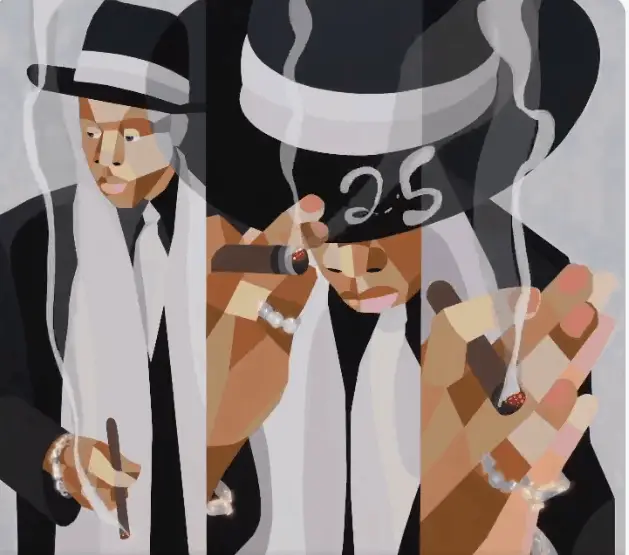 Jay-Z paired with Derrick Adams – a multidisciplinary artist who is also a professor at Brooklyn College – to collaborate on the creation of an NFT.
On the album's 25th anniversary, Derrick Adams created an NFT commemorating Jay-Z's debut album 'Reasonable Doubt'. The NFT included captivating imagery and animated aspects; it was auctioned off at Sotheby's for $139,000. The physical artwork is owned by Jay-Z. Some of the proceeds went to the Shawn Carter Foundation.
Derrick Adams created the piece in his fragmented style of work. In the NFT version of the piece, he was able to animate certain aspects like creating a red glow for the cigar Jay-Z is holding, making Jay-Z's signature diamond jewelry sparkle, and manipulated the smoke from the cigar to transform into the number 25. The piece echoes numerous aspects from the original `Reasonable Doubt' album cover but succeeded in bringing a unique twist which includes advanced animations. 
Bidding for the piece began at $1,000 and was auctioned off by Sotheby's from June 29, 2021 to July 3, 2021. A portion of the proceeds went to the Shawn Carter Foundation which is Jay-Z's foundation that helps those facing socio-economic hardships. The auction concurrently occurred in Decentraland, one of the most popular blockchain games. 
If you would like to learn more about Decentraland, NFTexplained.info has created an in-depth article explaining numerous aspects including an explanation for the high selling plots of virtual estate. The auction was held in the Voltaire Art District in Decentraland.
Sotheby's has been leading the fine art auction houses in NFT sales. While Christie's has also auctioned off numerous NFTs, Sotheby's has been regarded as an auction house that has recently begun investing more into the NFT space. Prior to the sale of the `Reasonable Doubt' NFT, Sotheby's held an auction for Pak. 
The NFT was minted using smart contracts on a site known as Manifold which allows creators to make products beyond just visual and audio NFTs. Famous NFT creators like Nikolina Petolas recommend using this site and our article covering nine different techniques to grow (from famous creators) can be found here.
Jay-Z's Reasonable Doubt NFT Lawsuit
Jay-Z is a co-founder in the record label known as Roc-A-Fella Records (RAF) along with Damon Dash, who is also an entrepreneur that has been in movies and is a successful record executive.
Damon Dash, a co-founder of RAF was sued by Jay-Z, another co-founder in the record label for attempting to sell the `Reasonable Doubt' NFT. Damon Dash owns a small portion of the record label and lawyers have stated that he doesn't have the rights to unilaterally sell a company asset.
Damon Dash tried to partner with the NFT marketplace platform SuperFarm to sell the NFT. This resulted in RAF lawyers telling SuperFarm to cancel the auction. The record label also claimed Dash was still looking for alternative marketplaces to sell the NFT.
Jay-Z's Influence On The NFT Space
Jay-Z is a widely respected musician that has successfully created numerous businesses and is also regarded as an incredibly astute investor. Aside from the three million followers being informed about NFTs through his profile picture, his investments say a lot about the NFT space as a whole. 
Jay-Z is an investor with an impressive list of pre-IPO investments including Uber. More recently, Jay-Z and professional tennis player Serena Williams invested $19 million into Bitski, a platform for the buying and selling of NFTs through a highly secure wallet.
Bitski has the potential to be an influential NFT marketplace for musicians and record labels to sell albums as NFTs. Widespread adoption would be an enormous leap for the NFT space although other artists may join Jay-Z in selling their work as NFTs since Jay-Z has proven himself a knowledgeable investor. Bitski can also be integrated with blockchain-based games.
We hope you are just as excited as we are about NFTs and continue to stay informed at NFTexplained.info. To get the latest news in this rapidly evolving space, follow our team on Instagram & Twitter!