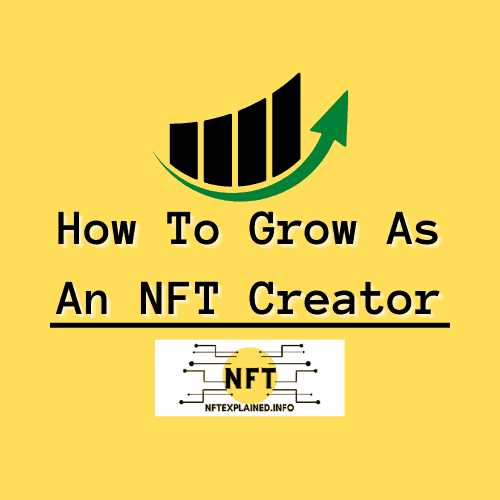 NFTs or non-fungible tokens are unique one of one digital assets. NFTexplained.info is a team of long term crypto investors who are well versed in the NFT space; we have the goal of providing the best information possible. 
In this article we will examine ways to get noticed and grow in this fast evolving space. We will examine nine different techniques which have been given to us by famous creators in this space!
1. Use NFTs As An Additional Way To Support Your Creation
NFTs are a new medium which allow creators to build relationships with their fans and engage directly with them.
Gus Grillasca – who is a Latin American NFT artist who has been creating since 2016 – reiterated this point.
He stated, "NFTs empower creators by building p2p relationships with potential collectors around the world."
NFTexplained.info thinks NFTs should be used as an additional way to support and engage with collectors or fans of your work. It is likely beneficial if there are more ways to support the creator aside from owning their NFT. 
We had the opportunity to speak with Dyl – a pioneer in the NFT music scene – who jump started his career back in 2014 with the release of "Jordan Belfort" (in collaboration with Wes Walker) which has amassed over 153 million streams on Spotify alone. He was unfortunately signed to an exploitative deal at the time which is why he began exploring this new medium.
Dyl reiterated the point that NFTs should be used as an additional way to support artists.
He stated, "Music NFTs are here to support an artists career – including streaming, live performances, merch, and social growth. When your fan collects a music NFT, they will want to stream more, come to more shows, and buy more merch. Music NFTs are not here to replace the music industry as we know it – they support it and provide more funding for artists, who have gotten the short end of the deal for too long."
As a musician, funds raised from NFTs allow you to create music videos when you please and lessens the focus on the costs incurred in creating innovative and expressive videos. Artists signed to labels often can't create music videos until a set date and are limited in funds. 
Dyl continues to push forward in the web3 space but also on a range of social media platforms (i.e. Instagram, Youtube, etc.). He is a prime example of using NFTs as an additional way to engage with his community (holders enjoy lots of utility) however this is not the only way to support him.
2. Build And Engage With Your Community
In the NFT space, the importance of community should never be overlooked – especially for NFT creators.
We had the opportunity to get direct input from Mae – an NFT artist who creates incredible digital art with a focus on surreal landscapes.
She stressed the importance of community, stating "Community is a big part of being a creator in the NFT space – use your platform to give a voice to an artist who is struggling to be seen. What you give will come back to you tenfold." 
Engaging with your community is like talking to fans and collectors of your work; this will undoubtedly help you and make collectors feel like they have a stronger relationship with you. 
Mae also pointed out the ability that creators have in being able to share their spotlight with others. This is something she so generously does as she often retweets the work of other artists.
NFTexplained.info also had the opportunity to speak with Ben Skaar who was recognized as the 2020 Youth Travel Photographer of the year.
Ben stated, "It's one thing to create great work, but you have to build meaningful connections with potential buyers of your art if you're looking to find success in NFTs."
3. Learn Smart Contracts
The importance of smart contracts in the NFT space is something that everyone should educate themselves on, especially creators. 
We had the opportunity to talk to Nikolina Petolas – an artist who has gained multiple international awards and has had her works displayed in numerous international exhibitions. 
She also stressed the importance of community but talked about an increasingly important factor for artists to understand – smart contracts.  
Nikolina stated, "The best advice I can give is to be active on Twitter, to have a presence in the community, and learn as much as you can about pricing and NFT drops.
…I mint primarily on SuperRare and Foundation. I also use Manifold for my own smart contracts. If you are minting on OpenSea, it is advised to have your own smart contract. Manifold is a great way to do it."
Manifold allows creators to make products beyond visual and audio NFTs as well as supports features beyond just minting. This is also the platform that Jay-Z used to create an animated version of Reasonable Doubt. More information on Jay-Z's influence in the NFT space can be found here. 
Nikolina provided incredible advice for artists looking to distinguish themselves and their work. Many digital artists are not creating features beyond minting and she is a prime example of an artist who quickly adapts to new mediums and reaps the rewards of this additional investment of time and energy.
4. Understand The Collecting Process
In the NFT space, those who have a strong understanding of the many factors that contribute to success will likely see far greater results than those who don't. 
The collecting process is something that anyone who is looking to create in this space should profoundly research and understand before they begin creating. Understanding how transactions work on the blockchain and setting up digital wallets like MetaMask is key. 
Gus Grillasca reiterated this point. He stated, "… become a collector, even a small collector, and keep creating." 
5. Social Media – Sharing The Process
There is no question that social media will draw more eyes to your work and help you gain a larger audience. Utilizing hashtags and being consistent while posting is basic but critical advice for those looking to grow. 
NFTexplained.info had the opportunity to speak with Sam Price – a multimedia visionary artist. He shared useful advice beyond hashtags and consistency.
Sam stated, "I highly recommend not just sharing the final work on your page, but being very intentional about documenting the creation of it. People love learning about the process behind an art piece; when you give them this access, your audience tends to respond with more interest and engagement. Splitting this across several posts over the course of the week, leading up to the drop, is a great formula with which to experiment.
The medium is the message – there are different ways to optimize and scale videos and photos for Twitter, TikTok, and Instagram. Apply these to your content and try out slightly different captions for the same post on different platforms."
Sam Price gave excellent advice as people love to see the process of creating and getting to the final destination. He also pointed out the importance of using different platforms to promote, albeit not with identical captions; this is very logical as followers of a person on multiple social media platforms would likely get tired of seeing the same content. Your fans' reactions to the variants of the captions allows insights into how admirers perceive the work.
Sharing the process of your work is a great way to engage with you audience however there are many different techniques and platforms artist can use to gain traction in this space.
Ben stated, "For upcoming digital artist, the most important thing to do is to learn how to market yourself on social media platforms like Twitter (where the majority of NFT activity can be found)."
6. Discord And Twitter Audio Spaces
Discord and Twitter are two platforms in which many NFT users are familiar with and spend time on. Bringing value – which may come from making jokes or having good insight – before promoting your work on these audio spaces is an excellent way to gain traction.  
These audio spaces allow anyone to request the microphone which can immensely help creators grow a following. Many collectors want to know more about the artist – to get to know the "whole person" before investing in their creative output. 
7. Share The Story Behind The Creation
Having a powerful story or reason behind any creation is a great way to add additional value and make the products of your imagination more engrossing and emotionally engaging. 
This is something we are seeing with large NFT collections and it is one of the many reasons NFTexplained.info attributes to the success of FEWOCiOUS. FEWOCiOUS is an NFT artist that some would now consider to have reached blue chip NFT status.
8. Perfect Your Craft
An illustrative example of this is Beeples piece, "Everydays: the First 5000 Days" which famously sold for US $69 million. The piece is a combination of thousands of artworks that have been accumulated. For many people not following digital artists, this staggering success came out of the blue. But it is critical to note that Beeple had been creating digital art every single day for close to fourteen years before the much-talked-about sale occurred.
9. Collaborations
In the NFT space, many digital creators are willing to work with one another. There is no harm in reaching out in hopes of working with a fellow NFT musician or digital artist – this is a great way to grow your brand and to reach new audiences.
We hope you are just as excited as we are about NFTs and continue to stay informed at NFTexplained.info. To get the latest news in this rapidly evolving space, follow our team on Instagram & Twitter!