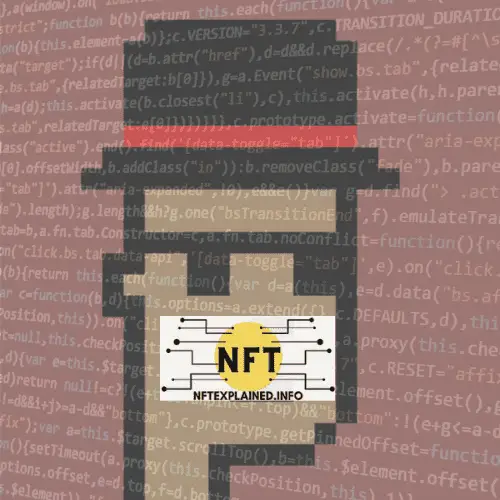 NFTs (non-fungible tokens) are unique, one-of-one digital assets that are stored on the blockchain; NFTs allow people to prove ownership of a digital asset. Click here to become an NFT expert!
NFTexplained.info is a team of long term crypto investors who have the goal of sharing valuable knowledge with the public. 
Let's dive in!
NFTs are stored on the blockchain. The smart contract address pointing to the location of the NFT (on the blockchain) is received after an NFT is purchased and kept in a digital wallet. The contents of the NFT's smart contract is most commonly stored on the web through a file sharing system but can also be stored on chain.
NFTs allow for verifiable ownership via the blockchain as digital certification is created when an NFT is minted.
NFTs are made possible, largely because of smart contracts. If you would like to learn more about smart contracts, click here. 
When an NFT is purchased, a record (code) is created, pointing to the location the NFT is stored on the blockchain. That record or code is then stored within a digital wallet. The most common digital wallet is MetaMask and NFTexplained.info has a full guide for setting this popular wallet up; that can be found here.
The actual content of the NFT, such as a piece of art, is not typically stored on the blockchain. 
The reason why the content (such as a JPG, MP3, or Gif) of the smart contract associated with the actual NFT is stored on the web and not the blockchain is because of the size and cost.
Typically, just the web address (of the location in which the NFT's information is stored) is kept on the blockchain. This location pointing to where the NFT is stored is kept on the blockchain and can't be tampered. This makes the blockchain extremely reliable. 
If all media pertaining to the smart contract of the NFT was kept on the blockchain it would take up an enormous amount of space and therefore be quite computationally expensive. For this reason, it's important to mint NFTs on reliable marketplaces as the actual media for the NFT is likely stored by the firm which runs the marketplace. That being said, there has been an increasing number of NFTs stored fully on chain.
The largest NFT marketplace in terms of transaction volume is OpenSea and NFTexplained.info has a full guide to establishing an OpenSea account which can be found here. 
OpenSea stores the media files or content to the NFT on an InterPlanetary File System.
InterPlanetary File System is a peer-to-peer network for the safekeeping of file data across all computing devices. This system relies on cryptographic hashes (digital fingerprints) that are easily stored on the blockchain. 
This way of storing files is safe – as it is decentralized – as it is stored across numerous computers. This ensures that there is no single point of failure in the storing of the actual asset (media pertaining to the NFT).
Next, NFTexplained.info will cover where an NFT is stored. Then, we will cover how NFTs can be stored on chain. Finally, NFTexplained.info will conclude the article by explaining where you can view an NFT post purchase. 
Where Does My NFT Go After I Buy It?
As previously mentioned, the location pointing to where the NFT is stored is kept on the blockchain. However, this location can be stored in four distinct ways.
After an NFT is purchased it can be stored in a software (or digital) wallet like MetaMask, on InterPlanetary File Systems, on hardware wallets, and fully on chain. The smart contract address pointing to the location of the NFT is stored on the blockchain and kept in one of the four ways mentioned. 
The majority of NFT purchasers store their NFT in digital wallets. Digital wallets store the asset contract and additionally a lot more data including description, source, and more. 
Before being able to purchase an NFT on most popular marketplaces, a wallet is needed. Most commonly, MetaMask is used. MetaMask is considered safe as each transaction is encrypted and passwords are needed to log in, backed by a 12-24 word seed phrase. 
However, phishing attacks do exist and are the most common scam in which MetaMask account credentials are stolen. More information about phishing attacks can be found in our MetaMask article. 
The second way in which an NFT can be stored is through InterPlanetary File Systems (IPFS). IPFS systems like Pinata will store the NFT off chain. 
OpenSea uses IPFS and this can be done by freezing metadata. By freezing metadata, the item name, media (e.g. JPG and PNG), description, properties, levels, and stats are locked. This does incur a gas fee (as does any transaction on the Ethereum network).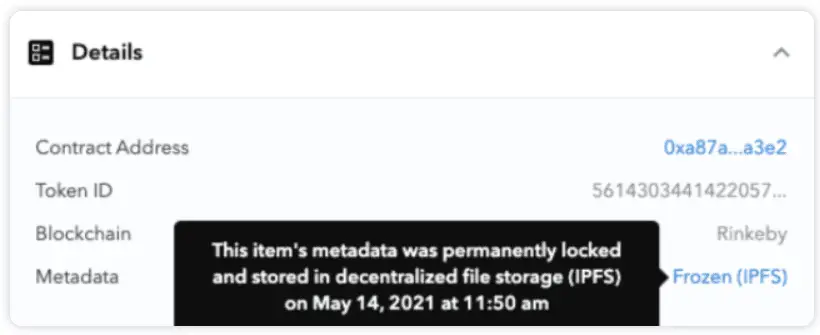 You are able to confirm that metadata is frozen via IPFS through the public asset page. 
IPFS data can't be modified as IPFS is immutable. The contents to the file can't be changed without altering the content identifier (CID) which is a label pointing to the contents within IPFS.
The third way in which an NFT can be stored is via a hardware wallet.  Hardware wallets are considered to be the most secure option to store an NFT. Hardware wallets store your private key – which is the master key to access your digital assets – offline on a password protected device.
Our team highly recommends picking up a hardware wallet to ensure your crypto assets are held offline so they are not susceptible to getting hacked or by being taken down by a third party company – like a centralized cryptocurrency exchange. For more information on hardware wallets and the importance of them, click here.
The final way to store the information about an NFT is fully on chain; this is what we will discuss in the next section of our article.
Can NFT Data Be Stored On Chain?
As of recently, the actual contents of the NFT have been stored on chain thanks to both Base64 encoding (which is a binary-to-text encoding scheme) and SVG files (which is a file type that achieves superior compression of images by drawing them using math – rather than pixel by pixel).
The SVG code shows what the image should look like and is created by mathematical formulas based on a grid, resulting in the file taking up far less space than other file formats. This is the primary reason why NFTs can be stored on chain. 
Finally, we will conclude our article by discussing where you can see the visual component of an NFT you own.
Where Can You See Your NFT After Purchase?
After purchasing an NFT on OpenSea, the NFT can be viewed by clicking on your profile where 'collected' will automatically show. On MetaMask mobile, by clicking NFTs, you are able to see your digital collectible. MetaMask currently doesn't show NFTs on the browser extension version at this time.
After purchasing an NFT on other NFT marketplaces (aside from OpenSea), the NFT should still be able to be viewed by clicking on your profile or wallet. This can only be done once a transaction has completed. 
It is important to note that transactions may get stuck on the Ethereum network and that it may take a while for a transaction to complete.
Checking Etherscan, the nonce of the transaction, as well as speeding up the transaction are important and key aspects that may help you indicate the time it will take for a transaction to be processed. 
If you are using MetaMask and are having trouble, NFTexplained.info has created a troubleshooting article which can be found here.
At the present time, only the mobile version of MetaMask's wallet displays NFTs via the user interface. MetaMask has announced they are working on adding an option to view NFTs on the browser extension the firm makes.
If you are using MetaMask mobile and the NFT does not automatically pop up, you can add it by clicking on 'Import NFTs'. This will ask you for the address for the NFT as well as the Collectible ID.
On OpenSea, both the Collectible ID as well as the address for the NFT can be found by clicking on the NFT and then 'details' which is found under the description of the NFT.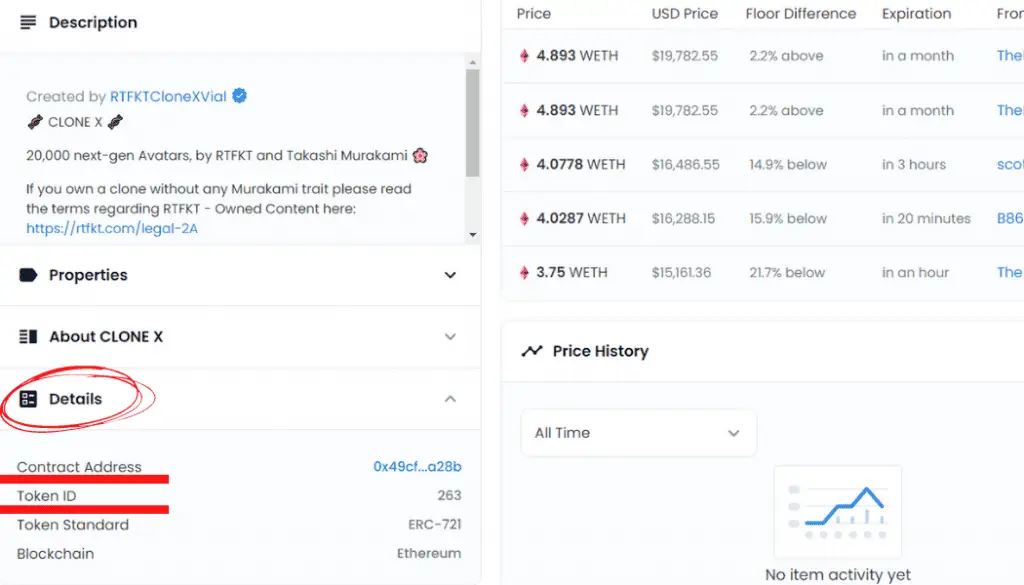 We hope you are just as excited as we are about NFTs and continue to stay informed at NFTexplained.info. To get the latest news in this rapidly evolving space, follow our team on Instagram & Twitter!
If you would like to support our team's content creation please consider doing business with our partners:
Trade stocks & crypto on Webull – get 2 free stocks!  
Buy a Ledger hardware wallet!
US-based traders can get a crypto trading discount on Binance!