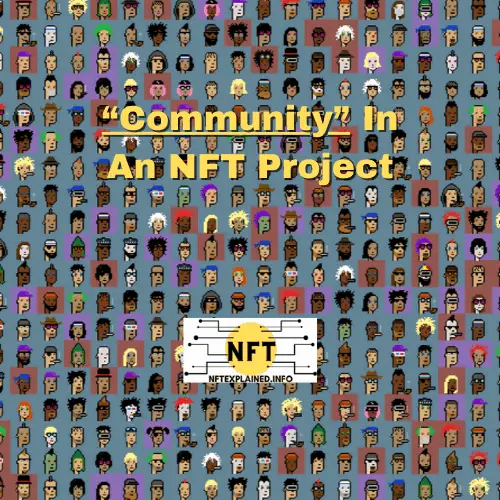 NFTexplained.info is a team of long term crypto investors who are well versed in the rapidly changing NFT space. We have the goal of providing the best information possible pertaining to NFTs. 
Let's jump in! 
In general, community refers to the holders of an NFT project. Before an NFT drops, community is a broader term and refers to those engaging with the project on social media and those looking to mint. Post mint, the community is the holders of an NFT project which often communicate via exclusive Discord chats. 
Community is a term often used within the NFT space and is an important aspect to consider when looking to purchase an NFT. 
It is important to note that the number of users in a Discord is not a very accurate representation as to if the project will do well and if the community is strong. 
Numerous projects hire influencers to promote the drop, leading more casual fans of the influencer to join the Discord. A large number of users in the Discord does not equate to a strong community. 
Projects will also use numerous promotional tactics to get more users to join a Discord and use the high number of people within a Discord as a marketing tactic (using FOMO – fear of missing out).
A common illustration of this tactic is by holding a pre sale or giving away whitelist spots which are only accessible if you are able to invite five people into the Discord. In this way, pre-sale buyers become obligated to drive attention to the Discord chat, even if their actual level of engagement is very low.  
A strong community frequently is the result of the people within Discord being active, friendly, and holding a long term view on the project. Once again, NFTexplained.info would not consider the number of users to be a good indicator of a strong community. 
NFTexplained.info would consider a community strong if there are many long term holders, not people looking to make a quick flip on the project. 
Purchasing into an NFT line often grants access to exclusive Discords where the only way to access the channel is by being an owner of the project. 
Community can become more exclusive as time goes on within a project. Those who were interested and engaging on social media will no longer be considered a part of the community once minting has finished (since they are not a holder, they are likely to be inactive).
Post-mint people generally will only be considered part of the community if they are an owner of the project. Holders of a project are often more likely to be friendly since they are believers in the project. 
In this article NFTexplained.info will cover if having a strong community for an NFT project is important and the aspects that make a community strong.  
How Important Is It For An NFT Project To Have A Good Community?
Community is an aspect NFTexplained.info would strongly recommend looking into before purchasing an NFT project. 
As a general statement, community is an important aspect of an NFT project. It is often one of the first characteristics people look at before deciding if they want to purchase a project. If the group's overall tone is negative, people are far less likely to want to be a part of that community or hold the NFT line.
It is important to check on two aspects in regards to the community of an NFT project; the first aspect would be the overall emotion of the community, and the second would be examining the community from a longevity perspective. 
Making sure that people are truly engaged within Discord is a simple but important aspect to look at. Nobody will want to be a part of a project with negative people. 
Secondly, making sure people within Discord are not talking about a quick flip is another important aspect to consider. If members are looking to make a quick profit, this shows the project is likely to have little long term value. 
Community can undoubtedly help in sustaining the value of an NFTs. Creators of specific NFT lines are creating utility like real world meetups in which all members are invited. An example of this is Top Dog Beach Club, as the creators have announced a real world beach party, where Snoop Dogg is likely to be the DJ! Being able to participate in this potentially once-in-a-lifetime event drives interest in the existing NFTs. 
Another important aspect to keep in mind when purchasing an NFT project is that having access to an exclusive Discord channel is fun to hang out and chat in, but doesn't actually provide real utility.
After purchasing more than a couple NFT projects, you are likely to realize that you won't have time to participate meaningfully in all of them. However, community is still an aspect of a project NFTexplained.info would recommend looking into before making decisions to purchase. 
What Aspects Make A Strong Community For An NFT Project?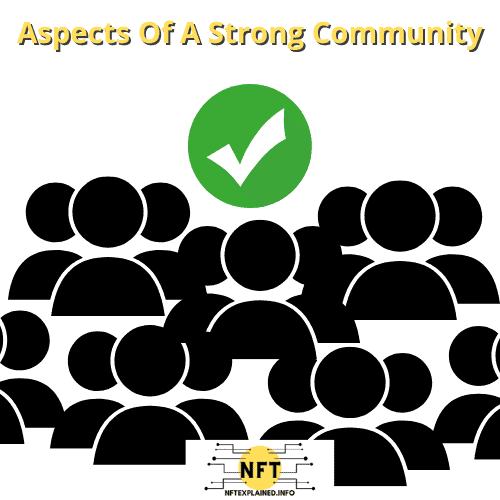 A strong community is an important aspect and one NFTexplained.info would recommend looking into before purchasing an NFT line. There are numerous characteristics to look at when making a decision as to if the community of a project will have an effect on the price of a project.
As a general statement, a community is likely to be strong for an NFT project if: people within the Discord are active and friendly, there is good engagement on social media, people are looking to hold the project long term, and the chat moderators/founders of the project discuss long term goals. 
As NFTexplained.info previously mentioned, nobody wants to be a part of a negative community.
Looking at the amount of followers a project has on social media, especially Twitter, is a good way to gauge the amount of hype a project enjoys. Since NFTs exist in a supply and demand driven economy, if there is no hype or people willing to buy, an NFT project will not be worth much at all. 
If there is a large number of Twitter followers and positive engagements on each post from a project, it is more likely the project will quickly sell. This is one technique NFTexplained.info would recommend looking into to see if there is widespread awareness (hype) for a project. 
Another good characteristic is that the project founders discuss future plans and goals which is also known as a roadmap. Future goals are what drive long term value and result in people wanting to hold a project. 
If the Discord moderators (or alternative messaging app moderators) and founders are more concerned with the floor price and not future goals, this is an alarming indication of a short-term mentality unlikely to drive sustained value to the project. 
We hope you are just as excited as we are about NFTs and continue to stay informed at NFTexplained.info. To get the latest news in this rapidly evolving space, follow our team on Instagram & Twitter!