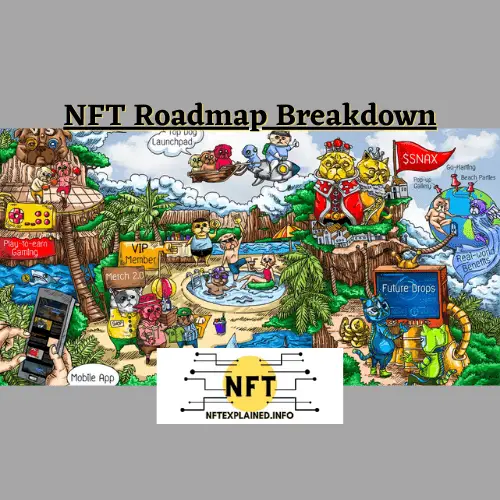 NFTs are non-fungible tokens; they are unique digital assets that can be verified via the blockchain. 
NFTexplained.info is a team of crypto investors who are well versed in the crypto space and have the goals of providing the best educational content related to NFTs!
Let's dive in!
As a general statement, an NFT roadmap is the long term vision an NFT project has. A roadmap is the step by step way for an NFT project to show how they intend to provide value and often help show they are a worthy investment. Roadmaps often include timeline for NFT release, airdrop new NFT to holders, and more.
The roadmap is one of the many important aspects to consider before investing in an NFT project. Researching the founding team is arguably the most important aspect and the NFTexplained.info team would recommend reading our top ten tips before investing in an NFT project!
If a roadmap does not seem compelling and is vague, it may be wise to consider investing in a different NFT project. Afterall, the roadmap is a promise to the holders and if the team can't deliver what they plan, it's entirely possible the project will fall to zero or close to nothing. Always be cautious of rug pulls!
NFT projects are likely to include short term goals and essential milestones in their roadmap. It is not uncommon for founders to update their roadmap and create new roadmaps.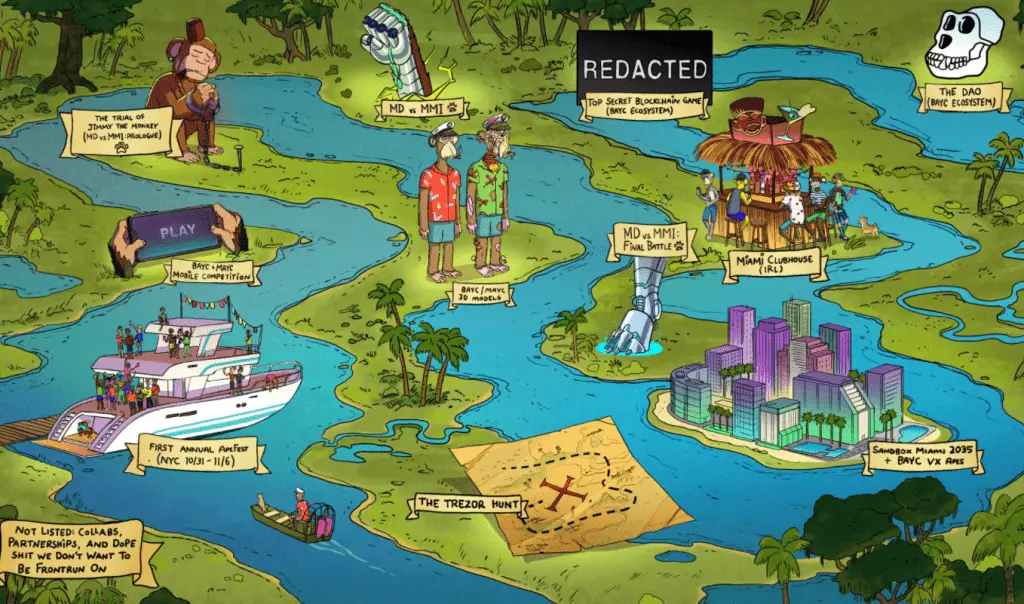 Since the NFT space moves incredibly fast, sticking to a strict plan can sometimes be sub-optimal however having a general idea for how the project will proceed is key.
Similar to the reason as to why it's likely a smart decision to not invest in a crypto project with a vague whitepaper, the same goes for an NFT project without a roadmap. If you don't know the purpose, technology, and goal of something it's likely not a good idea to invest in it.
It is worth noting that there are NFT projects that are successful without a published roadmap; however, it is definitely an important aspect to take into consideration. 
Do You Need A Roadmap For An NFT Project?
As a general statement, a roadmap is not essential for an NFT project however it does demonstrate that the founding team has a longer term vision for the project. A roadmap assists the reader in understanding the team's mission. Ideally, the team has methodically planned out the success of the NFT project.
It's likely important to know the goal of the project and how value will be provided. If a project doesn't have a clear and concise roadmap, this could be a red flag.
While it is not always the case, a project without a roadmap could suggest it was hastily and quickly put together with the intention of being a cash grab. 
The last thing an investor wants is an NFT without a bright future. This leads us into the next section of our article: what makes a roadmap compelling.  
What Makes A Good NFT Roadmap?
As a general statement, a good NFT roadmap will have a long term vision and numerous ways in which value will be delivered to holders; an incentive to hold the NFT long term is always promising. Clarity and conciseness is good to look for as well as achievable, logical steps that investors can measure objectively. 
The long term vision should include numerous different aspects that provide value such as airdrops or the ability to earn passive income through staking the token from an NFT project. 
Successful NFT projects are characterized as long term investments in which the company turns the NFT project into a complete and comprehensive business in which you are rewarded for being a holder. 
It's impressive for a project to be extremely ambitious, but this doesn't always have to be the case. An NFT project doesn't have to change the world to be successful. However, setting realistic goals is important. 
An example of a ambitious roadmap is the Top Dog Beach Club Roadmap 2.0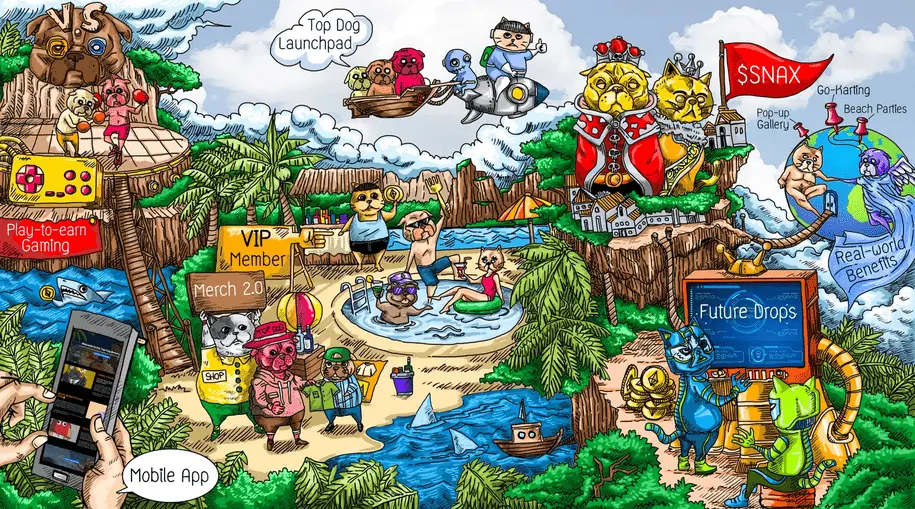 If you would like to learn more about the Top Dog Beach Club Project, that article is linked here.
All of these aspects are important to consider when analyzing the roadmap. That being said, if the founding team does not fulfill their promises, the project risks falling to zero. 
This leads us into the next section of our article.
How To Know If A Founding Team Will Abandon The Roadmap? 
If a founding team does not complete their promises, there is absolutely no point in creating a roadmap. 
If a founding team does not fulfill the roadmap promises, it is considered a rug pull. Even if a roadmap is created, there is no guarantee the founders will follow through with it. If the founding team is anonymous and the social media/website appears fishy, use extreme caution. 
A rug pull is defined as founders running away from the project once they receive funds. NFTexplained.info has a full article covering rug pulls and how to avoid that scam; that article is linked here. 
NFTexplained.info will cover the last section of our article by providing examples of roadmaps from successful projects. One of the best ways to understand the future is by learning from the past, and, as such, our team has assembled here some of the best published roadmaps that have created successful NFT projects – and along the way, made long-term investors in these projects a great deal of money. 
What Does A Successful NFT Roadmap Look Like?
BAYC
Cool Cats
Top Dog Beach Club
Axie Infinity
PhantaBear by EzekClub
Azuki
Karafuru
World Of Women
Women Rise
Mad Dog Jones Replicator
While this list is in no particular order, NFTexplained.info has carefully analyzed these roadmaps and they are taken from some of the most successful NFT projects.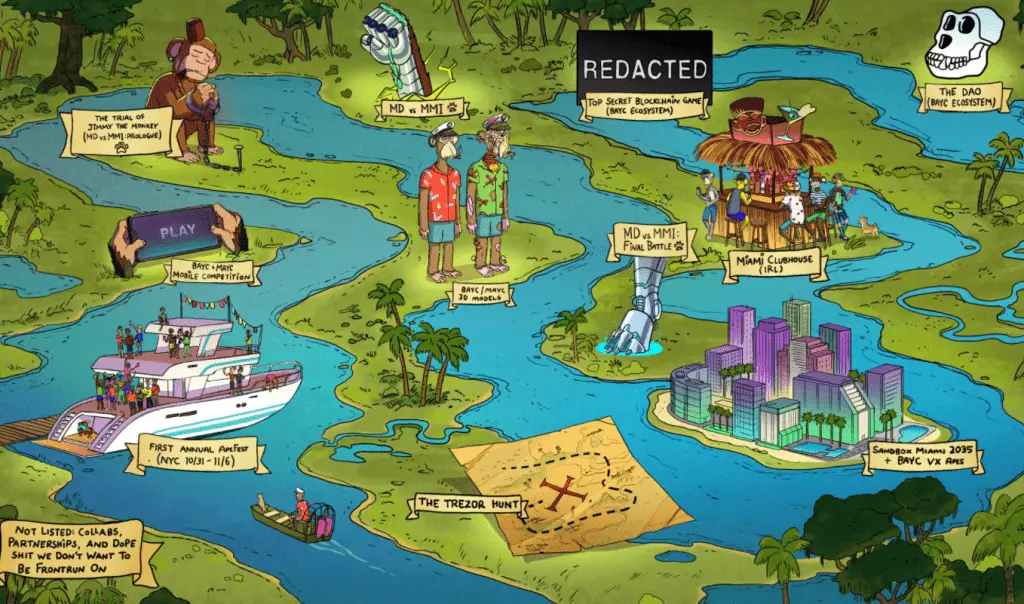 If you are interested in learning more about the blue chip NFT project – BAYC – that article is linked here.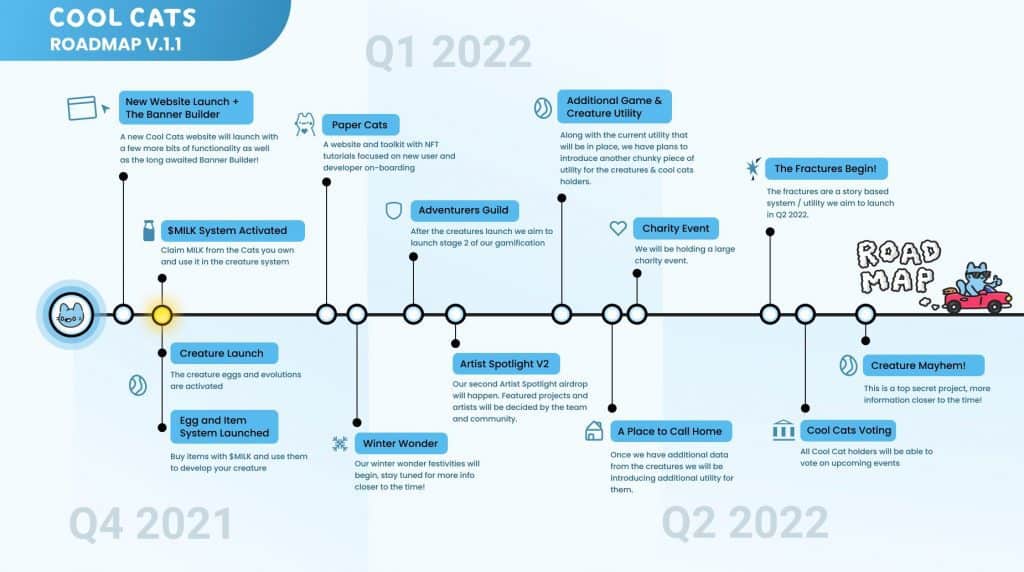 If you are interested in learning more about the successful Cool Cats NFT project, that article is linked here.
The third roadmap on our list is from Top Dog Beach Club!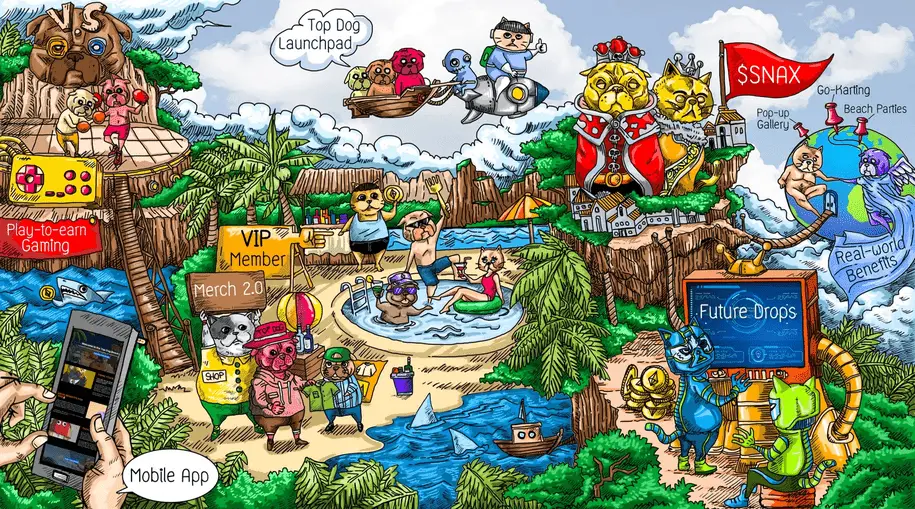 Axie Infinity is the fourth roadmap on NFTexplained.info's list and is one of the most successful NFT games!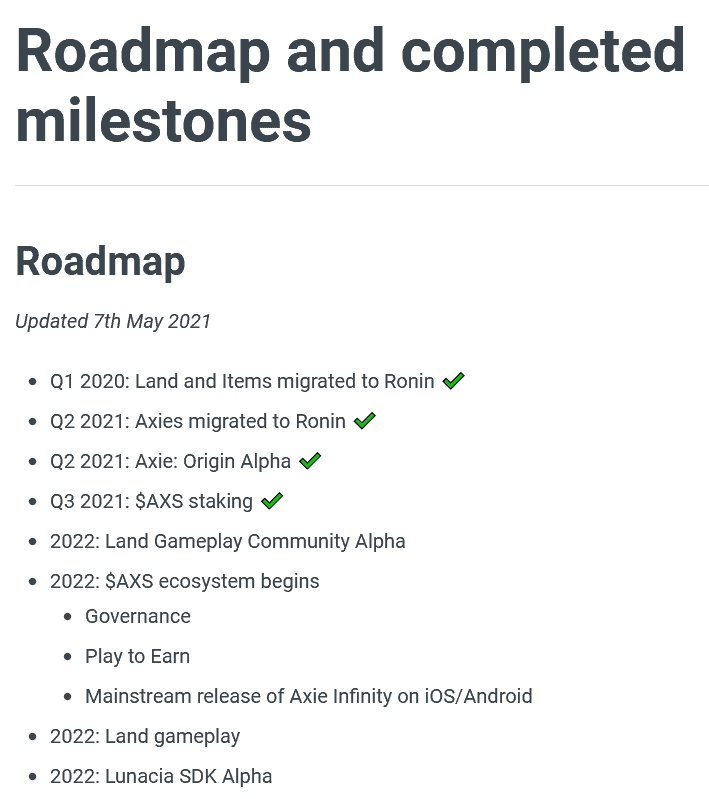 If you are interested in learning more about the play to earn crypto game, NFTexplained.info has linked it here!
The firth roadmap is the NFT project known as PhantaBear by EzekClub!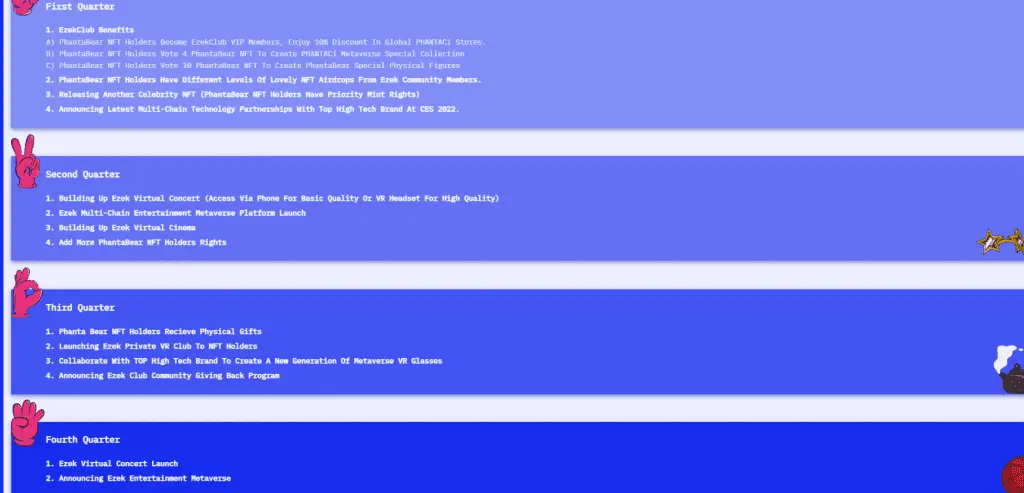 The sixth roadmap is a mind map from Azuki and is more open ended.

On Azuki's website, each number is clickable with more detail however the team only screenshotted the overall map.
The seventh roadmap on out list is from Karafuru!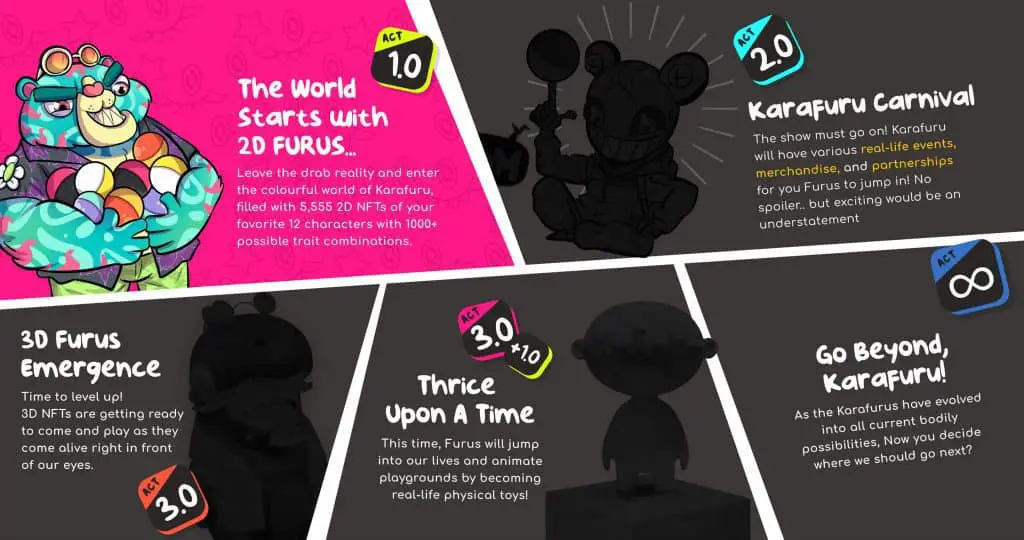 The eighth roadmap on our list is from World Of Women!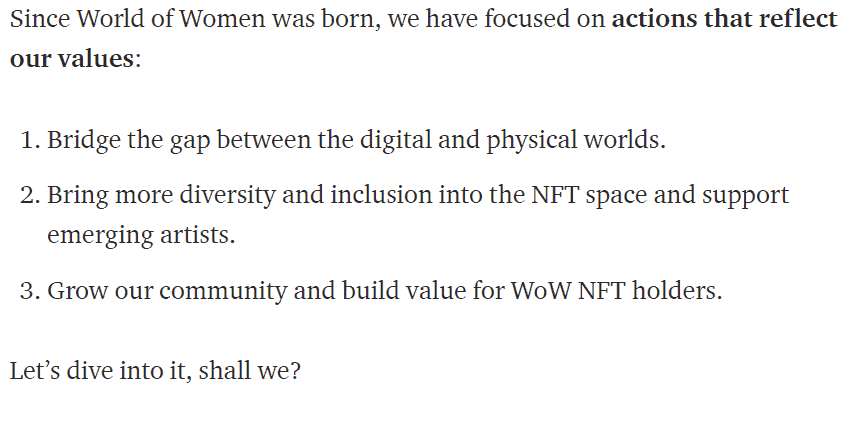 This general roadmap has more detail however NFTexplained.info only screenshotted the overall idea. The roadmap was written by the founder/artist of World Of Women (@YKarkai on Twitter).
The ninth roadmap on NFTexplained.info list is from Women Rise.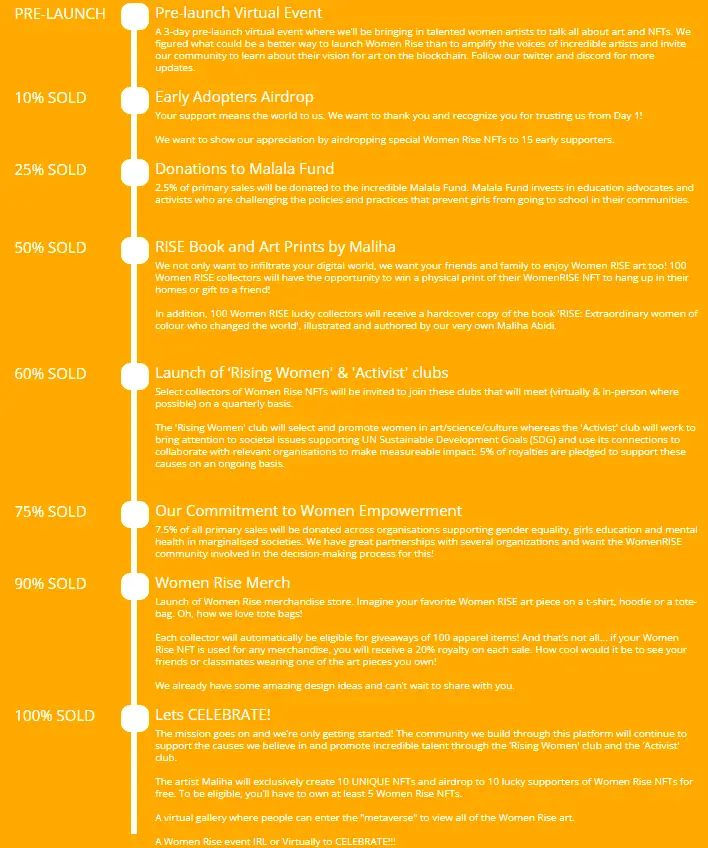 The final roadmap on NFTexplained.info list is from Mad Dog Jones, who is a talented digital artist. It is from his project known as replicator.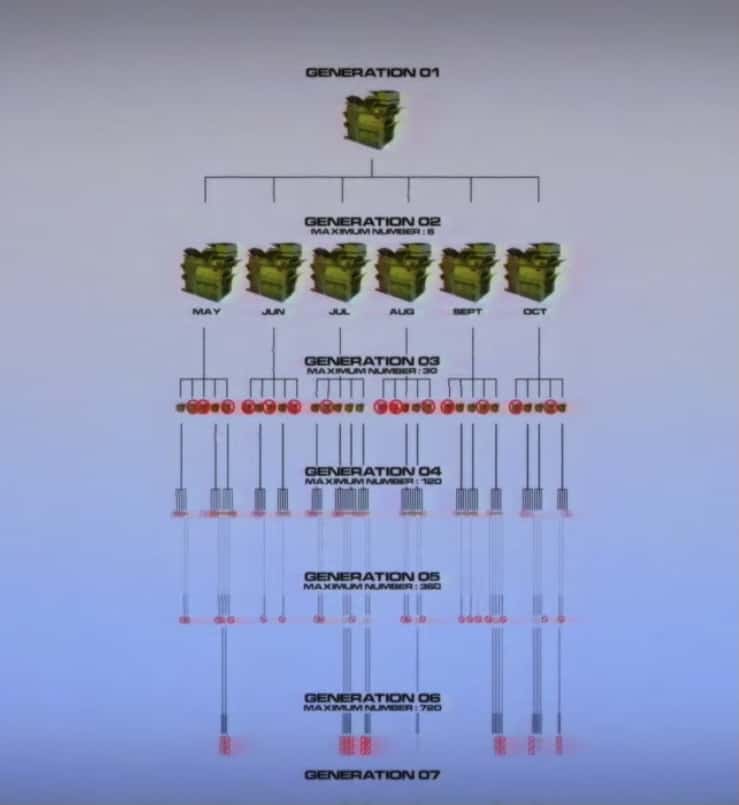 We decided to include this in out list because of how interesting we found it. His 'Replicator" project produces a new NFT every 28 days with multiple generations. If you would like to learn more about the artist and the project; that article is linked here.
We hope you are just as excited as we are about NFTs and continue to stay informed at NFTexplained.info. To get the latest news in this rapidly evolving space, follow our team on Instagram & Twitter!