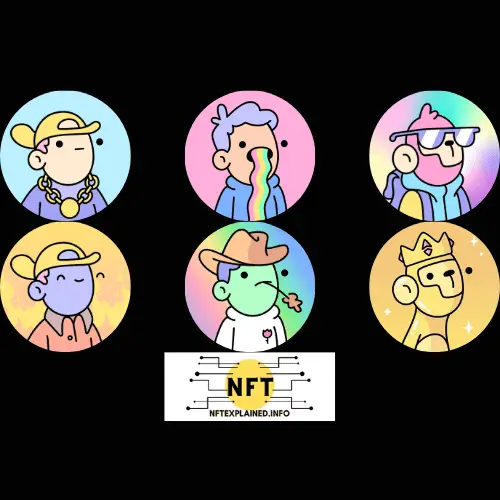 NFTs are an emerging technology with the potential to change our day to day lives. However, the emerging technology of Web 3.0 and NFT's can seem like a daunting world to navigate, with a seemingly endless number of NFT collections dropping every single day. 
NFTexplained.info is a team of long term crypto investors who are well versed in the NFT space; we have the goal of providing valuable, educational content.  
Lets dive in – what is an NFT collection? Our expert team at NFTexplained.info will be breaking this down as simply and efficiently as possible. First and foremost, one must understand the basic principles of what an NFT is, which you can find linked here. 
These NFTs or digital collectibles are backed by and authenticated on the blockchain; NFTs typically drop in collections. Each collection usually has an array of different traits, adding to their uniqueness and inherently their rareness. 
Simply put, an NFT collection is… a collection of digital art/digital assets developed by an artist or more commonly numerous artists. A collection entails a finite amount of NFTs available which creates scarcity. Many leading NFT projects have utility which benefits the holder – a more in depth explanation of NFT utility is linked here. This limited supply in collections drives exclusivity and ergo demand. NFT pricing works using supply and demand economics and we have a full article covering that topic, which is linked here. 
Let's take a look at a blue chip NFT collection, the Bored Ape Yacht Club. It gained notoriety and is often in news headlines due to their skyhigh prices coupled with high-profile purchases from some of the world's most famous celebrities. This digital collection consists of art depicting 10,000 variants of Bored Apes. 
The most expensive Bored Ape Yacht Club NFT was sold for a whopping $2,272,620. In fact, Justin Bieber recently bought one for over US$1.6 million Ethereum; this is an illustrative example of the hype/exclusivity of the collection. Given the massive price tags, Bored Ape Yacht Club has established themselves as one of the most exclusive art-ownership clubs in the world. If you want to be in the same club as Justin Bieber or Post Malone and gain access to the perks, the cost of joining is the floor price of the collection. Today, that cost is over 98 Ethereum (over US$200,000 at the time of publication).
How Big Should An NFT Collection Be?
There is no right or wrong answer for how many NFTs should be in a collection; it depends on the projects' artists and teams' desires. If a project wants to raise more capital via the "mint" or secondary sales, the collection will likely be larger. 
If a project is more personal, consisting of images from a single artist's travels for example, it will typically be a much smaller collection. 
The earliest NFT projects created consisted of a collection of 10,000 units, which is very scarce when compared to Bitcoin's supply of 21 million. Hyper successful projects like Bored Ape and CryptoPunks are collections containing exactly 10,000 NFTs. The unwritten standard is that a project has between 4,000-10,000 NFTs. However, this varies greatly as there are collections that contain only 50 or 250 NFTs. Of course, on the other end of the scale spectrum, there is one of one digital art.
What Are The Most Popular NFT Collections?
In 2021, NFT sales totaled a massive US$17.7 billion in sales volume. This may have you questioning, "where is all this money invested?" The majority of the market valuation of NFTs comes from the one hundred most valuable collections. 
The most famous NFT projects are the hyper successful projects; they have gained international attention from a multitude of celebrities. These projects are frequently desirable because of the utility they offer. 
Consequently, there have been many headlines created by these mind boggling prices, furthering these projects' notoriety. 
Today, the top 10 most popular NFT projects based on their market cap are as follows: Bored Ape Yacht Club, Otherdeed for Otherside, Mutant Ape Yacht Club, CryptoPunks, CLONE X, Moonbirds, Doodles, Azuki, Meebis, and Space Doodles. Please see the image below for the top projects, via Coin Market Cap.
How Much Does It Cost To Mint 10,000 NFTs?
The cost of minting an NFT varies greatly, depending on an array of factors. The most important determinant of the cost is: which blockchain is it being minted on? Minting an NFT on the Ethereum blockchain can result in high "gas fees" if there are many people trying to transact at the same time. However, on other blockchains – such as Polygon or Solana for example – gas fees are almost non-existent. 
NFTs on the Ethereum blockchain are the most popular as Ethereum is the second most valuable cryptocurrency and the most established. When minting an NFT on the Ethereum blockchain, one can expect to spend anywhere from US$10-$2,000 depending on the volume that day. 
The cost of minting 10,000 NFTs is contingent on the blockchain it's being minted on and the minting price for each NFT. As a general statement, it's impossible to confidently predict how much it would cost to mint 10,000 NFTs. 
The Ethereum network occasionally gets clogged, leading to a "gas war" where the price to get one's transaction validated on the blockchain skyrockets. This can lead to gas fee prices being upwards of $1,000. 
The NFT space is always changing and the technology is quite new. Our team is incredibly excited to see what will happen as time goes on. To get the latest news in this rapidly evolving space, follow our team on Instagram & Twitter!
If you would like to support our team's content creations you can:
Trade stocks & crypto on Webull – get 2 free stocks! 
Buy a Ledger hardware wallet! 
U.S. users can get a crypto trading discount on Binance!