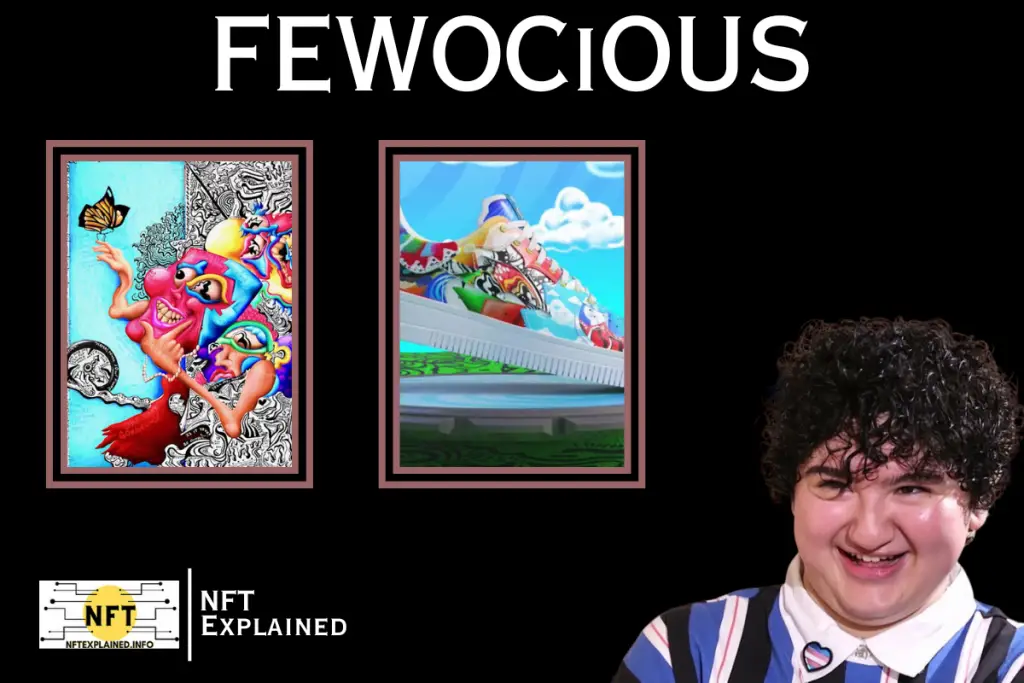 The NFT space has been growing with more and more digital artists making a name for themselves. A younger artist who isn't afraid to show the world who he really is has been making headlines and was recently featured in his own show at Christie's, one of the largest fine art auction houses. 
Victor Langlois, better known as FEWOCiOUS is a young digital artist making significant money at the center of the NFT art world. The queer artist orginally lived in his abusive fathers' house, then unsupportive grandparents' house before moving out at the age of 18. He purchased a one way ticket to Seattle, where he currently resides. 
FEWOCiOUS is someone who has raised a lot of awareness for the trangender community. Originally known as Victoria, the digital artist faced numerous uphill battles to reach his current position.
In both households where the artist previously lived, he faced abuse and often questioned who he really was. He originally lived in his father's house before numerous court dates and custody battles arose; this resulted in his grandparents becoming his legal guardians. His grandparents were Christians who believed that the sex of a person was determined at birth.
He stated, "I thought I would be safe but they were just as mean."
His grandparents forced the young teenager to live within their strict rules. FEWOCiOUS was only allowed to leave the house for one reason – to attend school. He had little to no privacy as he was forced to live with his door open at all hours. Forced to live without internet access, the teen had to look for other ways to keep himself occupied and his mind off the lonely and dejected life he lived. 
Victor found a passion and a way for him to express himself; this was through the art he created. He began by drawing with what he had; at the time this consisted of sharpies. After realizing his grandparents could see the work he created, he began working on a tablet as a way to hide his creations. 
As a teenager he began exploring within himself and knowing that his artwork reflected this, it was crucial that his Catholic grandparents didn't find out. After he found the online trans community he developed hope and wanted to express who he truly was one day. This was a pivotal moment for FEWOCiOUS as he realized there are other people like him and that he was not crazy or alone for feeling the way he did. He was able to find role models and people within the transgender space that had accomplished amazing feats. 
Once allowed a phone, FEWOCiOUS created a Twitter account where he discovered an online community of digital artists like himself. This was a groundbreaking time period for the artist as he began studying what other successful digital artists had done to unlock success. He then made a plan to leave the dreadful situation he was in, through his passion, artwork.
FEWOCiOUS Shatters Records at Christie's With Empowering NFTs
FEWOCiOUS was featured at Christie's auction which was an enormous endorsement for NFTs and especially for the digital artist. The auction occurred during pride month and helped FEWOCiOUS share his empowering story.
The young digital artist called the collection, "Hello, i'm Victor (FEWOCiOUS) and This Is My Life"; it consisted of 5 lots representing his life story from the age of 14 to 18. The pieces consisted of physical art as well as an NFT and the artist saw turnover of US $2.16 million and broke Christie's record for youngest solo artist and first artist to crash the site.

Each lot consisted of one of one (1/1) physical artwork as well as an NFT. An NFT is a unique piece of digital work that is immutable and stored on the blockchain; it is verified by all users and allows one to have a digital receipt. Our team at NFTexplained.info has created an in-depth article explaining exactly what an NFT is and breaking down all aspects of the word. If you would like to become an NFT expert, we have created the perfect article for you; that can be found here.
The first lot was titled "Year 1, Age 14 – It Hurts To Hide".
The artist stated, "I started questioning my gender identity when I was 14 years old. I wished I was allowed to wear the clothes I wanted. I wished my mom would let me cut my hair the way I wanted. My mom told me it's bad to think the way I do. My mom told me if I ever cut my hair, she'd never want to see me again. My mother told me people like me are gross and don't belong. My mother said she wouldn't want me in the house if I presented myself the way I felt. My mother said my mother said my mother my mother said -."
The price realised from this piece was $437,500 and was about hiding his identity and realizing that he was unhappy with his current reality. 
The second lot was titled "Year 2, Age 15 – My Mama's Dream".
The artist stated, "If I pretend long enough will I forget this aching terrible feeling I have in my heart? What if I live my whole life pretending to be what mama wants? Will she love me then? Will she see me? Would she care? Does my mother know best? Am I an error? I feel so alone and I have no one to help me."
In the piece you can tell the artist is trying to force a smile and the price realised from this piece was also $437,500. 
The third lot was titled "Year 3, Age 16 – When A Child Feels Lost".
The artist stated, "I hate feeling this way. I don't want to feel this way anymore. Nobody knows me. I hate acting all the time. I'm a hollow shell. Why can't I cut my hair? Why can't I cry? I just want to cry. Please let me cry. World, why does today hurt so much? Why am I hurting so much? Why won't anyone help me? I hate feeling this way. I think I know the answer, it's the only thing that can help."
At this point in time he was suicidal and didn't want to pretend to be someone he wasn't.
The price realised from this piece was $437,500.
The artist stated, "The only reason I didn't die was because I was able to distract my feelings with drawing."
In the piece there is a tombstone which represents that nobody would have known his actual name, Victor. 
The fourth lot was titled "Year 4, Age 17 – His Name Is Victor".
The artist stated, "I couldn't stop crying so I decided to draw my feelings. It distracted me and calmed me down. I don't want to die. I just wish I was heard. The only place I'm allowed to cry is my art. I wish someone would hug me. I'm tired of pretending. I refuse to live my life pretending to be someone who I'm not. My name is Victor. And I will let the world know."
The top of the piece is a letter to other trans boys and at the bottom it says I love you, I'm so happy you are alive. The price realised from this piece was again $475,000.
The fifth and final lot was titled "Year 5, Age 18 – I taught Myself How To Fly".
The artist stated, "If no one wants to help me then I'll have to live on my own. I know there's other people like me out there, I just have to find them."
He has another piece titled "The Day I Decided To Fly" but he mentioned you can know something but not decide to do it. The price realised from this piece was $375,000 and represented the part of his journey where he became free and independent.
One notable aspect is that the digital artist will be personally delivering each physical painting to the owner along with artifacts from that time period of his youth. Each painting will be delivered in a custom suitcase to collectors all over the world; the suitcase is how he transported his art when leaving Las Vegas to become free in his adopted state of Washington, where he arrived and lives presently.
FEWOCiOUS Sneaker Collaboration With RTFKT Studio (NIKE)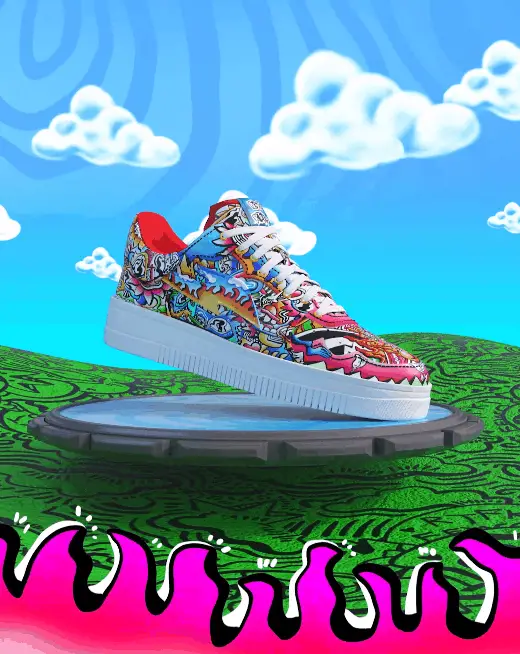 FEWOCiOUS is someone who has exercised the wide array of possibilities that NFTs bring. As previously mentioned, the digital artist had created physical artwork to go along with the NFTs in the Christie's auction as this was something he had done previously with RTFKT Studios. 
The digital artist FEWOCiOUS paired up with RTFKT Studios to create NFTs with a physical redeemable aspect. In the open edition sale, three styles of sneakers were created as well as a 'Charm' and 'Drip' which saw turnover of over US $3.1 million in 7 minutes.
The digital artist and the creators of the virtual sneakers and collectables managed to sell 608 pairs. The 'Charm' merchandise is a necklace which sold for $88,880 whereas the 'Drip' merchandise sold for $1,500 each. The 'Drip' merchandise was being resold for as much as $5,000 but more recently the digital collectable is being resold for around $3,000. The demand was extremely high as the secondary market for the digital collectable shoes were seeing resale prices as much as $15,000.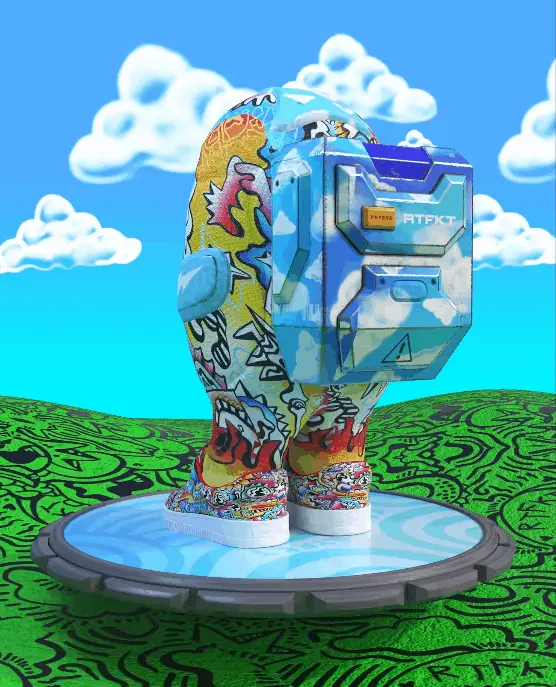 An interesting aspect the creators of the collaboration had was that owners of the NFT were only able to redeem the NFT for the physical sneakers if they had owned the token for 6 weeks after the drop. 
The artwork itself was very colorful and in the Picasso-like style that many have said FEWOCiOUS' artwork resembles.
What Software Does FEWOCiOUS Use?
FEWOCiOUS began creating art during his very young days at school inside a paper notebook. While he didn't have any friends, people knew him as the art kid and asked to see inside his notebook of sketches and doodles. While this creative endeavor was highly personal to him he would still show the other kids. At home he used sharpies however his guardians would tell him his artwork looked awful as they had other plans for the teen and wanted him to become a doctor. 
FEWOCiOUS draws on an iPad Pro which is elevated with an iPad stand and he uses an Apple Pencil. For the majority of his work, the artist uses Procreate (graphics editing software for digital paintings) for the freehand portions of his work. For animations, the artist starts his work in Adobe Photoshop.
FEWOCiOUS has also been working with physical art – in the Christie's drop he used clay on canvas boards. He has also drawn on shoes and used a variety of different paints and brushes. 
While FEWOCiOUS has never mentioned using another image editing tool aside from Photoshop it's safe to say other software is used for touch ups although he has never publicly mentioned them. Other artists such as Beeple, another big name artist in the NFT space uses ray tracing software but also relies heavily upon Photoshop. If you would like to read our in depth article on Beeple, that can be found here. 
While working FEWOCiOUS has publicly shared that he uses noise cancelling headphones and listens to a variety of different music including Opera. He mentions that while working for hours at a time he stays energized from drinking caffeinated drinks and works with numerous monitors.
How Did FEWOCiOUS Get His Name?
While it may seem like the digital artist is much older than he actually is, users are reminded of his age in surprising ways. As a completely independent 18 year old it comes as no surprise that the artist is very mature for his age. Afterall he just began paying taxes after discovering what they are.
FEWOCiOUS would often play Minecraft with his older friends when he was twelve. He wasn't as skilled as them and as a result they would make fun of him in a joking manner saying he was ferocious. Since he was smaller they began calling him FEWOCiOUS and he liked the name and has been using it ever since.  
The artist said he didn't like the name at first however over time it grew on him. He began liking the name after making stickers of it – which he considered an investment at the time.
What Gender is FEWOCiOUS?
At birth the artist FEWOCiOUS was a female named Victoria however the artist began questioning his gender identity at the age of 14 but hid this from his abusive parents. The male artist Victor Langlois uses he/him pronouns and fully expresses who he is and tells his story to empower other trans kids.
How Did the Public React to FEWOCiOUS' Transition?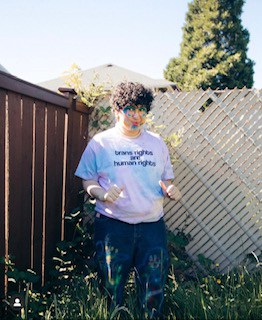 FEWOCiOUS is someone who has received an enormous amount of press coverage and numerous NFT collectors think he will be a blue chip NFT artist (an artist with consistent years of sales that have been confirmed at auction). One reason for this is the expressive and loud personality the artist has; viewers can really tell the artist is who he wants to be. This is one aspect that adds character to the work created. 
As a general statement, FEWOCiOUS received enormous public support however, as with anything there were some who were against it. He was scared to tell the public and thought people may not purchase his art anymore; nonetheless, he felt immeasurable support. He realized the vast majority didn't care how he identified and enjoyed his art.
The young artist stated, "Everyone was like yeah! Go! I'm so happy you are saying something. It was really relieving; I thought everyone would say unfollow, I hate you, but that didn't happen. It was like three people that were like uhhh and I was like bye. But I didn't get sad. I was so overwhelmed with the immediate response of yes, do that. I love you! I like your art; I don't care."
FEWOCiOUS' story is incredibly empowering as the young artist faced so many uphill battles but continued to break through anything preventing him from becoming free of the negative thoughts he had while growing up.
The artist mentioned that while known as Victoria, there were numerous times where the artist's Mom had stopped him from fully expressing who he really was which he didn't fully understand at the time. He had been told to act in a more girly fashion and felt as if he was an actor for his whole life until he fully expressed who he really was.
When did FEWOCiOUS Change Identity Pronouns?
FEWOCiOUS said he changed his pronouns on social media and subsequently made a formal announcement on March 5, 2021, when FEWOCiOUS dropped the piece 'Victor and Victoria'. To his surprise the piece had the highest admissions minted. Since then FEWOCiOUS has publicly told his story numerous times and posted in support of trans rights.
What is FEWOCiOUS' Net Worth?
FEWOCiOUS left his grandparents house a few days after his 18th birthday after purchasing a one way ticket to Washington. The artist was able to convince his grandparents to take him to purchase a suitcase which they were hesitant to do but eventually did so reluctantly.
Based on the public information that is available on the amount of money the artist has accumulated from different art drops, our team at NFTexplained.info estimates the artist's net worth is roughly $20 million. A person's net worth is highly private information and FEWOCiOUS has never publicly shared this information before. 
The young artist is only 18 at present but has already accomplished what he thought would have never been possible. The artist is extremely talented and the demand for his work means that it is often resold in the secondary market for much higher prices.
As the youngest solo artist to ever be featured by Christie's auction house and the first one to ever crash the site, it seems inevitable that the artist will be able to sell pieces for higher and higher prices. His empowering story adds more value to the work and FEWOCiOUS has a promising road ahead. 
The artist is well versed within the crypto space and has a strong understanding of NFTs as well as the implications that they bring. As a result of this, he is able to collaborate with numerous companies including ones that focus on the metaverse; this is something that lots of artists have only begun to explore – however FEWOCiOUS fully understands the space.
Having the knowledge to include physical perks with the NFTs he sells and to include royalties when the digital artwork exchanges hands is an aspect that will accelerate his career earnings and allow him to develop a strong passive income stream over time. 
The young artist has numerous eyes watching him and the NFTexplained team expects more major brands to collaborate with him over time. The artist has a strong internet presence; this includes numerous social media accounts with thousands and thousands of followers as well as his personal website. With numerous income sources and at the young age of 18, the artist has the potential to grow into a household name.  
The artist has mentioned that he is interested in creating other digital works such as a movie as well as collaborating with people in the AI industry. Since the artist is so creative our team at NFTexplained.info thinks that his expansion into other forms of media will likely also be a success and bring more awareness to his name and the empowering story he shares widely.
What Makes FEWOCiOUS a Top Digital Artist?
Numerous elements go into making someone talented at what they do. It is not an overnight process for a person to become widely respected in a field; hours of dedication and hardwork is what is required to make a person receive public attention for what they have done. 
As a general statement, FEWOCiOUS makes incredible holistic, interconnected, vibrant and abstract art. His empowering and vulnerable artwork details an extensive, deeply personal creative process; this is what allowed him to become a top digital artist. 
At the very young age of 13, FEWOCiOUS began creating art; it wasn't until the artist reached the age of 17 where he began minting NFTs which allowed him to move out of his grandparents house a few days after his 18th birthday. Time and consistency is what built his strong foundation of art. During school he would spend all of lunch without making eye contact with a single person because of how focused he was on the art and on the way it made him feel. 
While creating numerous pieces for the Christie's auction, FEWOCiOUS had to go back to that specific time period in his life where he attempted to replicate the feelings and thought process he had. To do this he would eat the same things he ate at the time and even went to his family's Facebook and listened to the videos they posted even though he longer contacts them. He would look through his past journal entries and pieces of art he created in order to engage the sadness he felt at that time.
This creative process and level of dedication FEWOCiOUS embarks upon is something not many artists are willing to do in order to make their work as meaningful as possible. 
Aside from the creative process FEWOCiOUS uses, he is an incredible natural publicist who knows how to make the viewer feel his message in a compelling manner. This is something few people within the NFT space have excelled at… While this isn't required and there are extremely successful digital artists such as Pak who are known for being completely anonymous, many would suggest it helps. We have created a post about the completely anonymous digital artist, Pak; that article can be found here.
This media presence helps FEWOCiOUS tell his story and helps bring more awareness to his undertakings. He has been featured by many widely viewed news companies and been on numerous podcasts; it is clear the artist is not afraid to speak his mind and show people who he really is. The authenticity you can feel when FEWOCiOUS is speaking in interviews and the amount of emotion the artist displays is a contributor to his success.
What Platforms Is FEWOCiOUS On?
FEWOCiOUS currently has his own website, Youtube account, Twitter, and Instagram. He also runs an art podcast with Jonathon Wolfe which has Instagram as well as a Youtube account.
https://fewocious.com/   -Website
https://www.youtube.com/channel/UCmJPFfiUNWJWXh4cZnQ-clA – Youtube 
https://twitter.com/fewocious -Twitter 
https://www.instagram.com/fewocious/ -Instagram
https://www.instagram.com/artartartpod/ -FEWOCiOUS weekly art podcast hosted by himself and Jonathan Wolfe 
https://www.youtube.com/watch?v=YwNJ5U0rVVU -The art podcast youtube channel
We hope you are just as excited as we are about NFTs and continue to stay informed at NFTexplained.info. To get the latest news in this rapidly evolving space, follow our team on Instagram & Twitter!