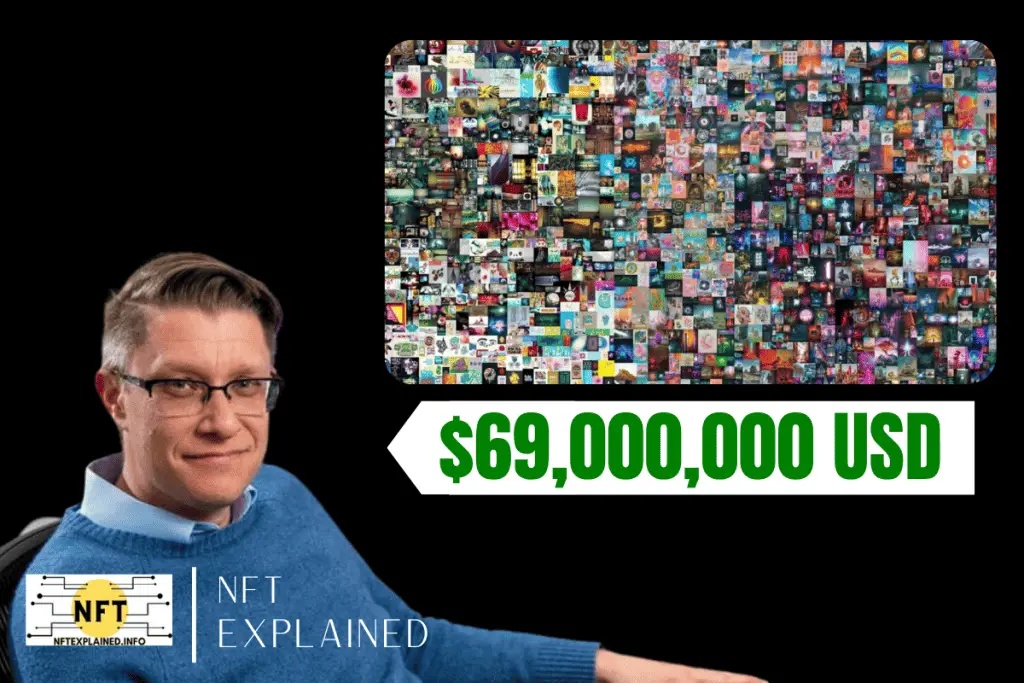 When it comes to the world of NFTs, you may have heard about a staggering headline something along the lines of: JPEG art piece was sold for a jaw-dropping $69 million. In this article, I'll explore who Beeple is and thoroughly cover the groundbreaking sale which played a pivotal role in sparking the NFT bull run back in 2021. 
Michael Joseph Winkelmann, professionally known as Beeple, is likely the most widely recognized NFT artist; he garnered lots of attention from selling 'Everydays, the First 5000 Days' as an NFT for $69 million. Beeple works across a variety of mediums and has famously created and posted daily art since 2007.
He is renowned for creating artwork that portrays contemporary culture with a distinctive vision, often exploring futuristic concepts. Many of his pieces are quite unorthodox and outright disturbing. 
Lots of his artwork play with light and sound which is where the name Beeple came from; Beeples are toys that giggle in reaction to light, such as when the toy's eyes are covered.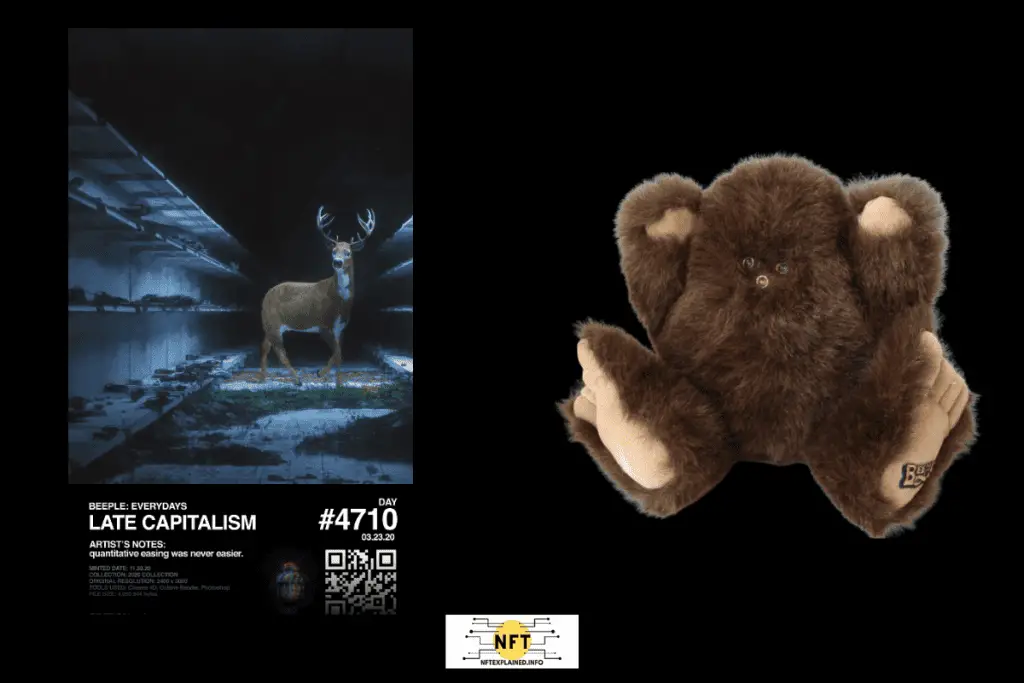 While at Purdue, as a computer science major, Beeple acquired graphic design skills which were self-taught via videos. His career gained momentum through his work on concert visuals for eminent artists such as Justin Bieber, One Direction, Nicki Minaj, and others. 
However, it took time for Beeple to establish himself within the crypto art community. His breakthrough came with the initiation of selling NFTs on Nifty Gateway, a prominent NFT marketplace that is comparable to OpenSea.
The Significance of Beeple's "Everydays: The First 5000 Days" NFT
There was a lot of inspiration and effort behind the 21069 x 21069 pixelated JPEG shown below.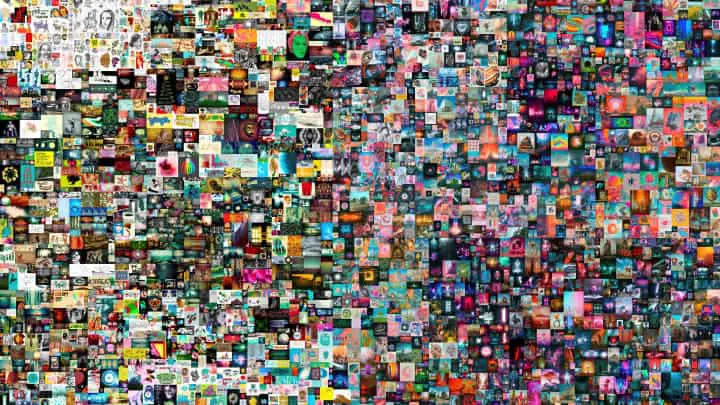 'Everydays: the First 5000 Days' began on May 1, 2007 and is a collection of digital images created for 5,000 consecutive days by Beeple. It holds a significant place in digital art history, setting the record for the highest digital art sale and likely revolutionizing the art market. 
While this NFT didn't come with much utility aside from the publicity the purchaser received – which I will explain later in the article – the owner is still the sole person who maintains possession of the work. While you and I can still view the JPEG file, we don't have the option to sell it. Additionally, the purchaser of the NFT may have the opportunity to benefit from potential price appreciation if there is significant market demand for the piece.
The sale of 'Everydays: the First 5000 Days' played a significant role in raising awareness about the role of NFTs in monetizing digital art. One unique feature of this innovative method for selling digital art is its inclusivity, allowing anyone with an internet connection to participate in the purchasing process.
The Creative Spark Behind "Everydays: The First 5000 Days"
Beeple's inspiration came from Tom Judd, an artist who created a new piece of art everyday for a year straight. Tom is a versatile artist who works in a variety of mediums such as painting, collages, photography, and major public art pieces like the Independence Hall Subway station in Philadelphia.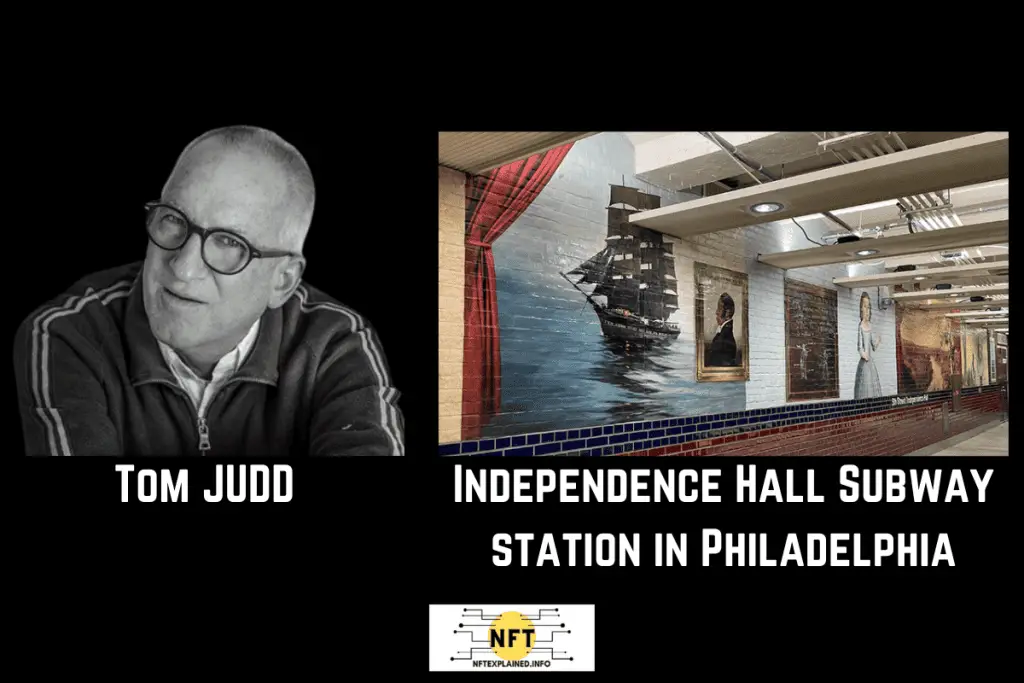 Meet MetaKovan – The Buyer Of "Everydays: The First 5000 Days"
Vignesh Sundaresan, known as 'MetaKovan', purchased "Everydays, the First 5000 Days". Vignesh is the co-founder of Bit Access (a Bitcoin ATM Project) and CEO of Portkey Technologies (an IT Consulting & Services firm); he describes himself as a crypto-loving Indian immigrant based in Singapore.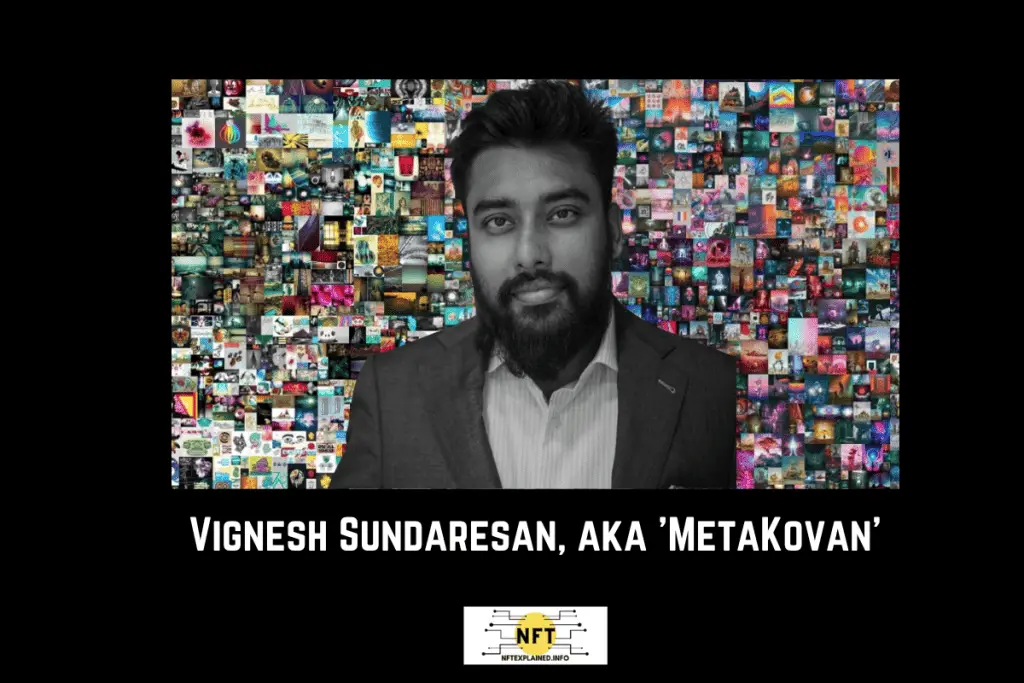 The logistics of the auction for 'Everydays, the First 5000 Days' were quite unique. Held at Christie's auction house, the entire process took place online. The auction spanned two weeks, starting with a modest opening price of $100. However, the real excitement came during the final moments as the price soared. 
The demand was almost inconceivable, with a staggering 180 bids within the last hour alone. Just seconds before the closing, the NFT was about to be sold for under $30 million. However, a frenzy of bidding activity prompted a two-minute extension, resulting in a final price of $69.3 million after fees. 
Vignesh Sundaresan, who can be considered to be an Ethereum whale, began investing in cryptocurrencies in 2013. I wish I had a time machine just for 2013, my cryptocurrency wallet would be so full, I'd have to buy another Ledger wallet. 
Vignesh is also recognized for his significant bids on other NFT art, including a recent bid of $777,777 on another Beeple NFT. This is potentially because he is the co-founder of MetaPurse which is an NFT fund created by himself and Anand Venkateswaran. The fund diversifies its investments across various NFT categories, encompassing virtual real estate among other categories.
Vignesh Sundaresan was drawn to the $69.3 million Beeple piece due to its role in revolutionizing the art market, embracing decentralization and democracy. Additionally, his historic purchase propelled Beeple to prominence in the crypto art world.
What Is Beeple's Net Worth?
The precise net worth of Beeple remains undisclosed as it is private information. However, I will attempt to make an estimated guess based on his previous artwork sales. 
It should be noted that a significant portion of his income is likely derived from NFT pieces. While the future release of NFT collections by Beeple remains uncertain, I forecast increased popularity in the foreseeable future.
Beeple's net worth is unknown however his sale of 'Everydays: the First 5000 Days' raised his net worth tremendously and significantly propelled his career due to the attention the record-breaking sale garnered. An educated guess might imply a net worth close to half a billion dollars. 
This number likely fluctuates greatly based on the floor price of his NFT projects and therefore the price of Ethereum; ETH has been the cryptocurrency used for the buying and selling of his pieces thus far. 
If Beeple began selling the daily art pieces he releases, it could potentially have a significant impact on his net worth. Given his established reputation, with over 2 million Instagram followers, and being on prominent shows like The Tonight Show with Jimmy Fallon and Joe Rogan's podcast, there is likely to be considerable demand for his future artwork.
Beeple's Art Tools: Unveiling The Software Behind His Art 
Beeple uses a variety of software with the main tool being MAXON Cinema 4D however, the established digital artist recently joined the advisory board for OTOY, another software tool he has exercised for numerous years. 
Beeple uses Maxon Cinema 4D (3D design software) for the majority of his work. He also uses OTOY's OctaneRender (raytrace software) and Adobe Photoshop for smaller portions of his work – often touch ups. Beeple has also been known to use Adobe After Effects and Adobe Illustrator.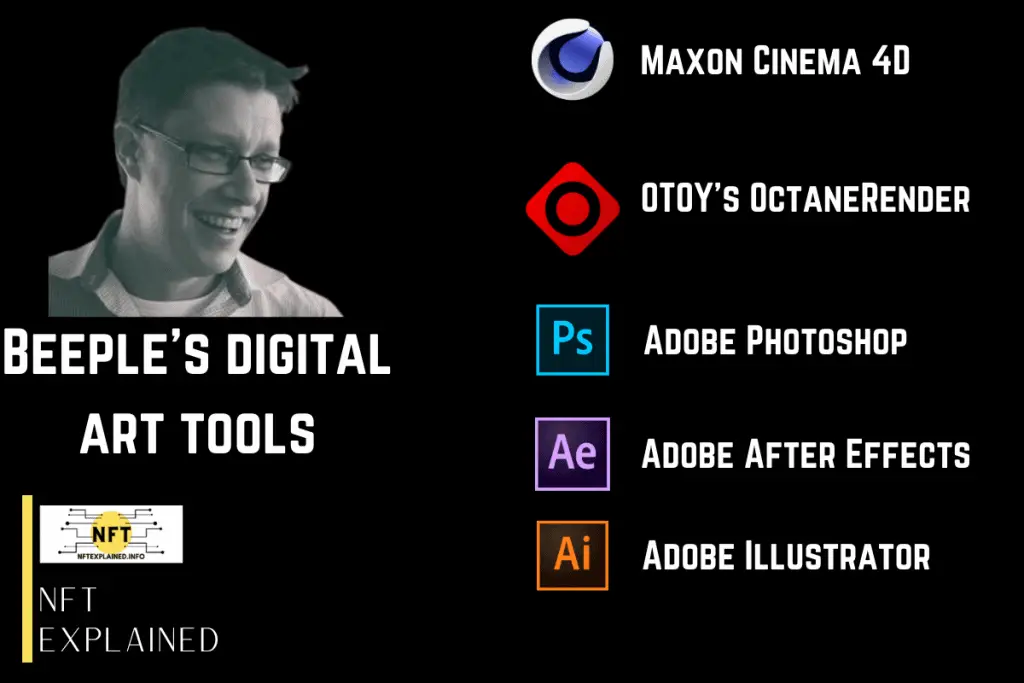 Beeple often uses Adobe Illustrator for completing vector art pieces that he creates and uploads to his social media daily. The combination of different software allows Beeple to make numerous kinds of digital artwork ranging from detailed images to short, animated movie-like clips. 
Beeple's artwork spans across various themes, featuring abstract futuristic loops and comical cultural references. For instance, "Flying Lotus – Kills Your Coworkers," is a 3-minute video showcasing robots living among humans before a sudden turn of events leads to a gory encounter. With his ability to convey complex concepts through digital media, Beeple remains a prominent figure in the NFT art community.
I hope you found this article informative and continue to stay informed with NFT explained. You can find us on YouTube, Instagram, Twitter & TikTok.