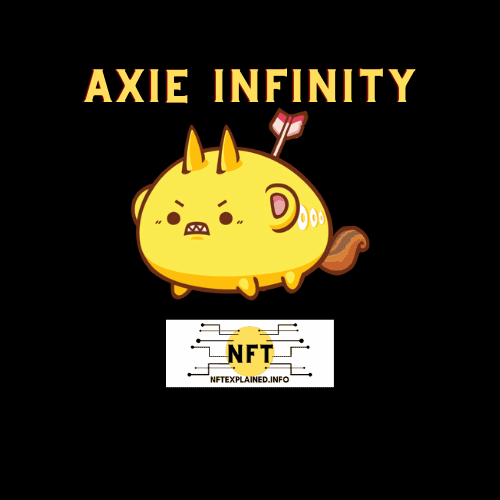 Axie Infinity has emerged as the top earning decentralized finance application and currently houses the most expensive NFT collection. In the game, a genesis plot of land recently sold for US $1.5 million. Axie Infinity has even provided a job for a number of people living in the Philippines. 
The NFT based dApp is built primarily on the Ronin side chain and developed by Sky Mavis; the game uses ETH based cryptos – Axie Infinity Shard (AXS) and Smooth Love Potion (SLP). To begin, users need three 'axies' – pokemon like NFTs. In the game 'Axies' are raised, bred, collected, and used to battle. 
Axie Infinity was originally built on the Ethereum blockchain. However Sky Mavis, the Vietnamese firm that developed the game, created an Ethereum-comptable blockchain known as Ronin. Ronin was created with the purpose of hosting Axie Infinity; the blockchain is optimized for gaming and collectable projects. 
The in-game currency known as Smooth Love Potion (SLP) is the currency users receive for playing Axie Infinity. SLP can be earned from participating in Adventures or Arena battles. It can be used for the breeding of Axies – this can be highly profitable. It can also be sold directly on crypto exchanges for fiat, allowing players to earn an income simply from playing the game. 
The cryptocurrency known as Axie Infinity Shards (AXS) is an ERC-20 governance token and is considered the glue that holds all Axie community members together. There is a total supply of 270,000,000. The currency can be used to pay breeding fees and the developers promise in the future it will give holders the ability to vote on in-game decisions as well as stake the coin.  
NFTexplained.info has created an in-depth resource on SLP and AXS, that can be found here.
In order to begin playing the game, users need to purchase three Axies to create a team. Users have the ability to purchase Axies from independent NFT marketplaces like OpenSea or on the Axie Infinity marketplace. If you would like to read our in depth guide to using OpenSea, that can be found here.
NFTexplained.info will explore the basics of Axie Infinity; this includes how much an Axie costs, a step-by-step guide to setting up the game, an installation guide for iOS users, and we will end our article by explaining how money can be made playing this NFT-based game.
How Much Does An Axie Cost?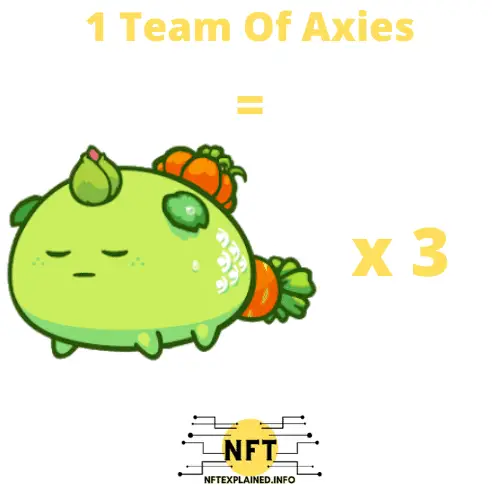 As a general statement, the cheapest Axie cost roughly US $200. In order to begin playing the game, users need to acquire three Axies (roughly US $600) to form a team. Axies are NFTs – small, Pokemon-like digital creatures which can be purchased on NFT marketplaces or the Axie Infinity marketplace. 
While you may buy cheap bundles of three Axies on marketplaces like OpenSea, the Pokemon-like NFTs are quite expensive. Axies greatly range in price; Axie are being sold for as much as 10 ETH on OpenSea which is roughly US $22,500. 
A range of different features impacts an Axie's value. Each Axie has six different parts with each part having three sets of genes. The six parts are ears, eyes, horn, mouth, back and tail. The three sets of genes are named recessive one, recessive two, and dominant. 
Dominant traits are the strongest and have the greatest likelihood of being passed along when the Axie is bred. Axies can only be bred a total of seven times; this results in Axies with a higher breed count being less valuable. An Axie that has not been bred (0/7) is considered a virgin Axie and they tend to be more valuable.
How Much Does Axie Infinity Cost?
Accessing Axie Infinity is completely free; however, three Axies must be acquired before a user is able to play. Axie Infinity can be downloaded on Windows, MacOS, Android, and iOS. 
How To Install Axie Infinity And Begin Playing
NFTexplained.info will walk through the beginning phase of Axie Infinity. This will require a few steps. However, they won't take too long so follow along the journey! 
The first step is setting up a digital wallet such as MetaMask. After setting up and the acquisition of ETH, three Axies must be purchased (NFTmarketplace or Axie Infinity Marketplace). The game should then be downloaded and can be fully set up after a team of Axies are selected.
We will explain the set up process later in the article. 
The recommended wallet is MetaMask because of it's trustworthiness (over two million downloads), simple user interface, and quick setup. MetaMask can be downloaded as a Chrome extension as well as an app on iOS and Android. If you want to follow our complete setup guide and understand what MetaMask is, you can find that here. 
The easiest way to begin is by setting up an email and password from the Axie Marketplace. If an Axie is purchased on a separate NFT marketplace like OpenSea, the NFT will have to be transferred to the Ronin side chain which will require gas fees. Despite the fees incurred, this could be a cheaper alternative. 
Setting up a Ronin Wallet doesn't take much time and will allow you to transfer assets between your Ronin wallet and MetaMask wallet.
After a team of three Axies are purchased, the game must be downloaded. The official download link is provided here: https://axieinfinity.com/ . After the game is downloaded simply hit 'play' and then click 'Axies' on the bottom left and then hit 'Sync Axies'. After this select 'Teams' (next to 'Axies') and then click 'New teams' and then the plus signs with the order of the Axies you would like to deploy from left to right. Click 'Save Team' and then enter a team name on the top right corner.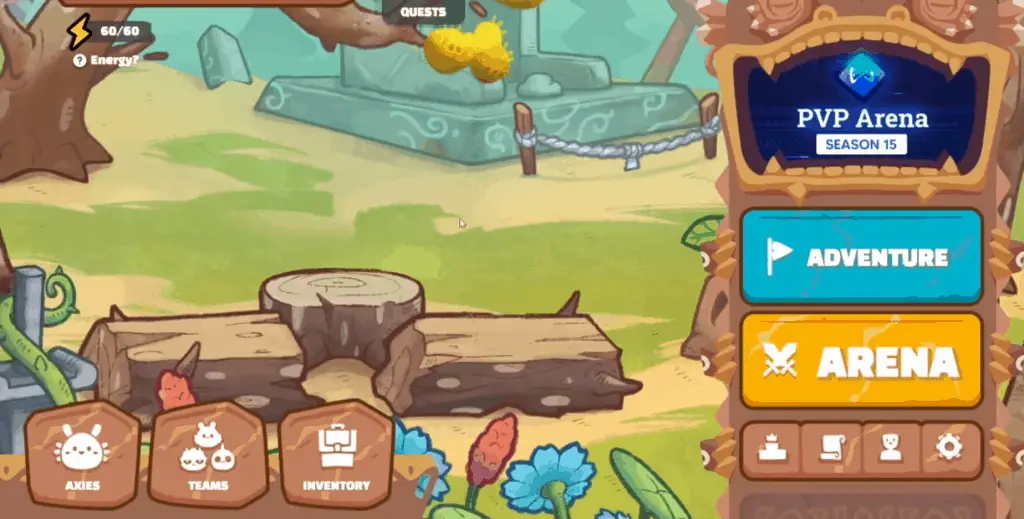 After this you have the option to play in Adventure or Arena. In no time you will get the hang of the game.
How To Install Axie Infinity on iOS
Unfortunately, the app can't be downloaded directly from the iOS app store. However this addition will be added soon according to Sky Mavis. Do not worry as the process won't take too long. For Android, the app can be directly downloaded from the Axie Infinity website. 
For iOS, download the game from the Axie Infinity website. Log in via your Axie Infinity marketplace email or MetaMask. Hit download for iOS; this sends you an email. Download the independent app 'TestFlight' on the iOS app store and then click on the email link. From there scan the QR or submit a photo of the QR code. 
Go to the link provided and download https://axieinfinity.com/. After TestFlight is downloaded, check your email as Axie Infinity will send you a link to set up your account. Axie Infinity will give you the option of uploading your accounts QR code (do this by uploading a screenshot) or simply scan the code if that option is more effective for you. From there Axie Infinity will be playable on your mobile device.
Can You Make Money Playing Axie Infinity?
Axie Infinity has a policy of 'play to earn' which rewards users for playing the game through giving them SLP tokens.
Generally, the most profitable action is selling Axies; they can be sold on numerous NFT marketplaces. Users can earn SLP (in-game currency) by playing the game. SLP can be exchanged for other cryptocurrencies or for fiat currency. Selling land and items can also allow users to earn profit. 
By completing daily quests such as simply checking in, completing 10 adventure mode levels, and winning five arena matches each day users receive SLP. The amount of SLP one receives depends on numerous factors including the amount of time spent playing the game. Profit from selling Axies also depends on various factors such as the quality of the traits the Axie' possess. 
SLP tokens can be exchanged for other cryptocurrencies on decentralized exchanges. On centralized exchanges such as Binance, the token can be exchanged for fiat currencies ("cashed out"). 
With regards to earning a profit from land, the in-game map Lunacia consists of 90,601 tokenized plots of land (known as Terra) which can be bought and sold. At this time, only (roughly) 17,000 plots of land can be owned by players and as a result land is quite expensive. 
Headlines were made when a user purchased nine Genesis plots (the most valuable, centrally-located) for US $1.5 million which was roughly 888 ETH at the time. At this time, it was the most expensive NFT ever purchased. If you would like to learn more about that sale and the 10 most expensive NFTs ever purchased, that can be found here.
We hope you are just as excited as we are about NFTs and continue to stay informed at NFTexplained.info. To get the latest news in this rapidly evolving space, follow our team on Instagram & Twitter!