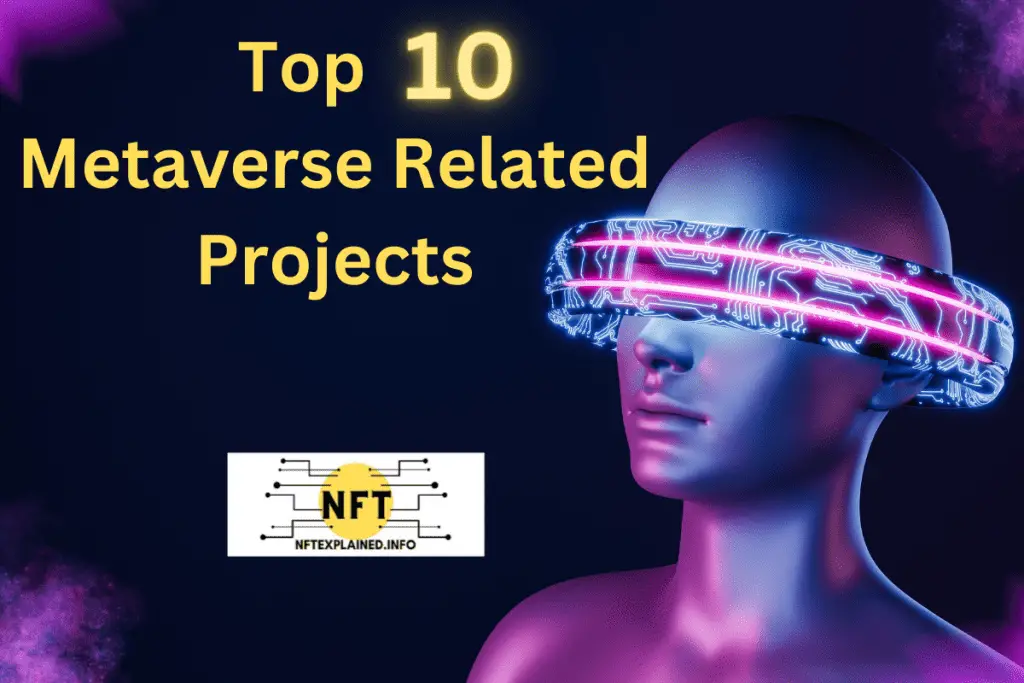 The metaverse is a concept our team has covered extensively. If you are interested in learning exactly what the metaverse is, including the core concepts of the metaverse that are widely agreed upon, click here.
Contrary to the title, the metaverse is still in its infancy; however we will examine the top 10 metaverse – related games widely embraced today. Additionally, we will examine what defining elements of these games that led our team to classify them as metaverse games. 
The top 10 metaverse projects in no particular order are:
1. Decentraland
Decentraland is an innovative digital world; it is built atop the Ethereum blockchain and allows users to monetize their content through non-fungible tokens. Most notably, the plots of land that are being monetized are NFTs themselves, and therefore can be sold. This has created an interesting aspect where digital real estate is more valuable depending on location, mirroring the real world. 
Decentraland is governed through the game's digital currency known as MANA; players can earn MANA through having other users play their game which incentivises the creation of high quality content/games. By holding this token, users also have the ability to impact the direction Decentraland goes by voting on proposals through their governance token mechanism. Additionally, by incentivising monetization through building atop plots of land, the game becomes more interesting and has diverse experiences to explore within it. 
Since Decentraland is fully decentralized, all transactions that occur are immutable and are visible to all users on the blockchain; this is a unique aspect that some of the other games on this list do not have. 
One downside to Decentraland, that our team has found, is that the game can be somewhat lonely as you may go for extensive amounts of time without running into another user. If you are interested in learning more about the game, we will link our full guide here.
We chose to include Decentraland on this list because the game facilitates a creator economy through NFTs; this results in a motivation for participants to build interesting and unique games. Additionally, Decentraland is governed by those who own MANA. It's widely agreed that the metaverse will have some aspects of decentralization and Decentraland displays many of these aspects. 
2. IMVU
IMVU is a virtual world designed to encourage socializing – one of the many aspects that people have agreed the metaverse is likely to have. Aside from socializing, users can also create and monetize their virtual items – via selling clothing and other accessories for their avatar. 
Additionally, a core aspect to the game is appearance; virtual identity is another aspect that people have agreed the metaverse will have – and is facilitated by customizing an avatar (i.e. hair, eyes, outfits, etc.)
Users have the ability to purchase items using VCOIN – the game's ERC-20 token based on the Ethereum blockchain. Overall, the game's promotion of a social identity, a creator economy, and including aspects of decentralization represent numerous aspects that future pinnacle metaverses will likely have. 
The game is accessible on desktop, as well as mobile devices through the app store. 
We elected to include IMVU on our list for a number of reasons. The first reason is because of the game's promotion for ownership of digital assets through Immutable-X based NFTs. The second reason is because of the functionality the game offers – including the ability to customize an avatar, monetize your work, and attend events.
3. Horizon Worlds
Horizon Worlds is Meta's version of the metaverse and the company's main push to get people interested in the metaverse. 
Avatar creation is possible and provides for a somewhat immersive experience if a VR headset is being used. Lip syncing and eye contact make for interactions that are more realistic and therefore engaging. 
A core function that Horizon Worlds provides is the VR headset driven functionality. With this device, the immersion in the experience greatly increases (we should note that a VR headset is not required however without one, experiences are limited). This provides for a level of immersiveness that other games on this list struggle to provide.
More on Meta's VR headset, Quest2, as well as other ways to immerse yourself in the metaverse, can be found in our article here.
Another core function is the ability to create your own world; however the world is not actually owned by the user. Unfortunately verifying digital ownership via NFTs isn't present at this moment. Meta hasn't been as transparent as other metaverse related games – like Decentraland or the Sandbox – with regards to how users may potentially be able to fully own their items.
The decentralized aspect of the game is missing and Meta's charging of a 47.5% fee for creator based items have made users even more sensitive to the benefits of decentralization. This high fee is absurd compared to OpenSea  – which is the largest NFT marketplace – taking 2.5% of each transaction. 
Additionally, Horizon World's plans of releasing Zuck Bucks – which will likely be the game's way of creating an in-game economy – is again not going to be a blockchain-based token.
All things considered, Horizon Worlds does push the metaverse narrative forward not only through publicity but also by encouraging the development of technological advancements in the VR field. 
Horizon World's use of VR in particular furthers a fully immersive metaverse and is one of the core reasons our team decided to include it on the list. 
4. Axie Infinity
Axie Infinity is a blockchain – originally Ethereum – based game published by Sky Mavis; the game is currently on the Ronin blockchain which is Ethereum compatible (and considered a side-chain). 
Axie Infinity has many core aspects of the decentralized aspect of the metaverse including non-fungible tokens. Users need three Pokemon-like NFTs in order to play the game; with these NFTs, known as Axies, users can breed and engage in battle to earn in-game currency. 
The in-game currency known as SLP can be exchanged for real world currencies and therefore provide a number of jobs in countries like the Philippines – especially during the peak of the tokens value. 
Unfortunately, the price of Axie Infinity's token – SLP – has greatly decreased in prices for a variety of reasons including the unfortunate hacker exploit. This resulted in the theft of approximately US$620 million worth of crypto. Following this event, far fewer people were able to sustain a full-time income from playing the game, even in emerging market economies like Vietnam and the Philippines.  
Axie Infinity lacks a range of key immersive capabilities, as only the Pokemon like game is playable and users don't have the option to create/design their own worlds or items. Core functions like socializing and having a user identity are not present at this time.  
The success of Axie Infinity has shown people the importance of owning in-game assets via NFTs and the possibilities that arise from having a blockchain-based game. 
5. Second Life
Second Life is an early precursor of metaverse based games and was one our team mentioned in our article about the history of the metaverse; if you would like to learn how the technology for the metaverse and metaverse related games have developed – learn here. 

Second Life was launched in 2003 by Linden Lab. The game allows for the creation of an avatar – a core aspect of the metaverse – and for socializing (as well as the ability to play user generated games). From its launch in 2003, the game has come a long way and now allows for voice chat and the use of the Oculus Rift (Meta's VR headset).  
In the 2000s, Second Life provided the world with a view of how both private and public sector organizations could collaborate on a shared immersive environment. Although not decentralized, the game highly encourages the creation of simulations which gives users the ability to design almost everything using scripting software and 3D modeling. 
6. The Sandbox
The Sandbox is another decentralized world that is very similar to Decentraland in that it is a blockchain-based game based on non-fungible tokens. The Sandbox has far more plots of land or NFTs – 166,464 to be exact – while Decentraland has 90,601.
Both companies are venture backed and The Sandbox is more centralized relative to Decentraland as Decentraland has governance tokens known as MANA which allow its holders to guide the decisions of the project. 
The Sandbox is more centralized in the sense that it's primarily governed by the founders of the project. 
Another difference is the graphics – most participants note that The Sandbox is more visually appealing.
The Sandbox provides core metaverse related capabilities as it encourages its users to contribute to the project all without knowing code. Overall, the Sandbox is another decentralized, virtual world that is pushing the metaverse idea forward. 
We've seen interoperability of NFTs through partnerships this metaverse related game has had; our team will note that blue chip NFTs – for example the Bored Ape Yacht Club – are usable in this game. Bored Ape owners have the ability to use their Bored Ape as an avatar in the game, list it on NFT marketplaces, and keep the digital asset in their crypto wallet.
7. Metahero
Metahero is a unique project that is different from all other metaverse related games. Metahero is a project that creates realistic 3D graphics that brings real world items into the metaverse through what the company calls "metascanning". 
One can conceptualize metascanning as the process of turning a real world item into a digital 3D item that can be used in games. This technology also allows you to scan yourself and therefore turning yourself into a very realistic 3D avatar for the metaverse. 
The creators worked with Wolf Digital World to develop this technology and it's clear that the project has decentralization in mind as the Hero token is a blockchain-based token and currently has a fully diluted market cap of approximately US $34 million. 
The project is blurring the lines between reality and the digital world – a core aspect of the metaverse and one that will likely evolve and improve with emerging technologies like AR and VR. 
The project's core value proposition of metascanning is completed through a spherical shaped chamber that has 200 Sony A7RIVA cameras (which are built to scan moving objects like humans and animals). The company is based in Dubai and has plans of creating 12 more spherical chambers – which are the chambers that allow for metascanning – across the globe.
8. Roblox
Roblox is a game that has been in households for a number of years and is a fan favorite for the younger generation. The game has been around since 2006 – predating Minecraft – and has since made many improvements. 
Roblox is similar to a metaverse in the sense that it independently exists regardless of users. It is a virtual space that is always available and encourages users to build atop of; there are over 50 million games within the Roblox environment that have been created by its users. 
Additionally, Roblox has a socializing aspect to it where users can chat and interact with one another. 
Using the strictest of metaverse definitions, Roblox is a fully centralized game and is controlled by the company's board of directors. Recently, the company announced plans to release some functionality that mirrors the value proposition of NFTs, in the sense that creators can generate money from secondary digital sales in order to earn Robux (their in-game currency). 
The company is also pushing forward avatar related features and capabilities as they recognize the importance of identity in a metaverse setting. 
Immersiveness is a big challenge for Roblox as the blocky textures make the game's graphics mundane and not very life-like, similar to other games on this list like Decentraland which many have said to have subpar graphics.
Having the game fully centralized means users could potentially lose all their assets if the company decided to turn their servers off – users don't have full ownership of their digital items (as they can't be taken off of the platform). 
Roblox is also lacking core web 3.0 capabilities like interoperability which means the ability to use a digital item in another metaverse or list it for sale on another platform. 
9. Zepeto
Zepeto has been described as a cross between Bitmoji and The Sims and was created by a South Korean company known as SNOW Corporation; the game was launched in 2018. 
One unique feature is that the app asks for a selfie which turns your face into a 3D animated version. Imagine the Metahero technology, optimized for facial features (but on a much, much smaller scale). The app is somewhat limited in features but allows you to connect with friends, and encourages content creation with regards to fashion and designing your own home. 
The app is available on Google Play and Apple's App Store. Overall, the game is quite similar to IMVU (but caters to a younger audience); however, one could argue that IMVU is more similar to the pinnacle of metaverses as IMVU allows for ownership of digital items through NFTs and has other blockchain related aspects like an ERC-20 token. 
10. NVIDIA Omniverse
The NVIDIA Omniverse is a unique tool that is not actually a metaverse related game but rather a tool that artists can use to implement their work into a metaverse.
NVIDIA Omniverse is a unique tool that allows you to collaborate with large teams to create 3D content in real time; the platform can be used for a wide range of applications (eg. visual effects). 
More examples of what can be done with this tool include Omniverse Create which allows you to create scenes for environments and characters. Another is Omniverse Audio2Face which is a tool that uses AI for the creation of motion and lip syncing animations – all from an audio source.
The simulation platform is built on top of NVIDIA's RTX graphics and can be integrated with a variety of different 3D software packages like Unreal Engine. 
The use of tools like NVIDIA Omniverse is likely to contribute to the transformation of sectors like – the architecture industry – as viewing the aesthetic changes that will be made to a home before they actually occur becomes standard practice. More on how the metaverse will affect the architecture industry and other industries like the insurance industry will be linked here.
Let us know which metaverse you enjoy the most by connecting with our team on Instagram, Twitter & TikTok! Please subscribe to our YouTube! 
Additionally, please consider supporting our team's content creation through doing business with our partners: Buy a Ledger hardware wallet. Trade stocks & crypto on Webull – get 2 free stocks. U.S. users can get a crypto trading discount on Binance!