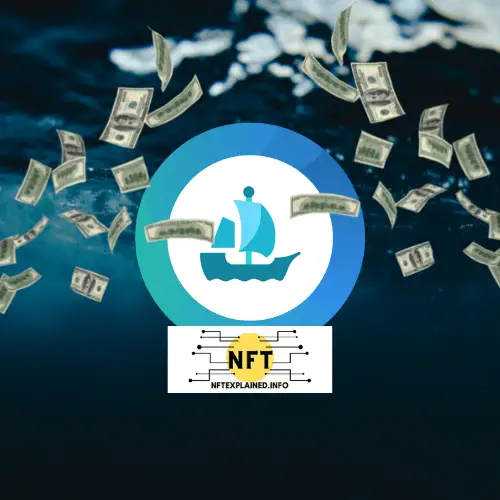 OpenSea is the largest NFT marketplace and sees an astounding amount of transactions (over 600,000 in the last 30 days). Recently, the company announced a huge funding round which will enable some huge, innovative changes.
OpenSea raised US $100 million in a Series B round of funding led by Andreessen Horowitz; investments came from CAA, Coatue, Michael Ovitz, Kevin Durant, Mark Cuban, and many more. With these funds, OpenSea announced plans to support several blockchains, improve user experience, and more.  
Andreessen Horowitz, also known as a16z is one of the most esteemed venture capitalist firms. Having a16z lead the funding round is an enormous testament to the NFT space, especially for OpenSea. 
Andreessen Horowitz led the first funding round (Series A) where OpenSea raised $23 million. A series B funding round is primarily for taking a business that is often past the development stage to the next level. 
For an investment firm of that reputability – firm manages billions of dollars in assets – to lead the investment round is highly promising for the NFT space. NFTexplained.info thinks it is extremely likely that a16z was the largest investor from the Series B funding round. 
Another impressive and potentially strategically important firm OpenSea received investment from was the Creative Artist Agency (CAA). The talent agency represents an enormous number of famous people and enjoys annual revenues of over US $500 million. 
CAA brings a lot of potential for OpenSea as the agency could have clients like Paul George (seven time NBA All-Star) and Nick Bosa (NFL Star) create NFTs for promotion on the OpenSea marketplace. This brings an entirely new aspect to the OpenSea marketplace and one that is potentially incredibly profitable. 
Other players in the investment round include other hedge funds, privately held equity investment firms (such as Coatue Management), and a range of notable people. To mention a few, Michael Ovitz (the former president of Walt Disney), Kevin Durant (NBA star), Mark Cuban (billionaire entrepreneur), Dylan Field (CEO Figma) and more. 
Mark Cuban has mentioned the NFT space numerous times noting that NFTs are here to stay. The CEO of Figma, Dylan Field is someone well versed in the NFT space and previously made headlines, selling a CryptoPunk for US $7.5 million. If you would like to read our in depth article about CryptoPunks, including the market trends for them and the famous people who own them click here. 
While many say the hype for NFTs has begun to die down, the amount of knowledgeable people and widely respected corporations investing in OpenSea is incredibly promising for the NFT space. 
Our in-depth step by step guide as to how OpenSea works can be found here.
NFTexplained.info will break down where the investment money came from, how OpenSea will use the $100 million they received, explain what OpenSea is valued at, and end our article by explaining how OpenSea makes money.
How Will OpenSea Use The $100 Million?
While OpenSea is not 100 percent transparent about how they will use the money, CEO Devin Finzer has provided important hints. Let's dig in – NFTexplained.info will further analyze how the firm may use the money. 
With the Series B funding, OpenSea plans to use the money to expand their team, improve user experience, and create new projects. Further, the firm disclosed an ambitious plan to improve their marketplace by making it compatible with several blockchains to reduce 'gas fees'.
One aspect many users dislike about NFTs are the 'gas fees' – the price one may pay for a transaction to be authorized on the blockchain. If you are interested in learning more about the cause of high gas fees, such as the different consensus algorithms used, that article can be found here. 
OpenSea has announced plans to begin integrating with the Polygon and Solana blockchain which has a layer two Ethereum-based structure. This would be considerably more energy efficient and allow for OpenSea to completely eliminate gas fees altogether.
In addition to the Polygon blockchain, OpenSea plans to integrate with Dapper Labs' Flow blockchain. If you would like to learn more about the Flow blockchain, how it works, and the other projects Dapper Labs is working on, click here.
Eventually OpenSea plans to also integrate with the Tezos blockchain and potentially a few others later down the line. This step is likely to promote more widespread purchasing of NFTs, however the $100 million will also accelerate numerous other projects.  
Aside from the more clear-cut changes the OpenSea team will make, one aspect NFTexplained.info thinks merits investment is seller authentication. While NFTs are integrated into the blockchain, the only way to ensure the NFT you are purchasing is an original piece of intellectual property (and not, for example, copied off the Web) requires investigation. While some NFT lines are obviously created by one team, others may be more challenging to verify.
For example, if one was to list an item on the marketplace, authentication could be improved by looking at the file size of an image and the timestamps for the file. If an artist like Beeple was selling his work, an algorithm could verify that the work is his by forcing him to submit source files and their timestamp(s).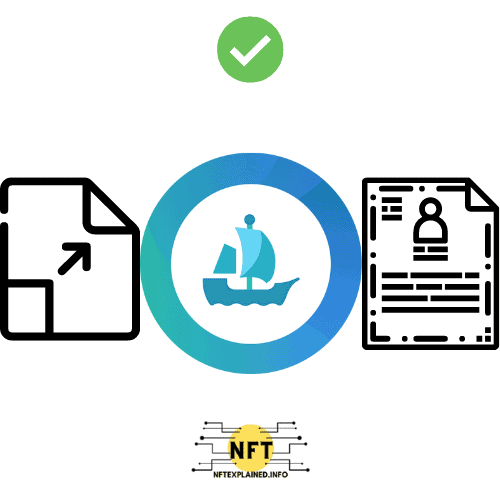 Those who submit a large file with a small timestamp could be flagged as it would likely take Beeple a minimum of a couple hours to create the pieces he does. If you were to submit Beeples' work and provide a timestamp of only a couple minutes, the algorithm could flag you until further authentication can be provided. The algorithm would know that an image of that detail would likely take more than a couple minutes to create. If you would like to read our in depth article on Beeple, explaining who he is and his 'Everydays the First 5000 Days' piece you can find that here. 
By creating seller authentication, OpenSea would be able to provide users a better user experience as they would easily be more confident that the seller is the actual author of the work. Today, a blue checkmark of verification is provided by the marketplace. This has scalability issues as only large, well known sellers are verified.
What Is OpenSea's Market Value?
OpenSea is currently valued at $1.5 billion; this is mainly due to the Series A and Series B investments that were led by Andreessen Horowitz (a16z). The Series A funding raised $23 million and Series B funding resulted in $100 million.  
OpenSea originally launched in 2017 and received a $2 million funding round a couple months after the company was launched. In March of 2021 the Series A funding occurred ($23 million) and Series B funding ($100 million) occurred towards the end of July, 2021.
OpenSea joined the list of the many blockchain projects that are considered 'crypto unicorns' which is a term that describes a privately held startup that is valued at more than $1 billion. 
How Does OpenSea Make Money?
OpenSea currently makes money from taking 2.5% of the sale price. The company has continued to increase earnings with the growing number of NFT transactions. Other sources of income are likely to arise as the firm gets into additional business ventures.  
When looking at other NFT marketplaces, taking 2.5% per sale price is minimal. Lots of auction houses take 12% of the sale price and other NFT marketplaces take up to 8%. 
NFTexplained.info thinks that OpenSea will likely pair with famous people to sell NFTs on the OpenSea marketplace which would allow them to receive a larger cut in commission. This would also allow them to easily market the line of NFTs pertaining to the person they are featuring. 
Additional business ventures are likely to be created by OpenSea as time goes on, especially with the huge amount of capital the firm was able to raise.
Who Owns OpenSea And Where Is The Company Based?
OpenSea was founded by Alex Atallah and Devin Finzer on December 20, 2017. The privately held company is a peer-to-peer marketplace for crypto collectables and is based in the Greater New York Area. 
We hope you are just as excited as we are about NFTs and continue to stay informed at NFTexplained.info. To get the latest news in this rapidly evolving space, follow our team on Instagram & Twitter!