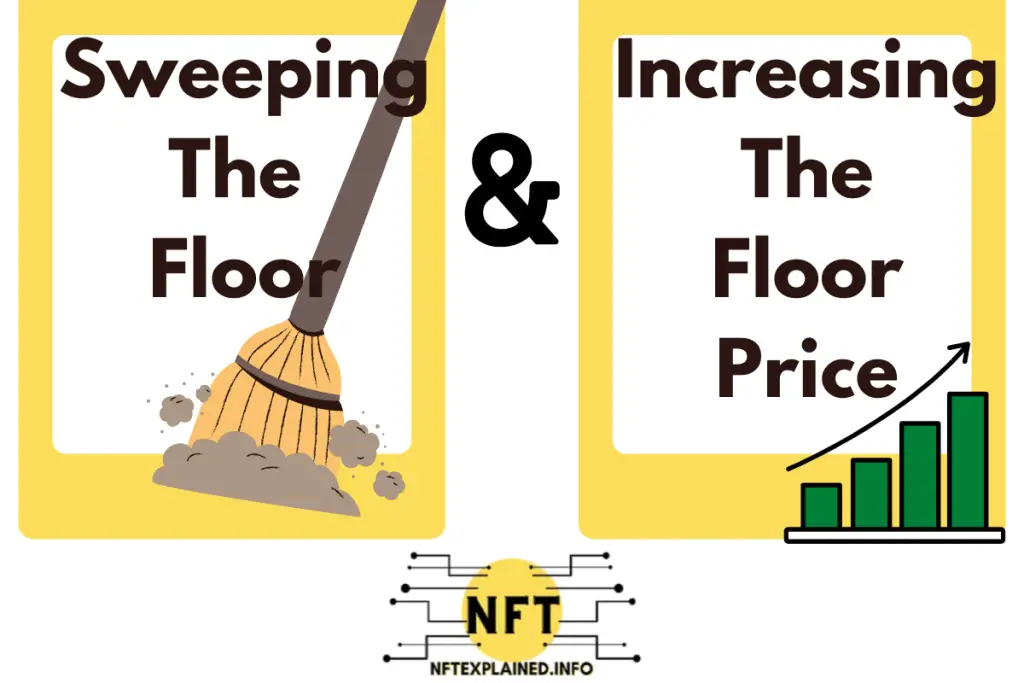 NFTexplained.info is a team of long term crypto investors who are experienced in the crypto and NFT space; we have the goal of providing educational content. In this article, we will explain the commonly used phrase "sweeping the floor". 
Sweeping the floor is a term to describe when someone – for example, the founders of an NFT project – purchases a number of NFTs in a given collection that are listed at the floor price. Sweeping the floor increases the cheapest price someone is able to invest in an NFT project. 
Floor price is an NFT metric that describes the cheapest option a purchaser has to get in on an NFT project; read more on that topic here or learn more by watching here. 
Sweeping the floor is a term commonly used within the NFT space to describe when someone – often a person with a lot of Ethereum – is buying up the cheapest available NFTs in a project; this will therefore increase the floor price.
While buying up the lowest priced offerings is something that may be on an NFT roadmap, it may not be the best use of funds for the founders of an NFT project. This will likely increase the floor price for a short period of time; however, long term increases in floor price is more commonly driven by providing utility. 
If an NFT project has plans of sweeping the floor, it might indicate the founders have hastily put a project together and have no better use of funds. While this is certainly not always the case, it is something to consider. Our team has an article on the aspects of good NFT projects; we will link that here. 
Our team will now provide an illustrative example of buying up the floor. Let's say our team has 100 ETH and we are looking to sweep the floor of a particular NFT collection – like Bored Ape Yacht Club (a collection many consider to be a blue chip NFT).  
Let's say the floor price (the lowest price points) for an Ape is set at 18 ETH, then 19.5 ETH, then 20 ETH, then 20 ETH again, then 22.5, and finally 23 ETH and so on. 
If our team spent 100 ETH on purchasing all the cheapest Apes available or essentially sweeping the floor for the collection, the floor price would have risen from 18 ETH to 23 ETH.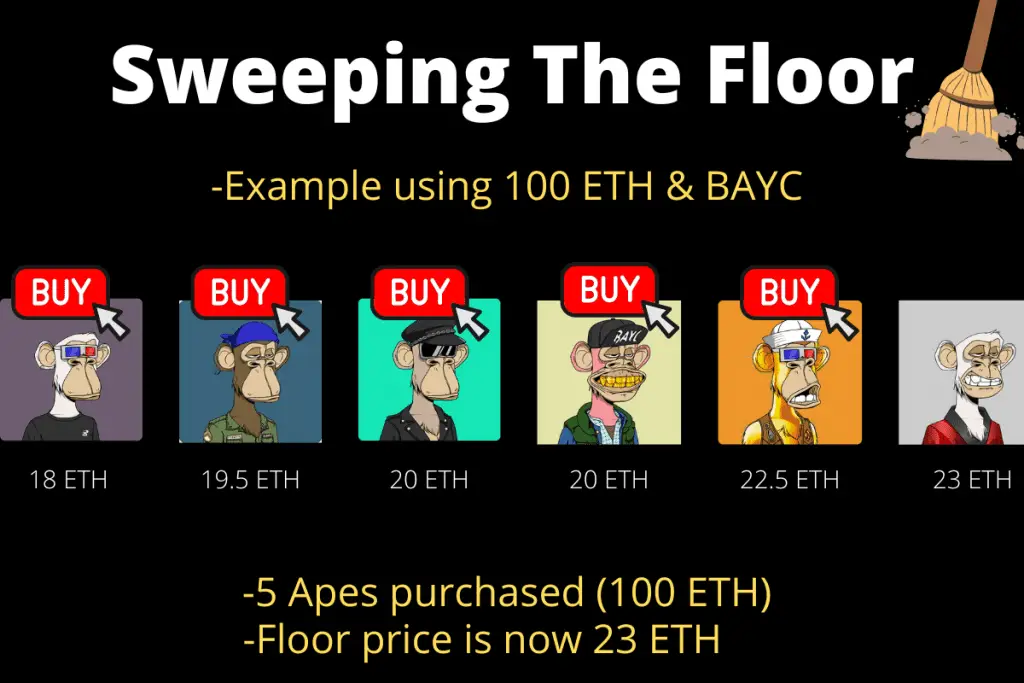 In this illustrative example, spending 100 ETH on floor Apes would have raised the floor price from 18 ETH to 23 ETH. It is likely that this change wouldn't last long as another holder of the collection – one that is eager to sell – would likely list their NFT at a price cheaper than 23 ETH. 
This is why our team is cautious about NFT projects that plan to sweep the floor as no real incentive to hold long term is created by this action. 
How Do I Raise The Floor Price In An NFT Project?
The best way to increase floor price in an NFT project is by creating a long term incentive to hold the project; this can be done by creating a strong community, providing utility, and more. Sweeping the floor will likely only increase the floor price for a short amount of time. 
Focusing on the aspects that make an NFT project a good long term hold will increase the floor price. This can be done by providing utility; examples of this include fostering an engaged community and working on future value-adding events like airdrops.  
When people don't strongly believe in a project, members will be quick to undercut one another – lowering the floor price – in order to sell the NFT at a price they deem to be 'a good deal'. This is especially true when holders think the project may be a rug pull or fall to zero. 
For further evidence/advice, our team will look at what many consider to be the most successful NFT founders and the advice they gave regarding ways to increase the floor price. 
Before we take a look at a specific quote, we should note as a piece of important context that both founders of Yuga Labs have stated they do not look at floor price. 
Greg Solano, the co-founder of Yuga Labs – the company that owns Bored Ape Yacht Club and CryptoPunks – stated "If you focus on that part of it, it's kind of a loser's game. I think it's like you focus on that, yeah, maybe you can make it go up for a little while – then it's going to just come down. So you go to just think about utility, the community building, everything else – and that part will sort itself out."
If you learned anything from this article, please do our team a favor by following us on Instagram, Twitter & TikTok! As well as subscribe to our YouTube!
Additionally, please consider supporting our team's content creation through doing business with our partners: Trade stocks & crypto on Webull – get 2 free stocks. Buy a Ledger hardware wallet. U.S. users can get a crypto trading discount on Binance!