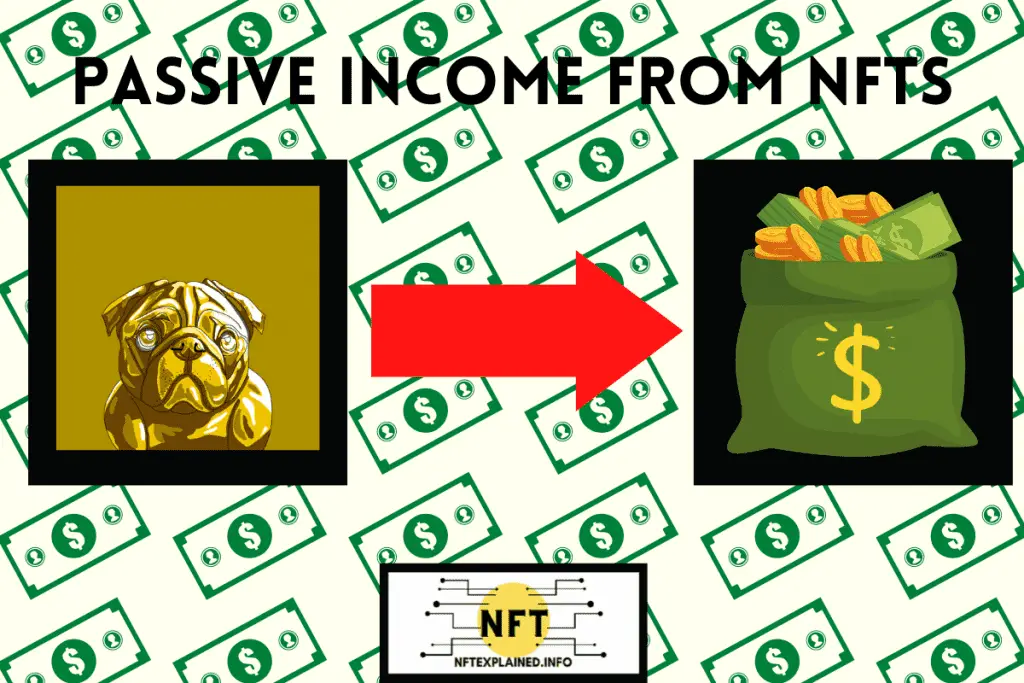 You may be familiar with the saying, 'make your money work for you'; this phrase is commonly uttered while contemplating dividend paying stocks and ways to earn passive income. Is earning passive income possible with NFTs? 
Passive income is income that flows to your wallet without constant work or clocking in to be paid an hourly wage. Is this really possible with non-fungible tokens?
It is possible to earn passive income from NFTs in a variety of different ways. Some of these ways include: setting royalties on NFTs you've created, renting out your NFT (done safely via smart contracts), and by staking an NFT. 
Royalties are a unique feature that NFTs have brought to creators; royalties are the set percentage amount of an NFT transaction that flows back to the original creator when an NFT is resold on the secondary market. 
This can be set by the creator of an NFT or NFT project (eg. a royalty fee of 5%). With a set 5% royalty fee, a secondary transaction of U.S. $1,000 would yield the original creator U.S. $50.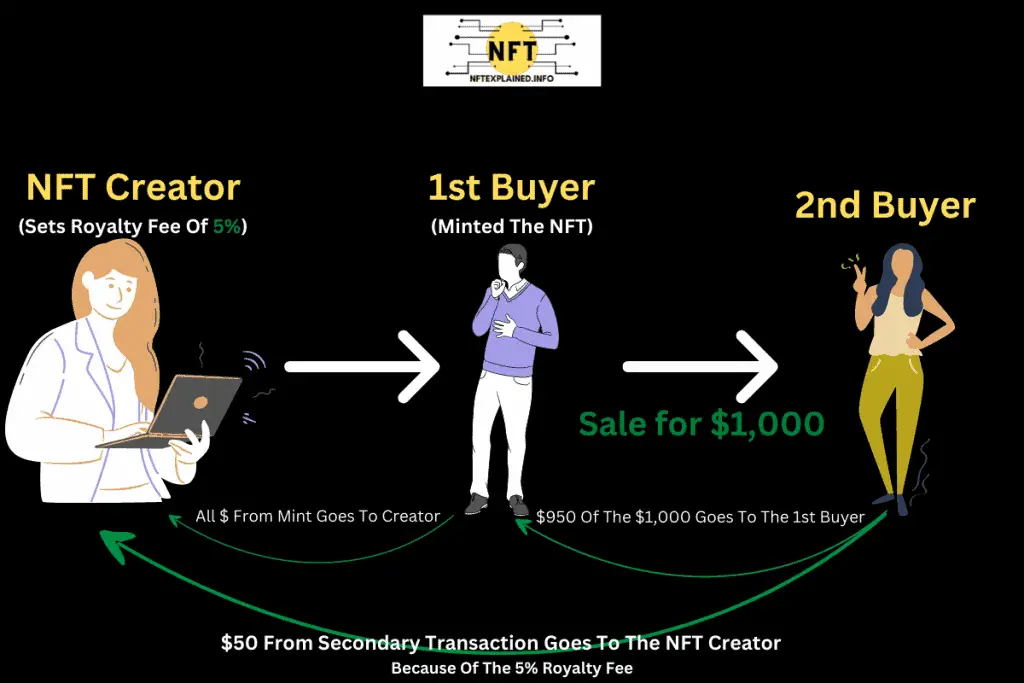 With larger, widely recognized collections, these small fractions can turn into huge income streams. Take for example the Bored Ape Yacht Club; the founding team known as Yuga Labs set the royalty or creator fee at 2.5%, allowing the company to amass over 17,482 Ethereum. 
We should note that OpenSea allows you to set a royalty fee of up to 10%. 
While receiving royalty or creators fees is a great passive revenue source, initially selling NFTs can be very challenging. If you are in the business of creating or selling digital assets, we would recommend reading our article where we interviewed some of the top digital artists for the best advice they had. We will link that article here. 
This form of passive income from NFTs is the hardest of the three methods as selling NFTs is subject to the laws of supply and demand economics and utility often is required for there to be demand. 
Additionally, many buyers only purchase a collection on the secondary market if they think the value will increase; this definitively requires constant upkeep of an NFT project and that is why our team would consider this to be the most inaccessible of the three methods. 
The second option is to rent out your NFT; this was something commonly done during the height of the Axie Infinity phenomenon where the floor price for an Axie was around U.S. $200. 
Players would look to rent a team of Axies in order to earn an in-game reward called Smooth Love Potion (SLP) which could be exchanged for fiat or other cryptocurrencies. 
Additional reasons people rent out their NFTs are to allow a person to attend an event (where the NFT confers great utility, in the sense that only NFT holders can attend); this would be done if you wanted to profit from an in-person event that you didn't want to attend but wanted to keep your NFT.
For example, a holder of a Bored Ape Yacht Club NFT could profit from renting their Bored Ape to someone (so they could attend the real world yacht party) without actually selling the NFT.
A great way to rent out your NFT is through reNFT – a platform backed by major players like Animoca Brands, OpenSea, and Gemini amongst many others. reNFT is a platform that allows you to passively earn money from renting NFTs in a safe way which is made possible through smart contracts.
With reNFT, renters are able to set a specified amount of time and a specified amount of funds before renting out their NFT. Once this is paid and the set conditions are met, a smart contract will execute and the whole process is carried out. 
reNFT has a marketplace where options like up-front payments (which would be equivalent to traditional renting where the renter would pay for the time period before taking possession) and a reward share system (where in-game rewards can be split amongst numerous people). 
If you are interested in learning more about reNFT, we will link the site here. 
Staking your NFT is another viable option that will allow you to obtain passive income; staking is the process of locking up your NFT – typically via a smart contract – in order to receive exclusive rewards (which are often ERC-20 tokens that govern the NFT project).
Most commonly, staking is done within a given NFT project as the NFT founders want to reward long term holders. 
For example, Top Dog Beach Club – an NFT project that provides a lot of utility allows you to lock up Top Dogs or Top Cats in order to earn $SNAX which is the project's utility token. This token allows you to partake in games where you earn the opportunity to receive rewards like ETH and it also allows you to bid on NFTs within the shop. 
The Top Dog Beach Club team is also working to eventually make $SNAX readily available so it can be exchanged for Ethereum or USD on decentralized exchanges. 
Top Dog Beach Club is a unique project – if you would like to learn more, including an exclusive interview our team did with the founders, click here. 
Aside from staking NFTs within a given project – which is often done on that project's main website – it is possible to stake via NFTX. NFTX is a platform we will examine in the next section of our article. 
How To Stake NFTs
The easiest way to stake NFTs is internally – meaning within the NFT projects existing infrastructure. If this option isn't available, another viable way is through the platform NFTX – let's learn more. 
Staking within a project is often the easiest way to earn passive income through getting the governance token for that NFT project. Again, the token received often provides value like access to events or even the ability to exchange it for other cryptocurrencies. 
While that is always appealing, not all projects have this feature. In that case, our team would recommend accessing NFTX. 
NFTX is a platform that allows you to buy fractionalized tokens from expensive, blue chip NFT collections. After purchasing these tokens, it is possible to stake them via NFTX. 
Fractionalization is a topic that our team has extensively covered and is what allows you to get exposure to NFTs you typically wouldn't be able to outright buy. If you are interested in learning about fractionalized NFTs, like the benefits and downsides, click here. 
For example, if you wanted to get exposure to AI art like Chromie Squiggles, you could swap ETH for the SQGL token on NFTX; this process is facilitated through NFTX but actually carried out by SushiSwap, one of the leading decentralized exchanges.  
After you acquire fractional ownership of the Chromie Squiggle collection, you are able to stake just the SQGL token (which is referred to as an NFT by NFTX) for up to 20% – depending on liquidity. 
You will also be able to stake SQGL and ETH in a liquidity pool (this is referred to as NFT + ETH by NFTX) for 80%. 
The 80% yield percentage is much higher than the 20% (which is when only the NFT is staked) because the possibility of liquidity running dry and impermanent loss is possible with staking in a liquidity pool (aka option 2 in the chart below).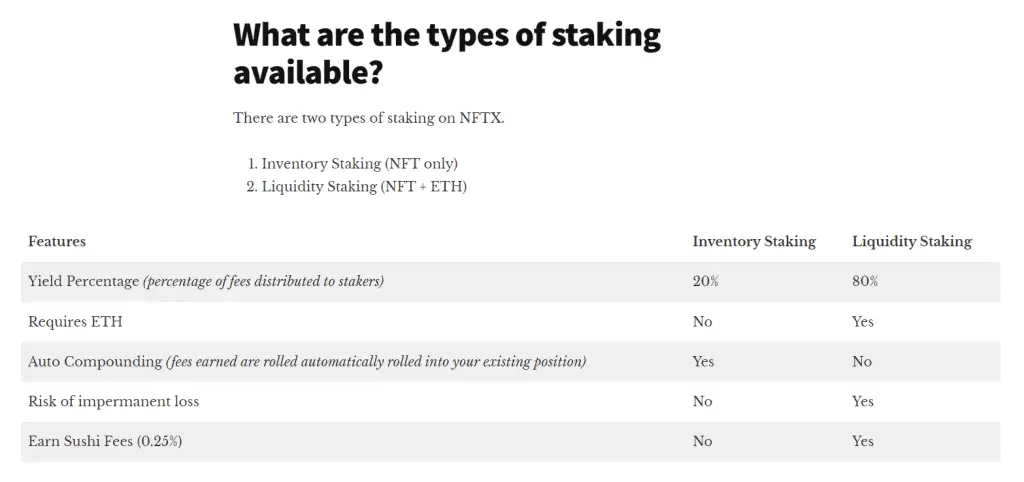 If you would like to checkout NFTX for yourself, we will link that here. 
Now that our team has covered two ways to stake NFTs, we will further examine the topic holistically. 
Are NFTs A Good Way To Earn Passive Income?
As a general statement, NFTs do provide a viable way to earn passive income. Staking NFTs within a given project that you own – if applicable – is often the easiest way to earn passive income. Other viable options include receiving royalty fees and renting your NFT. 
It's likely that all of these methods are still in the early stages and it's important to complete due diligence before partaking in these methods as scams do occur (as with most everything). 
As gamification of NFTs and play-to-earn gains increasingly popular, it is likely that users will look to sites like reNFT – which allow you to rent out NFTs. 
Our team is excited to see how passive income through NFTs develops as time goes on. 
Before we conclude our article, we will examine two questions our team has received.
Is It Possible To Earn Passive Income From NFTs On Coinbase?
At this moment in time, it is not possible to earn passive income from Coinbase NFTs.
Is It Possible To Earn Passive Income From NFTs On Binance?
At this moment in time, it is not possible to earn passive income from Binance NFTs.
If you found our content helpful please consider following our team on Instagram, Twitter & TikTok! As well as subscribe to our YouTube! Additionally, please consider supporting our team's content creation through doing business with our partners: Trade stocks & crypto on Webull – get 2 free stocks. Buy a Ledger hardware wallet. U.S. users can get a crypto trading discount on Binance!